First Kodiak Series II with Aerocet amphibious floats on static display in the Northeastern U.S.
(New York – June 18, 2018) Clay Lacy Aviation, the authorized Quest Aircraft dealer for the Northeast and the Western U.S. will display the all-new Kodiak 100, Series II on June 21 at the NBAA Regional Forum at Westchester County Airport in White Plains, New York. Introduced on May 30, the Series II builds on the success of the previous Kodiak with a robust list of block change enhancements. Advanced features include Garmin's next generation G1000NXi, Angle-of-Attack indexer, digital 4-in-1 standby, Flight Stream 510, and an extensive list of new innovations.
The Kodiak Series II on static display at the forum will feature Aerocet 6650 carbon fiber amphibious floats. It is ideal for flights to Nantucket, Martha's Vineyard, East Hampton, Coastal Maine or any of the region's lakes, rivers or island destinations.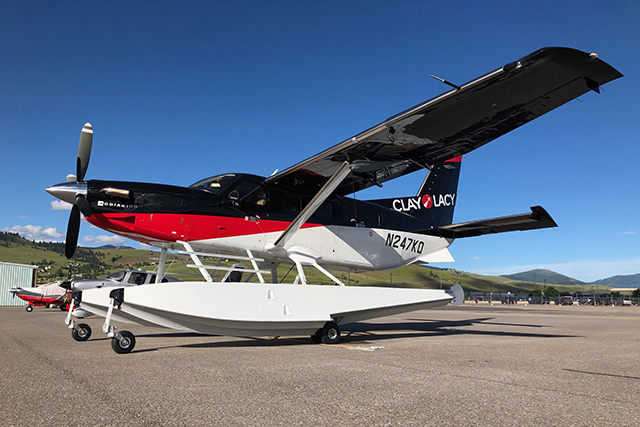 "We are proud to be part of an exciting new chapter for this remarkable, class-leading aircraft," said Chris Hand, Clay Lacy's Senior Vice President for the Northeast Region.
"Many of our private jet owners have discovered the Kodiak to be a perfect complement to their business and personal travel needs, whether for short shuttle trips or flights to remote or hard-to-access destinations."
"Our authorized dealers must meet exacting standards for aviation excellence, maintenance expertise and service, which is why we have partnered with Clay Lacy," said Jonathan Payne, SVP Sales and Marketing, Quest Aircraft Company. "We know that Kodiak buyers and owners can rely on Clay Lacy for an unsurpassed customer experience."
"We have a long history of designing and building advanced composite floats for Kodiak aircraft," added Matt Sigfrinius, VP Sales, Aerocet, Inc. "Our 6650 amphibious floats or 6750 straight floats are the perfect complements to the new Kodiak 100 Series II."
About the Kodiak 100 Series II
The 10-seat Kodiak 100 Series II combines superior STOL performance and high useful load. With its Pratt & Whitney PT6 turbine engine the Kodiak can take off in under 1,000 feet at full gross takeoff weight of 7,255 pounds and climb at over 1,300 feet per minute. The wide range of applications includes vacation and business travel to airports with unimproved surfaces and rural landing strips, as well as humanitarian flights, amphibious and straight float operations, special missions, medevac, and skydiving.
About Aerocet
Established in 1986, Aerocet is the world's premier manufacturer of certified composite aircraft floats. For more information about Aerocet, or performance specs for the Aerocet® model 6650 floats, visit aerocet.com.
About Clay Lacy Aviation
Clay Lacy Aviation was founded in 1968 by legendary aviator and industry pioneer Clay Lacy. Prominent individuals and leading corporations trust Clay Lacy Aviation for aircraft management, charter, maintenance, avionics, interiors, FBO services and Quest Kodiak sales. The company has aircraft operations and regional offices across the U.S., including full-service FBOs at Van Nuys Airport in Los Angeles and Boeing Field in Seattle, and FAA repair stations in Van Nuys, Seattle and San Diego. Clay Lacy Aviation is also the authorized dealer for the Quest Kodiak in the Northeastern and Western U.S. With the most knowledgeable team in the industry, Clay Lacy Aviation is the world's most experienced operator of private jets delivering superior safety, service and value to aircraft owners and jet travelers worldwide. Visit claylacy.com.
Press Contact
Scott Cutshall
Clay Lacy Aviation
+1 (818) 989-2900 X706
Email
# # #