(Los Angeles—April 26, 2017) Clay Lacy Aviation, the authorized Quest Kodiak dealer for California, Washington, Oregon, Alaska and Hawaii, announces a full list of California cities where it will display the versatile 10-place, Kodiak turboprop. The tour provides an excellent opportunity to see and experience the ultra-modern Kodiak, with its unmatched safety and performance, whether on short back-country airstrips or large city runways.
The tour of California begins at the AOPA (Aircraft Owners and Pilots Association) Fly-In, April 28-29, at Camarillo Airport in Camarillo, California. The Kodiak will then make stops throughout Central and Northern California from May 6 through 12.

Quest Kodiak Tour of California Dates and Locations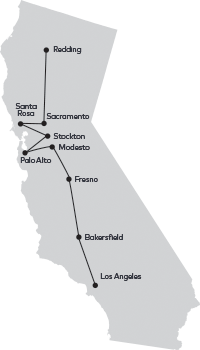 May 6-7
Los Angeles/Van Nuys | Clay Lacy Aviation, by appointment only
May 8
Bakersfield | Epic Jet Center, 9am-1pm
Fresno | Ross Aviation, 4pm-7pm
May 9
Modesto | Sky Trek Aviation, 9am-1pm
Palo Alto | Advantage Aviation, 4pm-7pm
May 10
Stockton | Atlantic Aviation, 9am-1pm
Santa Rosa | Kaiser Air, 4pm-7pm
May 11
Sacramento | McClellan Jet Services, 9am-5pm
May 12
Redding | Redding Jet Center, 9am-5pm
To RSVP or schedule a private showing contact Justin Sherrill at 818.375.8111, or email jsherrill@claylacy.com
About Clay Lacy Aviation
Founded in 1968 by legendary aviator and industry pioneer Clay Lacy. Today, Clay Lacy Aviation is considered the world's most experienced operator of private jets. Prominent individuals and leading corporations trust Clay Lacy for aircraft management, charter, sales, acquisitions, maintenance, avionics, interiors and FBO services. The company has aircraft operations and regional offices across the U.S., including FBOs at Van Nuys Airport in Los Angeles and Seattle's Boeing Field, and FAA repair stations in Van Nuys, Seattle, and Carlsbad, California. With the most knowledgeable team in the industry, Clay Lacy delivers superior safety, service and value to aircraft owners and jet travelers worldwide. Visit www.claylacy.com.
Press Contact
Scott Cutshall
Clay Lacy Aviation
+1 (818) 989-2900 X706
Email