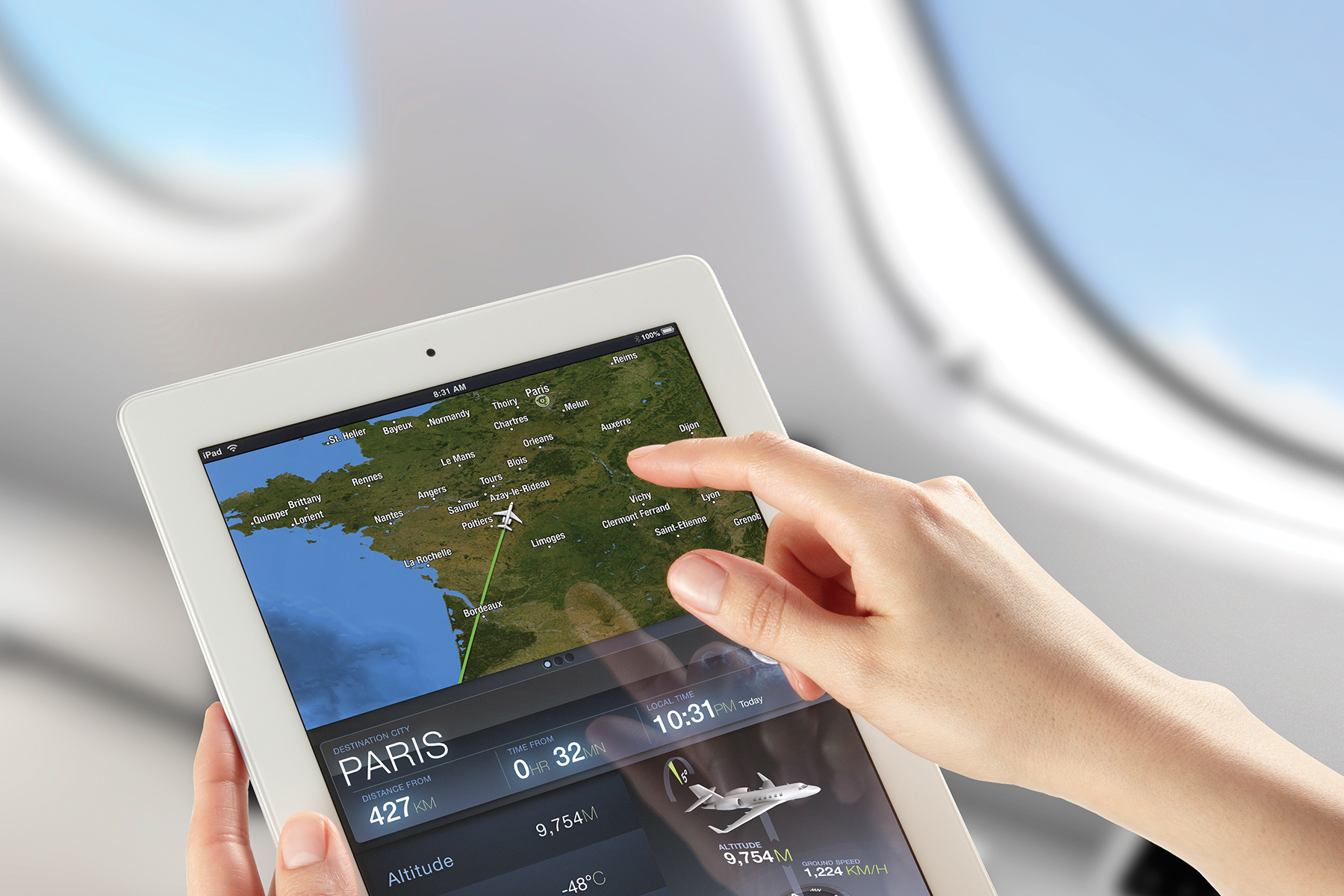 Clay Lacy Aviation First in Charter Market to offer Gogo Text & Talk Service
New technology enables passengers to use personal smart phones to talk or text in the air.
(Las Vegas, Nevada. (NBAA 2013) – Oct. 21, 2013) Passengers onboard Clay Lacy Aviation's (CLA) high-speed internet enabled jets will soon be able to use their personal smartphones to make and receive calls or texts in flight thanks to new technology developed by Aircell, the world's leading provider of airborne communications systems.
CLA is the first to equip its charter fleet with Aircell's new Gogo Text & Talk service, an advancement that allows clients to use their own smartphones and mobile numbers in the air, just like they're accustomed to on the ground. Offering passengers full communication and access to contacts, the new feature makes flight time more productive and eliminates the need to use an onboard phone number or wired handset in the cabin.
Aircell is a recognized leader in offering in-flight connectivity equipment and services to the business aviation market. As an authorized Aircell dealer, CLA delivers comprehensive purchase and installation services for both the Gogo Biz in-flight internet and voice service, installed across its fleet in 2009, and the new Gogo Text & Talk service.
"We pride ourselves in being the first to deliver the latest technology and most requested onboard services to our clients," said CLA President Brian Kirkdoffer. "In today's business environment, this leap forward by Aircell offers passengers improved productivity and convenience. It's also another example of Clay Lacy Aviation's commitment to providing each customer superior safety, service and value."
John Wade, Aircell's executive vice president and general manager, said, "Clay Lacy Aviation's program to make Gogo Text & Talk service available to passengers will set a new standard in the charter and aircraft management industry. We're very proud to have our system selected by such a well-known and respected organization."
ABOUT CLAY LACY AVIATION
Founded in 1968 by world-renowned pilot Clay Lacy, Clay Lacy Aviation (CLA) operates one of the largest fleets of charter and managed aircraft in the world. The company's fixed based operations in Los Angeles and Seattle set the industry standard for corporate aviation facilities and amenities. CLA offers a complete range of aircraft charter, management, sales, maintenance, avionics and interior completion services, and is an authorized service center for the Embraer Phenom 100 and 300. Home to an award-winning Class IV maintenance repair station, CLA's factory-trained technicians provide 24-hour on-site and mobile maintenance support.
CLA has received numerous industry awards: "Best of the Best" Jet Charter Service and Aviation Management Company – Robb Report; Diamond Award for Excellence in Maintenance Training/Proficiency – Federal Aviation Administration; Best Pilot Training Program and Platinum Rating – Aviation Research Group/U.S.; IS-BAO Stage 2 Certification – International Business Aviation Council; and Wingman Rating –The Wyvern Standard. For more information on CLA's complete line of business aviation services and 15 authorized dealerships, visit claylacy.com.
ABOUT AIRCELL
Aircell, a Gogo company, is a leading provider of in-flight connectivity equipment and services to the business aviation market. Through a full range of services including voice, high-speed Internet, cockpit data and more, Aircell increases the productivity, safety, and enjoyment of the business aviation travel experience. Headquartered in Broomfield, Colorado, USA, Aircell is an AS9100-certified company serving a global customer base with an authorized dealer/distributor network that spans six continents. A trusted brand in airborne communications, Aircell is a factory option at every major business aircraft manufacturer and installed on the world's largest fractional ownership fleets. The only company to offer equipment for three of the industry's most popular network technologies – Iridium Satellite, Inmarsat SwiftBroadband and Gogo Biz®, Aircell provides advice and solutions addressing any customer need, aircraft type, or geography.
A Collier Trophy nominee and the recipient of several dozen awards for innovation, Aircell is widely credited with many of the industry's most influential historical achievements, beginning with the groundbreaking airborne cellular concept that launched the company in 1991. Connect with us at www.aircell.com and on Twitter at www.twitter.com/aircellbizav.
For More Information
Scott Cutshall
Vice President, Marketing
(818) 989-2900
scutshall@claylacy.com
NBAA Booth #N5115