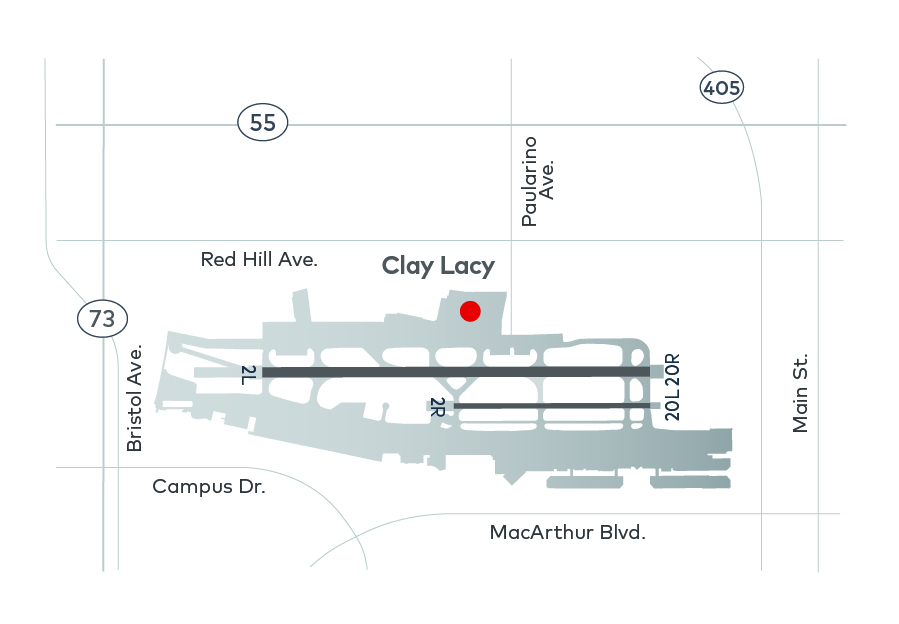 361 Paularino Avenue
Costa Mesa, California 92626
Office & Hangar Inquiries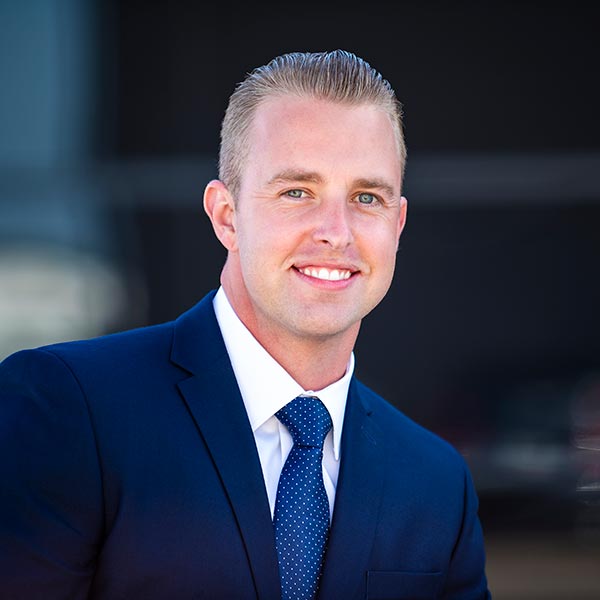 Alex Scott
General Manager
We are delighted to provide our guests with direct drive-up access to their aircraft for arrivals and departures. Drive-up access requires all individuals in the vehicle to show photo ID at the airport security gate before driving to your aircraft.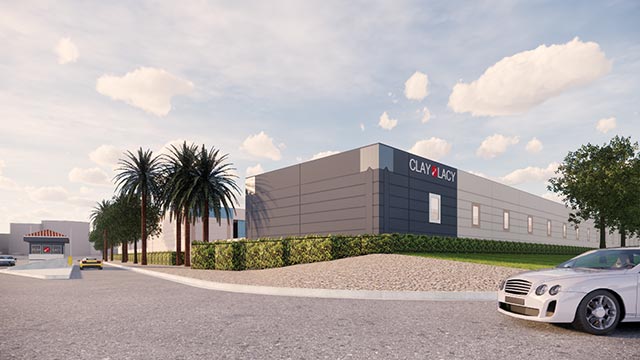 Arriving to John Wayne Airport by Vehicle
Check-in at the CLA Welcome Center located at the intersection of Airway and Paularino. You will be greeted by a CLA representative. Please have your tail number information ready. If you do not encounter a CLA representative when you arrive please call 714.888.8000.
The CLA representative will coordinate an escort through the John Wayne Airport Security Gate directly to your aircraft or the Clay Lacy Lobby. You may be asked to wait in one of the pre-ramp staging areas designated by Clay Lacy signage or the team member assisting you.
Each driver will be required to show their valid drivers license to the Airport Security Guard at the JWA Security Gate prior to ramp entry. To reduce waiting times at the gate, please have your drivers license readily available when arriving to the facility.
Airport regulations require the gate to close completely behind the last vehicle through the gate. You may experience a small wait after entering the AOA to ensure the gate closes behind you.
Clay Lacy will valet your vehicle at the aircraft or lobby. If you would like to self-park, please let us know and we will direct you to a parking space once escorted through the gate.
Landing at John Wayne Airport by Aircraft and Departing by Vehicle
Personal vehicle or professional driving service will meet you at your aircraft.
CLA personnel will escort you to exit at airport security gate.
ADDITIONAL:
Ask us about enclosed parking, professional auto detailing and fueling services while away on your flight. Additional charges apply.
Professional chauffeur services are allowed to drive up to aircraft.
Ride share and taxi services are not permitted to drive up to aircraft. CLA will provide shuttle to aircraft.
Fuel Rates
Sustainable Aviation Fuel (SAF)
Ramp handling fees are waived for 24 and 48 hour period with minimum fuel upload for fixed wing aircraft. World Fuel contract fuel available and Avcard is preferred method of payment. Retail rates are published in accordance with the transparency in FBO pricing best practices outlined by the NATA, AOPA, GAMA, HAI, EAA and NBAA.
Please Fly Neighborly
John Wayne Airport works closely with aviation businesses and local residents to reduce noise impacts to the surrounding communities. Please read and participate in these noise abatement programs.
Quiet Nights – Please avoid flying during nighttime curfew hours from 10pm to 7am daily.
Carbon Neutral Facilities
Our facilities have been carbon neutral since 2019, and we were the first company certified to NATA's Sustainability Standard for Aviation Businesses and the world's first company to be independently reviewed and rated Facility Green Level by 4AIR. We are also a Los Angeles-certified Green Business and member of the California Green Business Network.