Gulfstream G150
Aircraft Amenities
6 personal monitors
Airshow moving map
DVD player
Power outlets
Forward refreshment center with microwave
Enclosed aft lavatory with full vanity
Cabin Configuration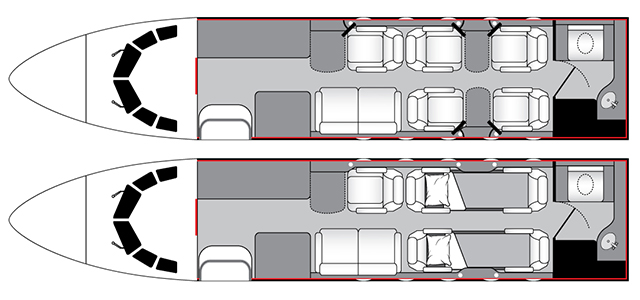 Aircraft Description
GULFSTREAM G150 CHARTER
The G150 aircraft combines comfort, an updated interior space and the speed you need to get to your destination.
GULFSTREAM G150 RANGE & PERFORMANCE
The G150 powered by two fuel-efficient Honeywell engines, give it a range of 2,760 nautical miles. The G150 aircraft lives up to the reliability and standards of high-performance jets.
GULFSTREAM G150 INTERIOR & SPECS
The G150 aircraft includes seating for 7 and 2 beds, along with a number of TV monitors, luggage room, power outlets, a microwave and a range of other amenities. The Gulfstream G150 midsize aircraft provides a quiet, spacious, and high-quality interior for your next jet charter.
Jet Charter Quote
Use our interactive map to receive an instant jet charter quote.