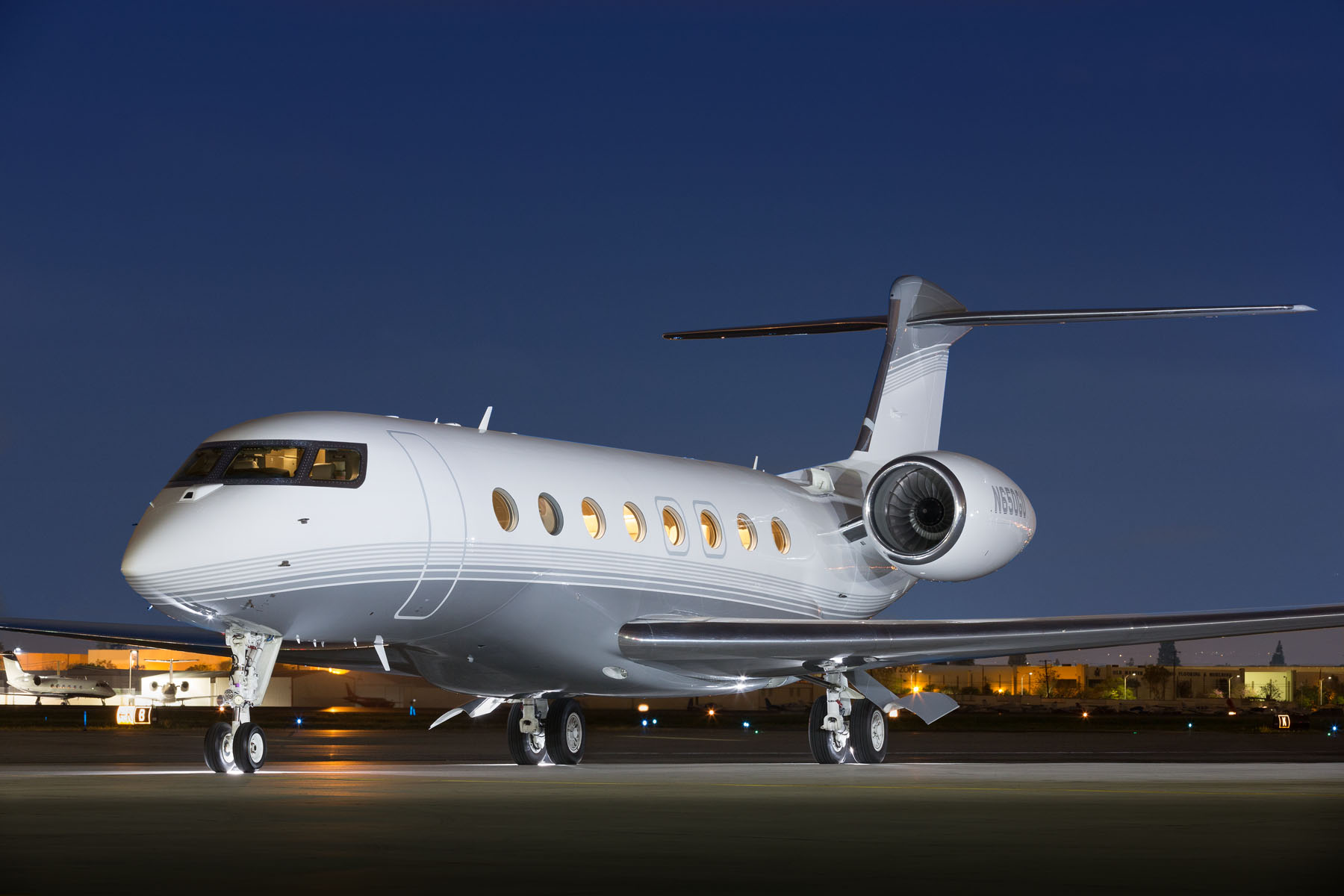 CLAY LACY AVIATION INTRODUCES THE GULFSTREAM G650 TO ITS GLOBAL CHARTER FLEET
An additional Gulfstream GIVSP and Gulfstream G200 have also joined the diverse fleet to serve a rising demand in the company's growing charter business. 
(Los Angeles, Calif. – May 19, 2014) Clay Lacy Aviation—the most experienced operator of private jets in the world—welcomes the ultra-large-cabin, ultra-long-range Gulfstream G650 for global charter, along with the popular super-midsize Gulfstream G200 and large cabin Gulfstream GIVSP. Based at Los Angeles' Van Nuys Airport, these new planes expand the company's diverse charter fleet to over 50 aircraft in every size category.
"We're extremely excited that our clients will be among the first to fly aboard the most technologically advanced aircraft in the sky," said Clay Lacy Aviation President Brian Kirkdoffer. "The G650 flies farther, faster and with more comfort than any other business aircraft."
Gulfstream G650, the world's largest and fastest business jet
The G650 travels at close to the speed of sound and is the largest, fastest, quietest and longest-range Gulfstream ever built.  The cabin is 14 inches wider, three inches taller and features signature oval windows that are 16 percent bigger than on the G550.  The aircraft is equipped with a full array of sophisticated, next-generation technology to improve pilot situational awareness and safety.   With spacious accommodations for 13 passengers, the G650 features a private stateroom, international and domestic Wi-Fi, satellite phone and iTouch devices at each seat controlling everything from lighting and window shades to cabin temperature and multimedia.
Gulfstream G200, a pioneer in the super-midsize category
The G200 offers an excellent combination of range, cabin size and speed that makes for an exceptional value. Its roomy stand-up cabin features seating for nine, with six captain's chairs and a three-place divan that can be converted to a two-place bed. With an expansive luggage capacity and full lavatory with vanity, the G200 is ideal for domestic or international travel.  Passenger amenities include Wi-Fi, satellite telephone, iPod connectivity and DVD players.
Gulfstream GIVSP, a true icon of business jets
This elegant Gulfstream GIVSP recently received an entirely new interior and fresh paint scheme.  The cabin offers 10 spacious individual captain's chairs and a three-place divan.  For entertainment, there are 11 individual TV monitors, a Blu-ray player, satellite phone and WiFi connectivity.
 "With more than 45 years of conducting charters around the globe, we have elevated the in-flight experience to something truly extraordinary," Kirkdoffer said. "To say that flights are customized to each passenger's individual preferences just begins to describe the onboard experience with Clay Lacy Aviation.  Our professionally trained and culinary-skilled flight attendants create one-of-a-kind experiences that delight our clients."
For booking information, contact one of our travel coordinators at (800) 423-2904 or charter@claylacy.com
About Clay Lacy Aviation
Founded in 1968 by an aviation legend, Clay Lacy Aviation is distinguished as the most experienced operator of private jets in the world, with one of the largest and most diverse fleets of charter and managed aircraft. Headquartered in Los Angeles with full-service private jet facilities in Van Nuys, Calif. and Seattle, Wash., it offers complete aircraft management, charter, sales and acquisitions, FBO, maintenance, avionics and interior services.  The award-winning class IV repair station services a wide variety of business jets and is an authorized service center for the Embraer Phenom 100 and 300. Its experienced team is globally recognized for providing aircraft owners and jet travelers unequaled safety, service and value.
Clay Lacy Aviation is the recipient of numerous awards, including: "Best of the Best" Jet Charter Service and Aviation Management Company – Robb Report; Diamond Award for Excellence in Maintenance– Federal Aviation Administration; Five Stars for Maintenance Training- National Air Transportation Association; Best Pilot Training Program and Platinum Rating – Aviation Research Group/U.S.; IS-BAO Stage 2 Certification – International Business Aviation Council; and Wyvern Wingman Rating –Wyvern's highest rating. .For more information, visit www.claylacy.com.
For more information
Scott Cutshall
Vice President, Marketing
(818) 989-2900