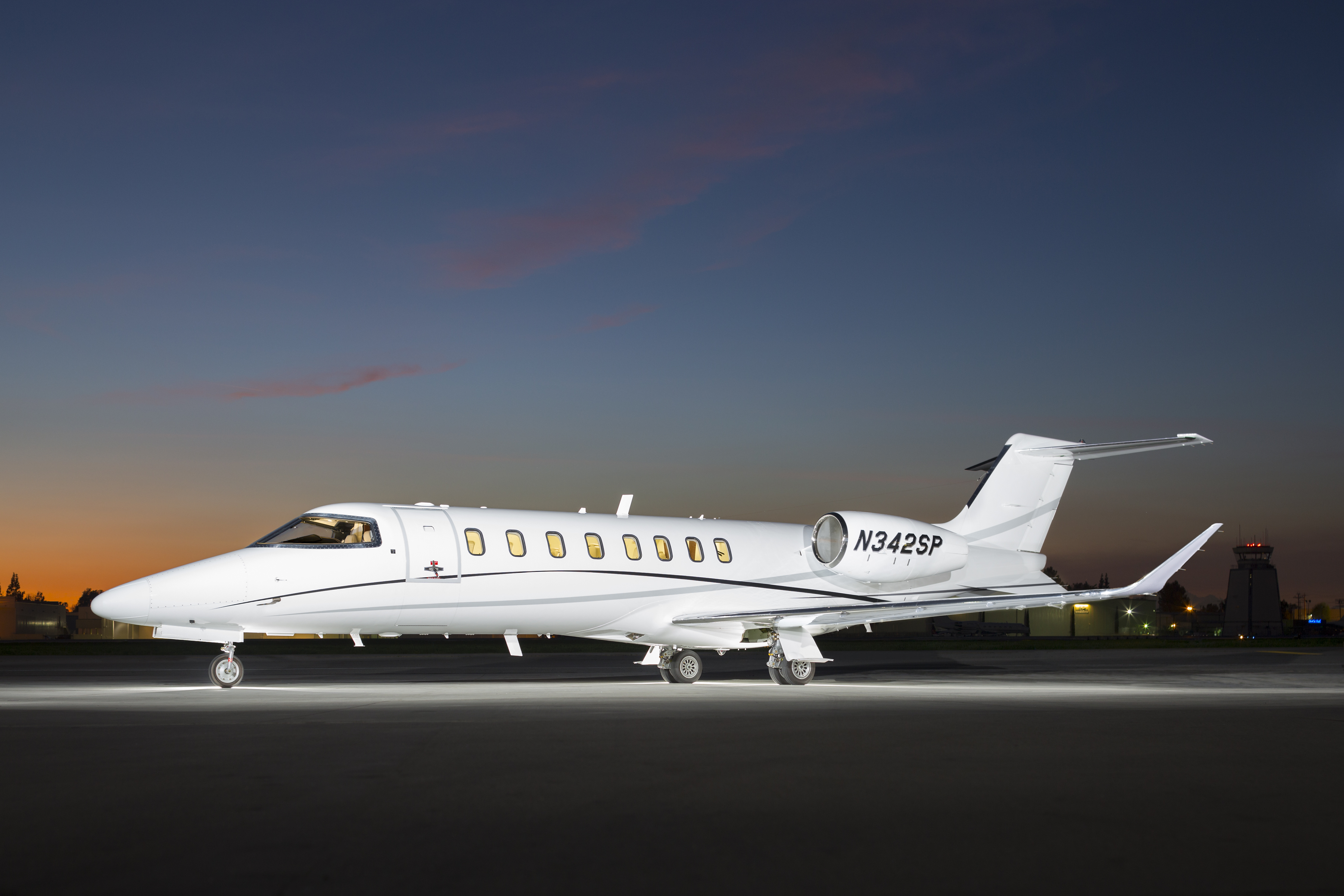 Clay Lacy Aviation Welcomes Learjet 75 to its Expansive Charter Fleet
From the company that pioneered aircraft charter with the original Learjet, comes today's best equipped and most spacious light cabin aircraft in its class.
(Los Angeles, Calif. – Mar. 18, 2015) Clay Lacy Aviation—the most experienced operator of private jets in the world–introduces the Bombardier Learjet 75 for charter in Los Angeles, featuring evolutionary aerodynamics, legendary speed and the latest in passenger amenities.
"It has been half a century since Clay Lacy Aviation introduced the original Learjet to corporate aviation," said Clay Lacy Aviation President and CEO Brian Kirkdoffer. "Today, we are excited to carry the Learjet brand and legacy into a new era.
Providing all the room you need to work or relax, the Learjet 75 is a next generation business jet offering a spacious interior, large galley, full-size lavatory and longest seat length in class. Featuring executive double-club seating for eight passengers, its individual leather seats swivel and recline for added comfort.   It also comes equipped with individual touch-screen monitors at each seat with complimentary domestic WiFi to maximize productivity or provide hours of entertainment while flying.
The expansive luggage capacity can easily accommodate oversized suitcases, golf clubs and skis. For those traveling to cooler climates, the external baggage compartment automatically heats when temperatures drop below 40 degrees to prevent freezing of luggage items.
Its exceptional performance makes it perfect for flying in and out of mountainous airports such as Aspen and Telluride. The Learjet is ideal for travel from Los Angeles to Chicago, Nashville or Dallas, with a 2,040-mile nautical range, and high-speed cruise at 534 mph. A new winglet design allows travel with eight passengers and full fuel, previously possible only on super-midsize or large aircraft.  Plus, a 51,000-foot operating ceiling allows for smoother flights, avoiding delays often caused by weather and airspace congestion.
"We engineered the Learjet 75 to provide passengers outstanding reach, exceptional versatility, revolutionary technology and superior speed," said Peter Likoray, Vice President, Sales, North America, Bombardier Business Aircraft "We are pleased that Clay Lacy Aviation, a company with a legendary reputation for safety, service and value, is helping Bombardier shape the future of business aviation."
To view photos and more information about the Learjet 75 or other aircraft in the Clay Lacy Aviation fleet, visit www.claylacy.com. For booking information, contact one of our travel coordinators at (800) 423-2904 or charter@claylacy.com.
About Clay Lacy Aviation
Founded in 1968 by an aviation legend, Clay Lacy Aviation is distinguished as the most experienced operator of private jets in the world, with one of the most diverse fleets of charter and managed aircraft available. The company provides a comprehensive set of aviation services including aircraft management, charter, sales, acquisitions, FBO, maintenance, avionics, interiors and aerial cinematography. It's also an authorized service center for the Embraer Phenom 100 and 300. Clay Lacy Aviation operates two full-service private jet facilities at Los Angeles' Van Nuys Airport and Seattle's Boeing Field, with regional offices and aircraft operations based at 10 additional U.S. cities. Its experienced team is globally recognized for providing aircraft owners and jet travelers unequaled safety, service and value.
Clay Lacy Aviation is the recipient of numerous industry awards, including: "Best of the Best" Jet Charter Service and Aviation Management Company – Robb Report; Diamond Award for Excellence in Maintenance Training/Proficiency – Federal Aviation Administration; Best Pilot Training Program and Platinum Rating – Aviation Research Group/U.S.; IS-BAO Stage 2 Certification – International Business Aviation Council; and Wingman Rating –The Wyvern Standard. For more information, visit www.claylacy.com
For more information
Scott Cutshall
Vice President, Marketing
(818) 989-2900