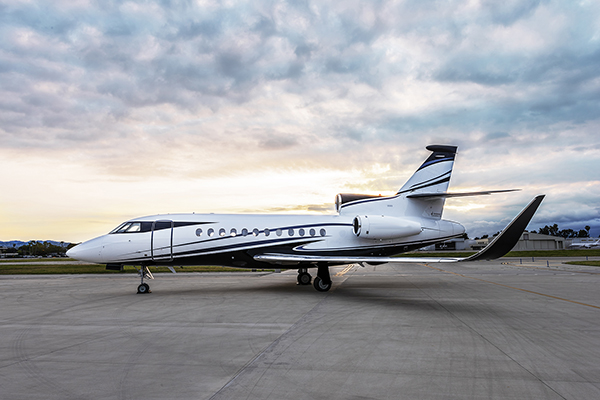 Falcon 7X and Falcon 900EX EASy with New Interiors, Paint and Wi-Fi Are Latest Additions to Clay Lacy Charter Fleet
Falcon 7X is available in New York, Falcon 900EX EASy available in Los Angeles
(Los Angeles—May 13, 2019) Clay Lacy Aviation expands its nationwide charter fleet with a 12-passenger Dassault Falcon 7X, featuring a new interior and global high-speed streaming Wi-Fi, and a 12-passenger Dassault Falcon 900EX EASy, also with a fresh interior, domestic high-speed Wi-Fi, and custom 3M thermal-acoustic sound insulation, creating one of the quietest cabins in the sky.
Falcon 7X in New York
This high-performance Falcon 7X was beautifully refurbished in 2019. With Dassault's powerful yet fuel-efficient tri-engine design, it is perfect for nonstop travel up to 5,590 nautical miles, reaching destinations in the Americas, Europe, North Africa and the Middle East, including airports where many other large cabin jets cannot land, like London City Airport.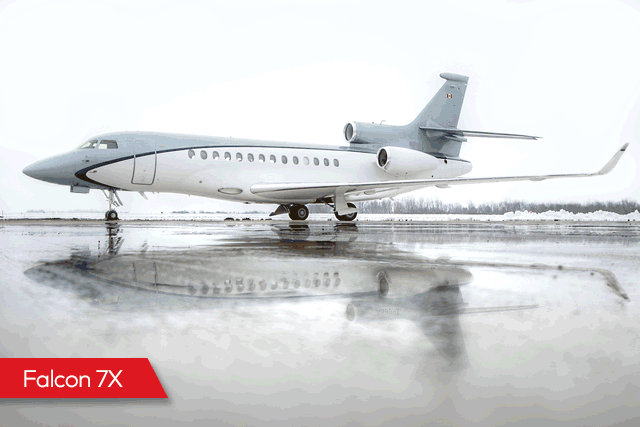 The spacious, quiet cabin is filled with natural light from 28 large windows, and has been reimagined to maximize comfort, productivity and privacy. Global streaming Wi-Fi enables seamless video conferences, movies and music worldwide. The flight experience is further enhanced by a user-friendly cabin management system, international satellite telephone, and Bluetooth audio connections. The aft cabin double divan can be partitioned, making an ideal bedroom. There are separate full lavatories for crew and passengers, a full galley, and direct inflight access to the luggage compartment.
Falcon 900EX EASy in Los Angeles
With its three-engine configuration and 4,500-nautical-mile nonstop range, this jet is excellent for charters throughout North and South America, the Caribbean or Hawaii, with outstanding performance even at challenging high-altitude airports like Aspen and Toluca, Mexico. This jet has a dynamic new paint scheme and high-speed Wi-Fi. The upgraded cabin design features a 3M manufactured thermal-acoustic insulation system that reduces sound pressure levels in the passenger cabin by 50 percent, creating an ultra quiet environment. Paired with noise-cancelling privacy curtains between cabin sections, this aircraft is ideal for passenger privacy and comfort.
Bathed in natural light from 24 large windows, the interior is executed in sophisticated shades of gray and dark wood veneers. Up to 12 passengers will enjoy executive leather chairs and an elegantly upholstered divan, which all convert into comfortable beds. There is also a full galley and separate enclosed lavatories for passengers and crew.
Learn more about these charter jets at claylacy.com. For immediate assistance, call +1.818.989.2900 or obtain an instant charter quote online.
About Clay Lacy Aviation
Founded in 1968 by legendary aviator and industry pioneer Clay Lacy. Today, Clay Lacy Aviation is considered the world's most experienced operator of private jets. Prominent individuals and leading corporations trust Clay Lacy for aircraft management, charter, maintenance, avionics, interiors and FBO services. The company has aircraft operations and regional offices across the U.S., including a full-service FBO at Van Nuys Airport in Los Angeles, and aircraft maintenance centers in Los Angeles, San Diego and Oxford, Connecticut. Clay Lacy is the authorized dealer for the Quest Kodiak 100 Series II in the Northeastern U.S. With the most knowledgeable team in the industry, Clay Lacy delivers superior safety, service and value to aircraft owners and jet travelers worldwide. Visit claylacy.com.
Press Contact
Scott Cutshall
Clay Lacy Aviation
+1 (818) 989-2900 X706
Email
# # #