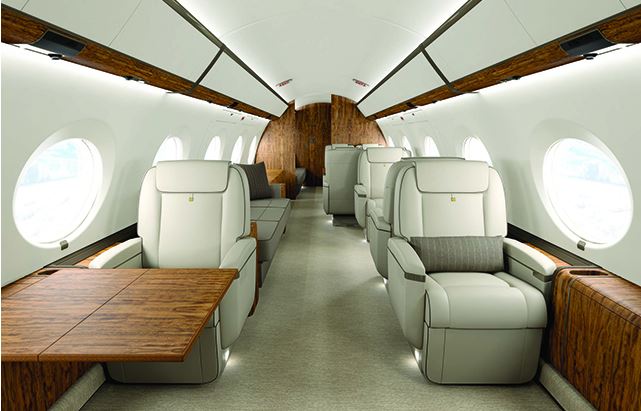 Gulfstream G650ER, Falcon 7X and Pilatus PC-24 Join Clay Lacy's Northeastern U.S. Charter Fleet
Just in time for the holidays, Clay Lacy introduces three new Wi-Fi equipped aircraft for private jet charter to the New York market.
(White Plains, New York—November 4, 2019) Clay Lacy Aviation has added a 16-passenger, ultra-long-range Gulfstream G650ER, a 16-passenger, long-range and fuel-efficient Dassault Falcon 7X tri-jet and the East Coast's first Pilatus PC-24 midsize jet for charter to its Northeastern U.S. fleet. All three aircraft are based at Waterbury-Oxford Airport (KOXC), a short flight from Teterboro, White Plains, Farmingdale, Stewart, Newark and other local airports serving the greater New York City area. All three jets are equipped with Wi-Fi, satellite phone and other desirable amenities. With cruising speeds approaching Mach 1, the ultra-long-range Gulfstream G650ER can quickly transport passengers up to 7,500 nautical miles in remarkable quiet and luxury. The fast, richly featured Falcon 7X is ideal for transcontinental and transoceanic journeys. For destinations throughout much of the U.S. and Canada, including airports where other business jets cannot land, clients will appreciate this Pilatus PC-24, the first PC-24 available for charter in the Eastern U.S.
"Our clients throughout the Northeast can easily find the perfect jet for any journey," said Veriar Collins-Jenkins, Vice President, Charter Services at Clay Lacy Aviation. "Whether their flight is regional, transatlantic or worldwide, our growing fleet can accommodate their business or personal travel needs in the latest, most modern jet aircraft."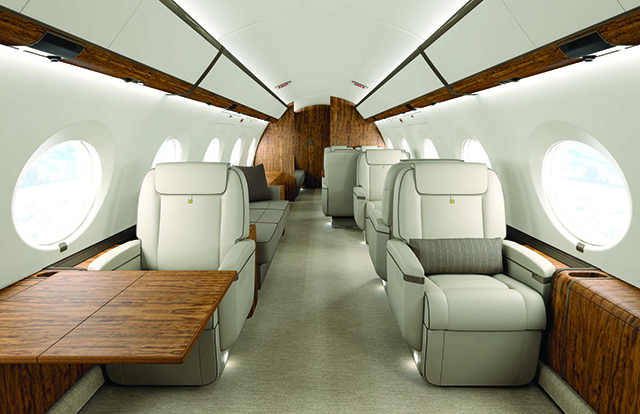 Gulfstream G650ER at Waterbury-Oxford Airport.
Traveling up to Mach 0.925, this 16-passenger Gulfstream G650ER is the ultimate choice for worldwide jet charter. It sleeps nine in three double and three single beds. Since the G650ER offers the lowest pressurized cabin altitude of any business aircraft, passengers experience less fatigue, sleep better, and arrive refreshed. In the cabin, leather executive chairs and divans are upholstered in shades of taupe and light gray, complemented by swirl-figured wood veneers in a sophisticated matte finish. The 16 cabin windows are the largest in the industry, bathing the spacious interior with natural light. Domestic and international high-speed streaming Wi-Fi and satellite phone maximize communications and the entertainment experience. The fully equipped forward galley features a refrigerator, ice drawer and sink, oven and microwave, coffee pot and Nespresso maker. The forward and aft lavatories feature granite sinks. Other amenities include Airshow moving map, Apple TV connection, external cameras, three monitors and power outlets at every seat.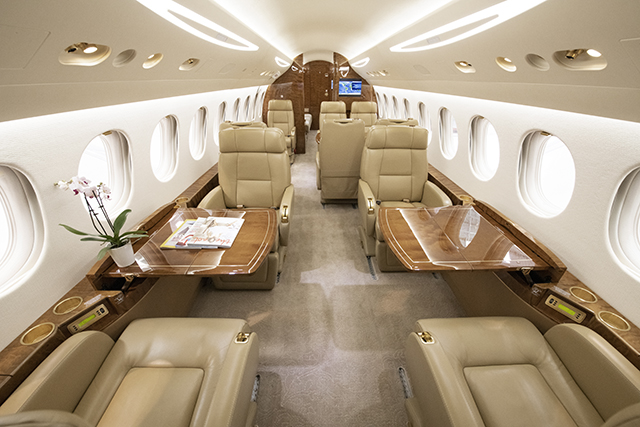 Falcon 7X at Waterbury-Oxford Airport.
This fuel-efficient, 16-passenger Falcon 7X can travel 5,590 nautical miles at speeds up to Mach .80. The spacious, whisper-quiet cabin features beautiful tan leather executive chairs and divans, complemented by polished wood veneers and natural light throughout. The divans convert to beds which sleep four in comfort. Passengers can stay entertained and in touch with domestic and international high-speed streaming Wi-Fi and a satellite phone. Other amenities include Airshow moving map, Bluetooth audio, two large monitors and power outlets throughout the cabin. The full galley has conventional and microwave ovens, ice drawer, chiller and Nespresso coffeemaker. The aft passenger lavatory has a full vanity, and there is a forward lavatory for crew members.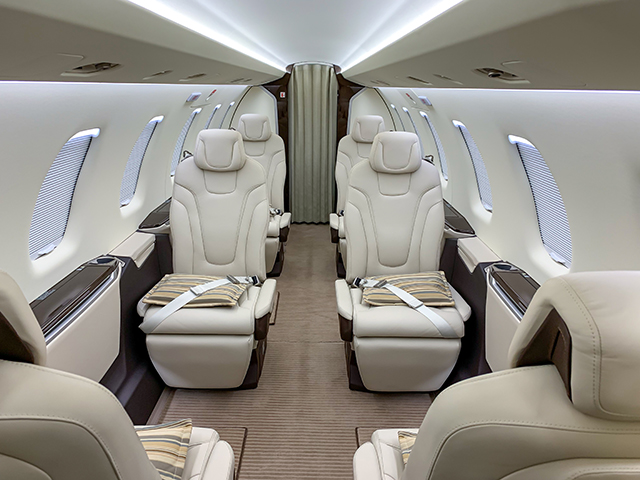 Pilatus PC-24 at Waterbury-Oxford Airport.
With a nonstop range 2,000 nautical miles, the Pilatus PC-24 is the only business jet that can operate from even unpaved surfaces as short as 2,930 feet. Onboard this PC-24, the airy cabin has six executive chairs, upholstered in light-gray leather, four of which convert to beds. Tasteful, dark wood veneers add a further touch of elegance. Passengers will enjoy domestic high-speed Wi-Fi, international satellite phone, two iPads and Airshow moving map. Every seat has cabin environment controls, USB and power outlets. Additional amenities include a refreshment center with chiller and coffee maker, as well as an enclosed lavatory with vanity
For immediate assistance, call +1.818.989.2900, email chartersales@claylacy.com or obtain an instant charter quote.
About Clay Lacy Aviation
Founded in 1968 by legendary aviator and industry pioneer Clay Lacy. Today, Clay Lacy Aviation is considered the world's most experienced operator of private jets. Prominent individuals and leading corporations trust Clay Lacy for aircraft management, charter, maintenance, avionics, interiors and FBO services. The company has aircraft operations and regional offices across the U.S., including a full-service FBO at Van Nuys Airport in Los Angeles, and FAA Part 145 aircraft maintenance centers in Los Angeles, San Diego and Oxford, Connecticut. Clay Lacy is the authorized dealer for the Quest Kodiak 100 Series II in the Northeastern U.S. With the most knowledgeable team in the industry, Clay Lacy delivers superior safety, service and value to aircraft owners and jet travelers worldwide. Visit claylacy.com.
Press Contacts
Scott Cutshall
Clay Lacy Aviation
+1 (818) 989-2900 X706
Email
# # #