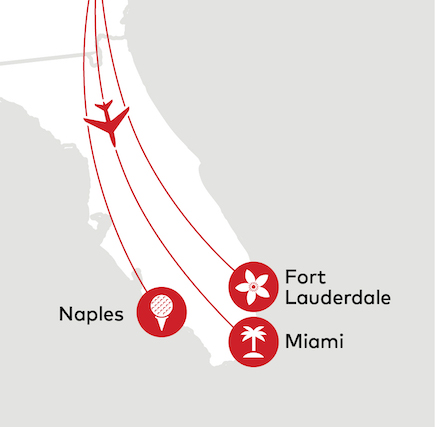 NYC to Miami: Charter South for the Winter
We do not have to sell you on the weather in the Sunshine State. Florida is nice year-round. You could be there now playing golf or putting out to sea. Instead, here you are out in the cold. It does not have to be this way.
Charter with Clay Lacy Aviation to the perpetual summer sun from NYC to Miami and more.
With its beaches and islands, Florida is the perfect place for a snowbird to land. It is our southernmost state, the one closest to the equator, and the one with the most coastline.
Here are some places we recommend you go to warm up this winter.
NYC to Miami
Even if there were no gorgeous white sands, Miami would be in postcards. The art deco hotels that line Ocean Drive are that good looking.
Here are a few other things you will have eyes for in Miami.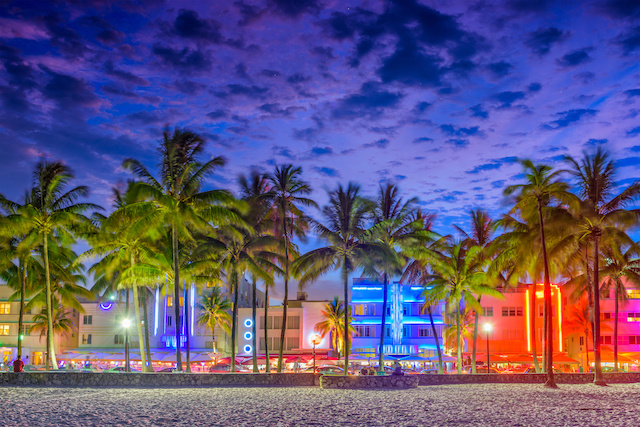 Miami by moonlight The city really sparkles when the lights go down. The dance halls fill with salsa and the swells fill the swanky candlelit lounges. The locals swear by Lagniappe, a touch of the old south in a modern city. Art on the walls, vintage furnishings, cool crowd, patio with palm trees — the vibe is just right.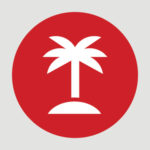 Pérez Art Museum Miami Architecturally, it is one of the city's most impressive spaces. Artistically speaking, the museum stages some of the best contemporary exhibitions in the city.
Eat boldly Miami is a bold city always in search of new ideas and flavors. You will find good global fare just about anywhere. Lately, Kyu has been dazzling critics with its creative Asian-inspired dishes. Call ahead or be prepared to wait, the food is that dazzling.
NYC to Fort Lauderdale
You will barely leave the beach in Fort Lauderdale and hardly need to. The coast features some of this country's most beautiful shorelines?
What else will you find if you ever get out of the water?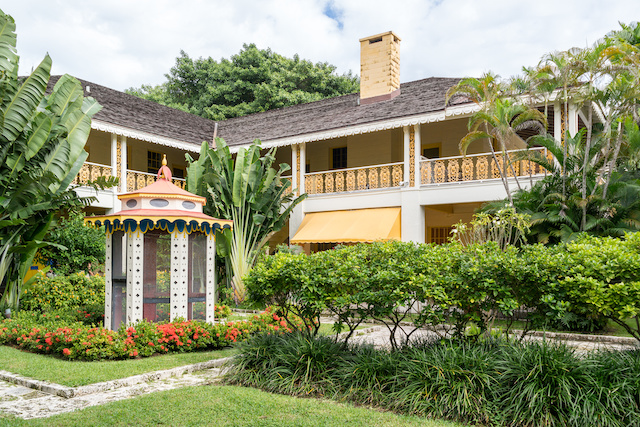 Bonnet House Once the home of artists and collectors Frederic and Evelyn Bartlett, the Bonnet House is now open to guided tours that swing through its art-filled rooms and studios. The subtropical gardens beyond the house feature one of the finest orchid collections in the country.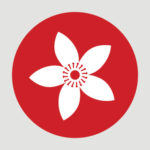 Tour the Everglades Take an airboat tour in Everglades National Park. Spot gators in Big Cypress National Preserve, then cruise along mangrove-lined waters and look for manatees and dolphins.
Las Olas Riverfront The Las Olas Riverfront is a boardwalk with stores, restaurants and live entertainment nightly — and the place to catch many river cruises.
NYC to Naples
Naples is a great place for a romantic getaway. On the Gulf Coast of Florida, it is full of natural attractions, sun and so much surf. But Naples is also known for high-end shops and sophisticated dining. It even has a Fifth Avenue, as upscale as you would expect.
What else is there to like about it?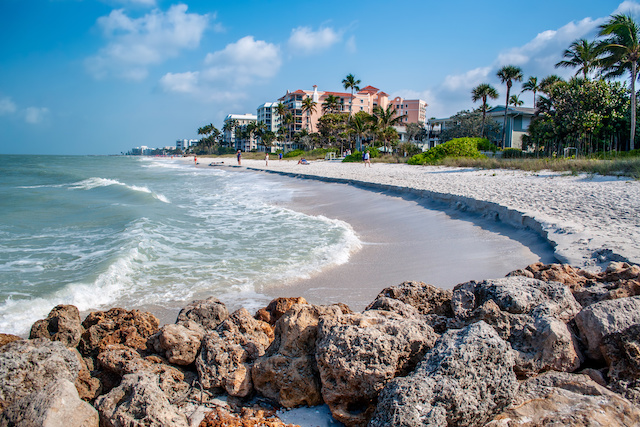 Everglades City Rod and Gun Club An elegant old club visited by five presidents and at least one Rolling Stone. Everglades City Rod and Gun Club was once a playground for the wealthiest people in America. It still looks it.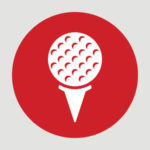 Naples Botanical Garden These gardens have been called "a place of bliss, a region of supreme delight." So expect more than a simple garden. You'll find seven, in fact, plus a butterfly house and way more growing along the 2.5-mile trail.
Tiburón Golf Club Tiburón is Spanish for shark. Makes sense, as this course was designed by Greg Norman, a formerly top-ranked golfer known on the PGA Tour as "the Great White Shark." The club has two courses, Gold and Black, and offers private lessons.
Looking to fly south this winter? Book your private jet charter from cold NYC to Miami, Fort Lauderdale or Naples today.