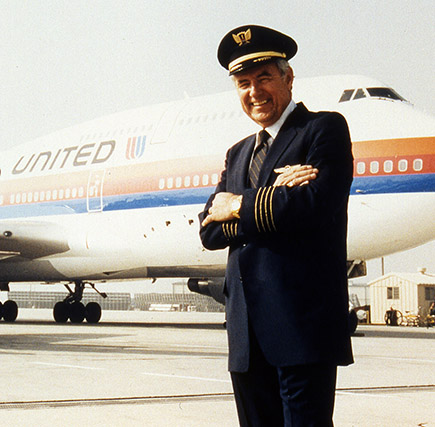 Clay receives prestigious NBAA award
Lacy is a world-renowned pilot with over 50,000 hours of flying time whose lifetime in aviation has included experience as an Air Force pilot and airline pilot, fame as a national air racer, and international success as a director and videographer specializing in air-to-air sequences for Hollywood blockbuster movies and television commercials.
In October 1964, Lacy based the first business jet at Van Nuys Airport (VNY), and from 1964 to 1967, he worked as a manager of Lear Jet sales in 11 western states. In 1968, he established the first jet charter service west of the Mississippi River, at VNY.
Today, he is still owner and chief executive officer of Clay Lacy Aviation, a full-service fixed base operator with a FAR 135 air taxi charter and aircraft management operation with a fleet of 65 jets, including Lears, Gulfstreams and Boeing Business Jets.
With his exclusive Astrovision-equipped Learjets, Lacy has gathered video footage for nearly every airline commercial, and for the aircraft industry and U.S. military.
As a member of the Screen Actors Guild and Directors Guild of America, Lacy has participated in aerial scenes for dozens of movies, including faking the gear-up landing of a Learjet for the movie, "Capricorn One," and performing an actual gear-up landing with a DC-3 for the film, "The Island." His director credits include aerial sequences for "Top Gun" and "The Right Stuff."
Lacy was national champion of the Reno National Air Races/Unlimited Class in 1970. In 1988, he set an "around-the-world speed record" in a United B-747 SP, while raising $530,000 for children's charities.
The man who once said, "I have seldom met an airplane I didn't like," grew up in the birthplace of aviation manufacturing, Wichita, KS, and knew by of the age of 7 that he wanted to be a pilot. By age 12, he was working at an airport trading his time for flying instruction.
With his unparalleled record of flying time in more than 200 different aircraft, Lacy holds an airline transport license with 32 type ratings, including for helicopters, sea planes, flight instruction and flight engineering. He is understandably known in the industry as the "flyingest pilot ever."
In 2010, Lacy was inducted into the National Aviation Hall of Fame, received a Pathfinder Award at the Seattle Museum of Flight and was awarded the Wright Brothers Master Pilot Certificate by the Federal Aviation Administration.
"Clay Lacy's name appears on a great many pages of official aviation record books," Bolen said. "We are proud to celebrate his lifelong devotion to flying airplanes and advancing the professionalism and safety of our industry with business aviation's highest honor."