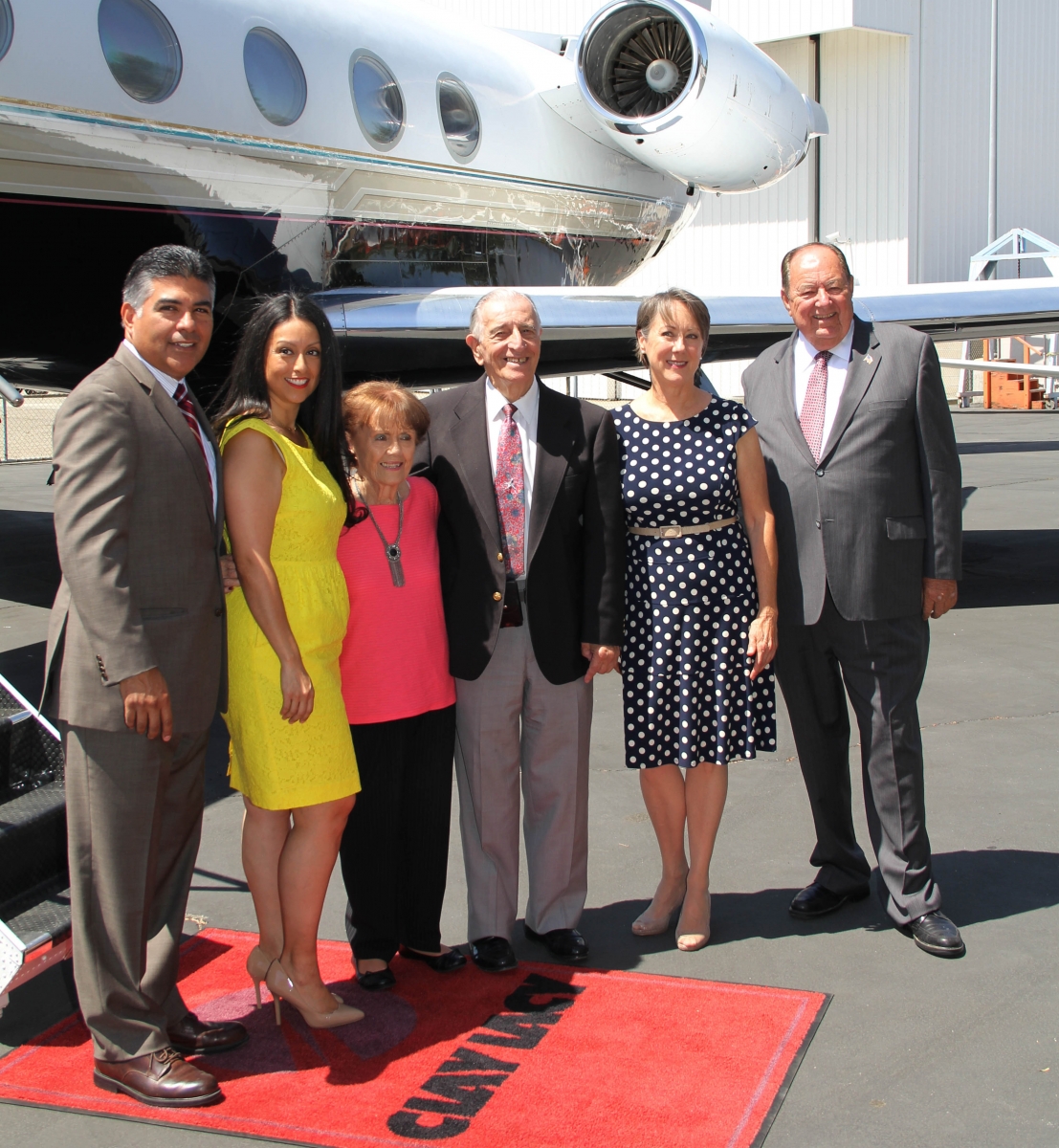 Legendary Pilot Clay Lacy Donates Iconic Business Jets to Los Angeles-Based Aviation School
Marking the school's largest single gift, the retired Learjet 24 and Gulfstream GIISP bring valuable training opportunities and a piece of aviation history to student aircraft mechanics at Van Nuys Airport.
(Van Nuys, Calif. – June 5, 2014) Veteran pilot and business aviation pioneer Clay Lacy has donated two retired corporate jets—a Learjet 24 and Gulfstream GIISP—to heighten training opportunities for students enrolled in a leading aircraft mechanics school at Van Nuys Airport.
Operated by the Los Angeles Unified School District's North Valley Occupational Center-Aviation (NVOC-Aviation), the adult education program has prepared individuals for highly skilled, well-paying careers as airframe and power plant mechanics for over 40 years.
"Aircraft maintenance is one of the most important jobs in the aviation industry to protect the safety of air crew and passengers," Lacy said. "Currently, there's a global shortage of qualified, entry-level mechanics.  This program is ranked among the top in the nation and enables nearly all graduates to land great jobs working on private, commercial and military aircraft. I know because we hire them!"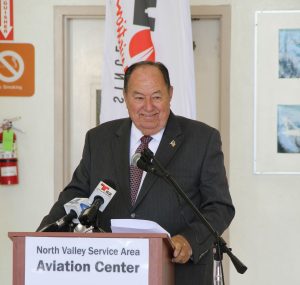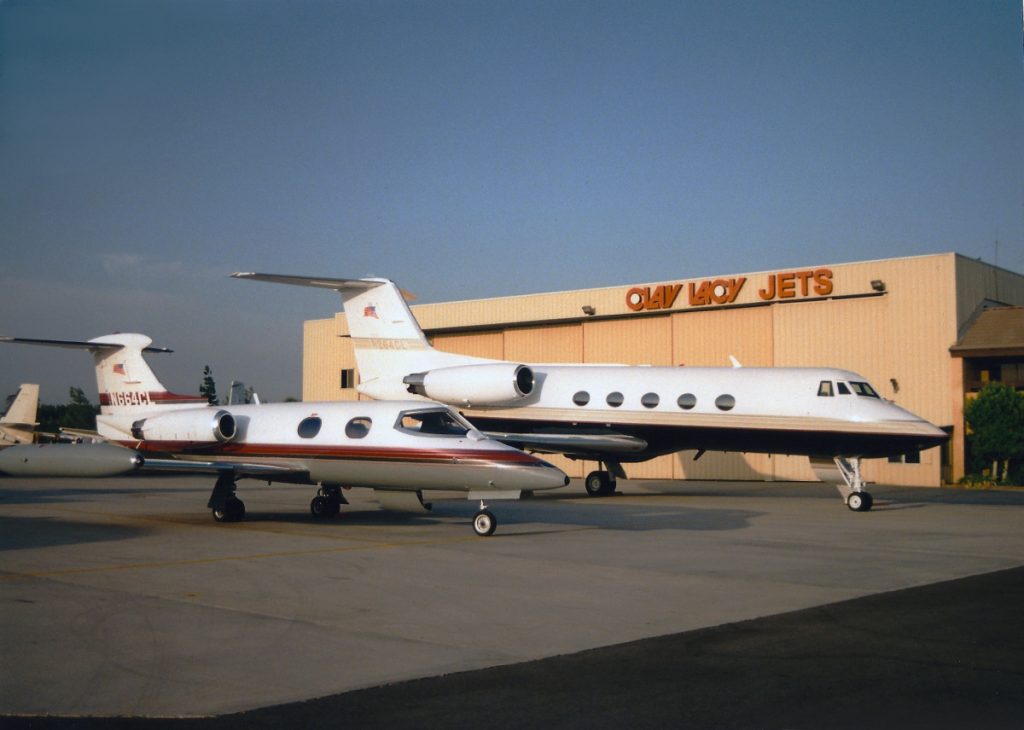 The donation holds special meaning to Lacy, who landed the first Learjet at Van Nuys Airport in 1964 and, four years later, founded Clay Lacy Aviation as the first jet charter company on the West Coast. Today, the company is the airport's longest-standing tenant and the world's most experienced operator of private jets.
"Our community needs the support of business leaders such as Clay Lacy for young people to succeed in today's workforce and keep our country competitive," said U.S. Congressman Tony Cárdenas at a ceremony honoring Lacy for his contributions. "Throughout his legendary career, he has demonstrated not only a passion for aviation, but a deep commitment to enabling the next generation of aviation professionals to let their dreams take flight."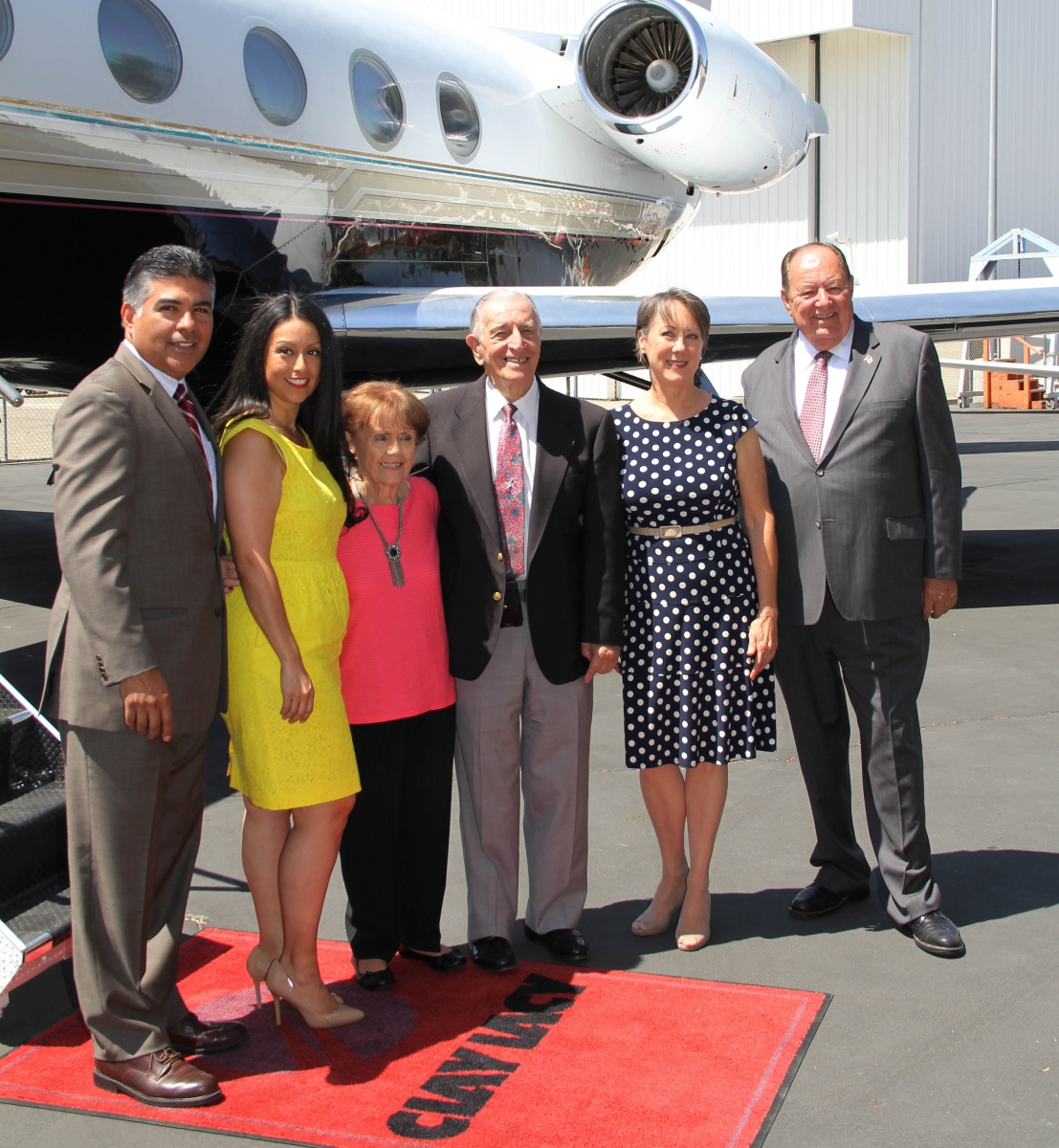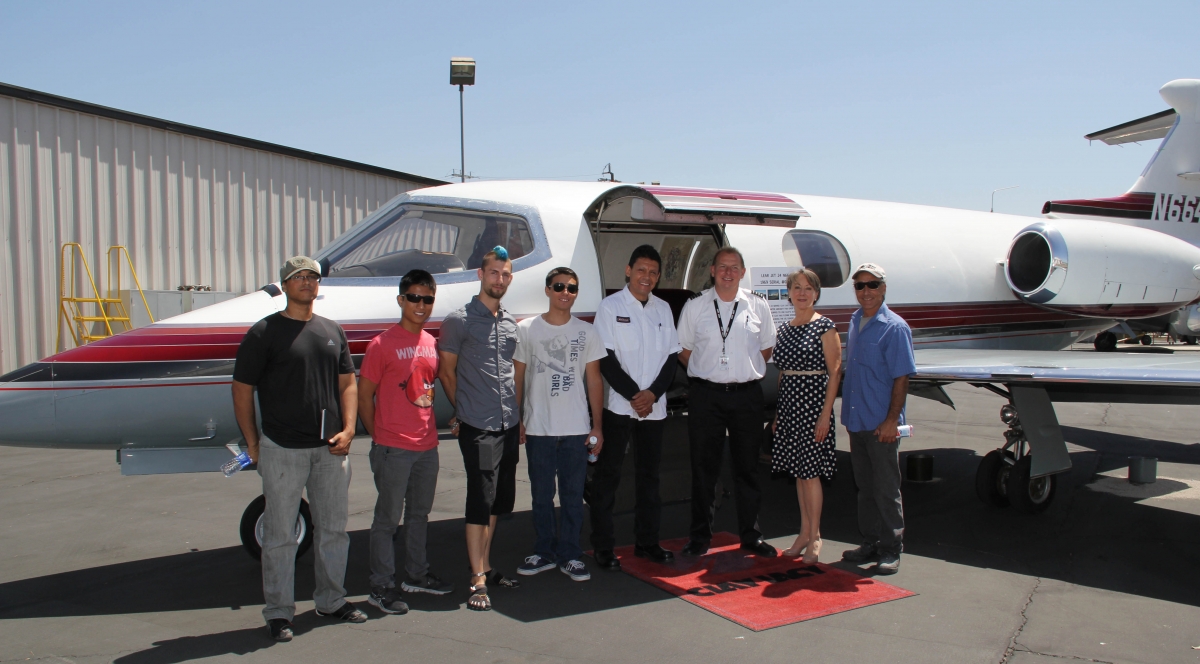 In their prime, the Learjet 24, built in 1968, and Gulfstream GIISP, built in 1979, served as flagships of the Clay Lacy Aviation fleet and helped launch a new era in corporate air transportation and mobility.
The 12-passenger Gulfstream GIISP—popular for its large cabin, speed and range—served as the charter aircraft of choice for heads of state, global business leaders, legendary entertainers and sports icons.  Among its most famous passengers were U.S. President Ronald Reagan and First Lady Nancy Reagan, and Prime Minister of the United Kingdom Margaret Thatcher.
Lacy flew the GIISP to worldwide locations, including Australia, Israel, Monaco, Brazil and China. Traversing the globe, the GIISP accumulated approximately 16,000 flight hours—the equivalent of 7.2 million miles—while part of the Clay Lacy Aviation charter fleet.
The GIISP was also one of the first aircraft equipped with blended winglets, enabling Lacy to set a world speed record in 1995 on a flight from Los Angeles to Paris en route to the Paris Air Show. Lacy went on to set additional speed records on flights from Moscow to Los Angeles and Los Angeles to Kitty Hawk, N.C., and a time-to-climb record in Santa Maria, Calif.
"At the time, I could start up the GII and fly it anywhere in the world," Lacy said. "Its hydraulic and electrical systems are very similar to those found on modern aircraft today, which provides a valuable hands-on learning opportunity. Students can see how everything works together on a complete aircraft, not just individual components."
The six-passenger Learjet 24 was the 167th aircraft of its type ever built and among Lacy's personal favorites. "I flew the Lear from Los Angeles to the East Coast and throughout the U.S." he said, "Its modified wing with thrust reversers made it ideal for landing at short airfields."
The high-speed jet's frequent fliers included some of Hollywood's most legendary personalities such as Ann-Margret, Suzanne Somers, Paul Anka, Johnny Carson, Jay Leno, Robert Redford and Sydney Pollack. During its storied career, it accumulated approximately 17,000 flight hours, the equivalent of 8.7 million miles.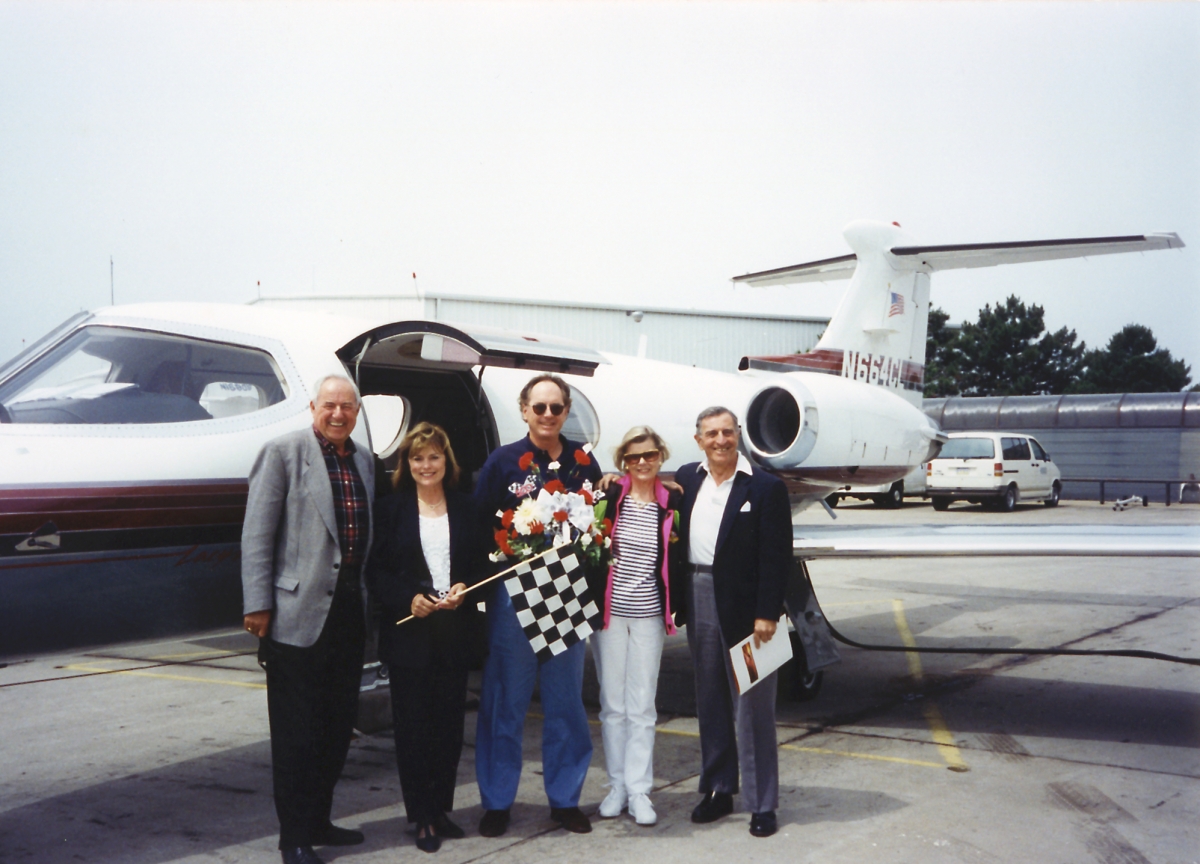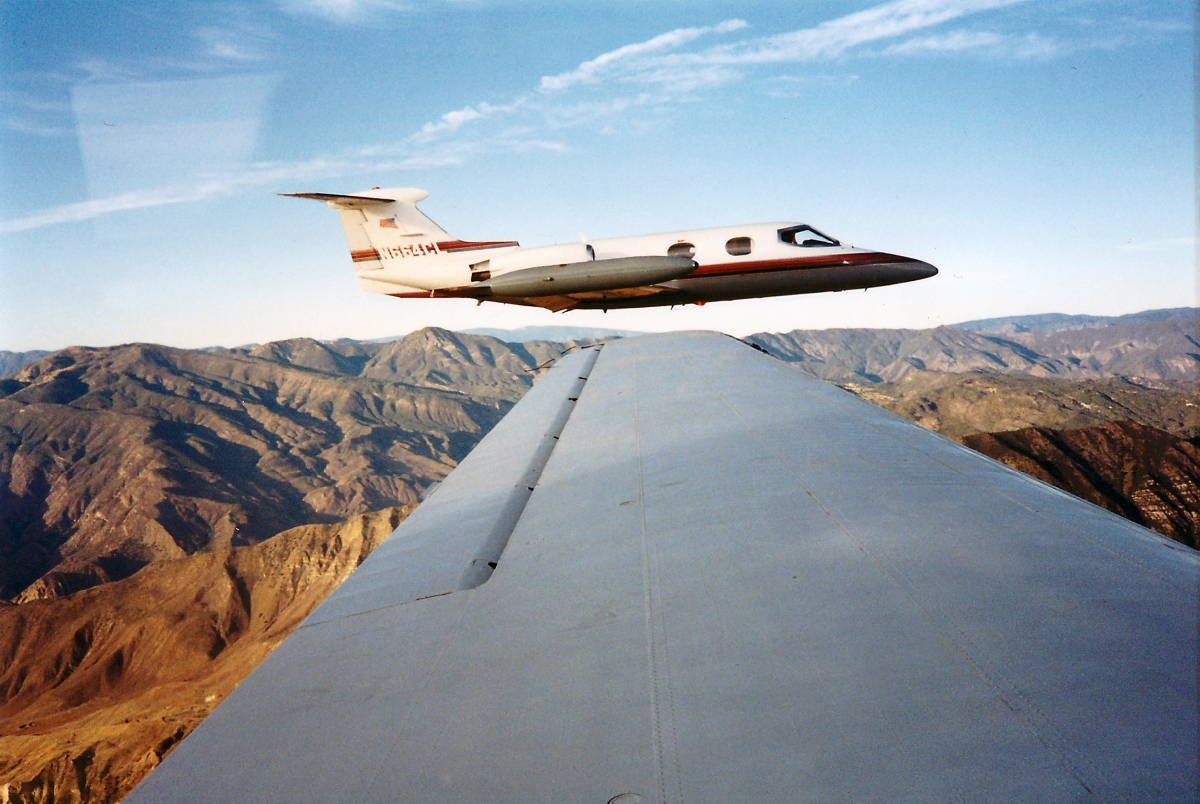 "On behalf of the residents of Los Angeles, especially those in the San Fernando Valley, I'd like to thank Clay Lacy for his generosity and long history of supporting educational programs in our community and specifically here at Van Nuys Airport," said
Los Angeles City Councilmember Nury Martinez
. "We could not predict today's celebration a year ago when we worked to save the aviation school from closure. Now, students can learn on the newest technology in preparation for their future careers."
Carlynn Huddleston, principal of North Valley Service Area
of Adult and Career Education Schools, says both aircraft will be used to expand the aircraft mechanics school's current curriculum and hands-on shop assignments. "This donation is an example of Clay Lacy's generous contributions to aviation and Van Nuys Airport spanning over four decades. No other individual has benefitted our program so greatly, or inspired our students so significantly. This is an exciting time in adult education."
About the North Valley Occupational Center– Aviation (NVOC – Aviation)
The NVOC – Aviation provides occupational and career training for the Los Angeles Unified School District, enabling the development of valuable middle-class jobs. The school's Aircraft Mechanics Program consists of 45 subject areas presented in three separate classes; all three courses are required to prepare students for the Federal Aviation Administration's licensing exam in general airframe and power plant mechanics. Tuition for the full-time, 2.5 year program is $2,400. For more information, visit
www.nvoc.org/html/courses_aviation.html
.
About Clay Lacy Aviation
Founded in 1968 by an aviation legend, Clay Lacy Aviation is distinguished as the most experienced operator of private jets in the world, with one of the largest and most diverse fleets of charter and managed aircraft. Headquartered in Los Angeles with full-service private jet facilities in Van Nuys, Calif. and Seattle, Wash., it offers complete aircraft management, charter, sales and acquisitions, FBO, maintenance, avionics and interior services. The award-winning class IV repair station services a wide variety of business jets and is an authorized service center for the Embraer Phenom 100 and 300. Its experienced team is globally recognized for providing aircraft owners and jet travelers unequaled safety, service and value.
Clay Lacy Aviation is the recipient of numerous awards, including: "Best of the Best" Jet Charter Service and Aviation Management Company – Robb Report; Diamond Award for Excellence in Maintenance – Federal Aviation Administration; Five Stars for Maintenance Training – National Air Transportation Association; Best Pilot Training Program and Platinum Rating – Aviation Research Group/U.S.; IS-BAO Stage 2 Certification – International Business Aviation Council; and Wyvern Wingman Rating – Wyvern's highest rating. For more information, visit
www.claylacy.com
.
For More Information
Stacy Geere
Media Contact
(661) 253-1059
Scott Cutshall
Vice President, Marketing
(818) 989-2900
#  #  #