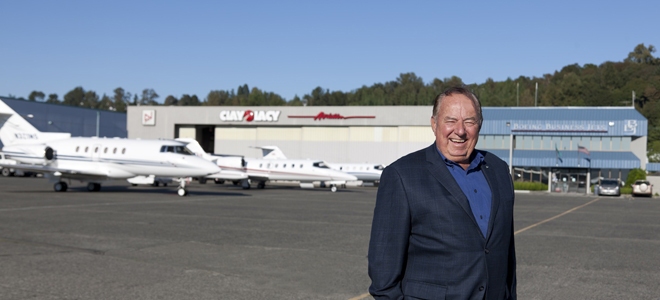 San Fernando Valley Business Journal Interview with Clay Lacy
"7 OVER SEVENTY" | Interview with Clay Lacy by MARK MADLER
San Fernando Valley Business Journal | January 12, 2015
Clay Lacy | 82 | Chief Executive Clay Lacy Aviation, Van Nuys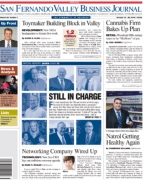 Clay Lacy's love affair with airplanes began as a young boy growing up in Wichita, Kan. where he started flying at 12 years old.
Seventy years later, the love affair is as strong as ever.
At an age when most people have settled into retirement, Lacy, 82, puts in about 30 hours a week at the aircraft charter and management firm bearing his name at Van Nuys Airport. And even when away from the business, it remains on his mind.
"I still like being associated with airplanes," Lacy said. "I still fly, and I wouldn't be doing it as much if I retired."
In a career that started in the 1950s, there isn't a phase in aviation that Lacy hasn't been involved with.
He's flown commercial and military planes; set records in air racing; piloted the first flights of five aircraft; was a pioneer in business aviation in the San Fernando Valley by bringing the first Lear jet to Van Nuys Airport in 1964 when working for a distributor of the aircraft; and developed an expertise in aerial photography for feature films and commercials.
He started Clay Lacy Aviation in 1968 as a charter operator and now has a fleet of nine owned aircraft and another 66 under management. These planes range from small jets such as Citations and Lears seating six to eight passengers to larger Gulfstream and Falcon jets that can accommodate between 11 and 14. In addition to Van Nuys, the company maintains hangar and office space at Boeing Field in Seattle and operates from three airports in California and Colorado.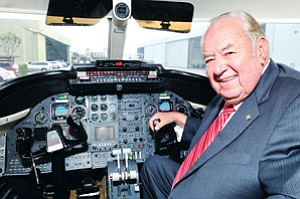 Staying actively involved with the company into his 80s, Lacy, said, makes him feel younger than he really is. If there is a downside it is not being as mobile as when he was younger.
"It is not as easy to climb around on airplanes as it used to be," Lacy said.
He also doesn't spend as much time doing paperwork in the office. And he has cut back significantly the hours he gets behind the controls of a plane. In his 20s and 30s, he was flying 120 hours to 140 hours a month. Nowadays, it is just a fraction of that.
"Now I just fly when I have a reason," Lacy said. "I rarely go out to fly in a pattern just to be in the air."
For anyone who wants to continue working past 65, Lacy recommended just doing it. There is no reason not to except for maybe any physical constraints. Working out business problems, he believes, should be as easy at 80 or 85 as at 25 years, or perhaps even easier because of having experience to fall back on.
For his contributions to aviation, Lacy has been honored by the National Business Aviation Association, the Federal Aviation Administration, and inducted into the National Aviation Hall of Fame. Yet for all those accolades, Lacy said the best advice he's received is not to take yourself too seriously.
"The world changes and people change," Lacy said. "You need to keep an open mind and enjoy it."

– Mark R. Madler