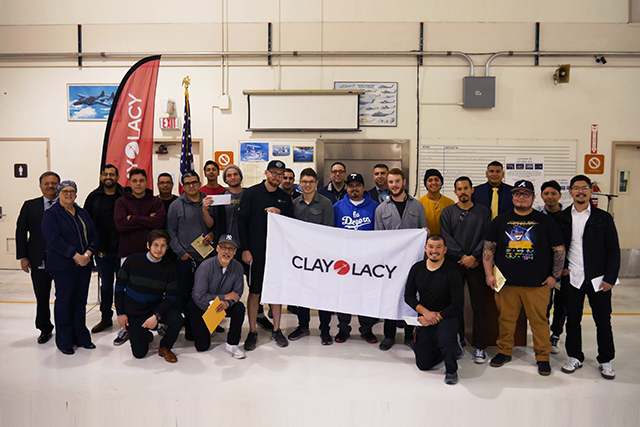 Clay Lacy Scholarship Funds Awarded to 26 Students at LAUSD Aircraft Mechanic School and Orange Coast College Pilot Program
Scholarships help aircraft maintenance and aviation science students prepare for rewarding aviation careers
(Los Angeles—June 10, 2020) Clay Lacy Aviation continues to nurture the next generation of aviation professionals, with scholarship funds for 22 students at the LAUSD's Aircraft Mechanic School at Van Nuys Airport in Los Angeles, and for four student pilots in the aviation science program at Orange Coast College in Costa Mesa, Calif. Now in its fifth year, the scholarship program at the Aircraft Mechanic School helps promising local students pay for tuition, books, tools and FAA exams as they work toward high-paying careers in aircraft maintenance. At Orange Coast College, this is the fourth year for Clay Lacy scholarship funds, which help lower flight training costs, so students can earn their private, instrument or commercial pilot license.

Clay Lacy Pilot Scholarship Winners at Orange Coast College
Established in 2017, this scholarship program recognizes four outstanding OCC aviation science students each year. Krystian Huber, Taylor Wilson, Isabel Burton and Joseph White are the latest recipients. Both Wilson and White are now licensed private pilots and belong to the OCC Flight Team, which competes in events conducted by the National Intercollegiate Flying Association. Clay Lacy Aviation established this program to partner locally with Orange County public education institutions that train future aviators. View the Orange Coast College website for more information. And you can watch the video here.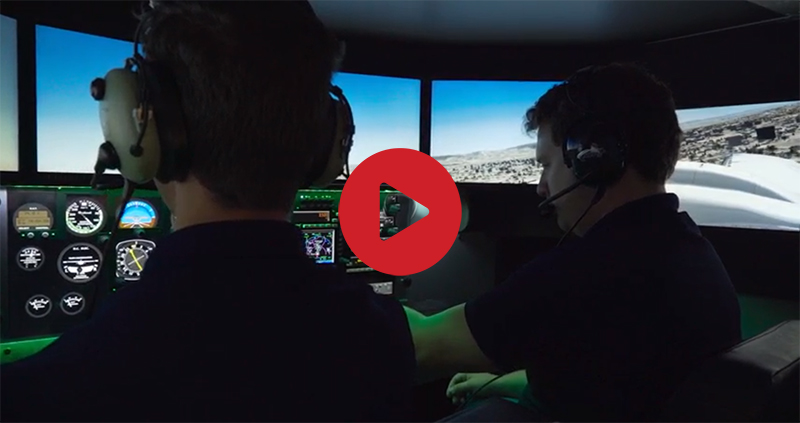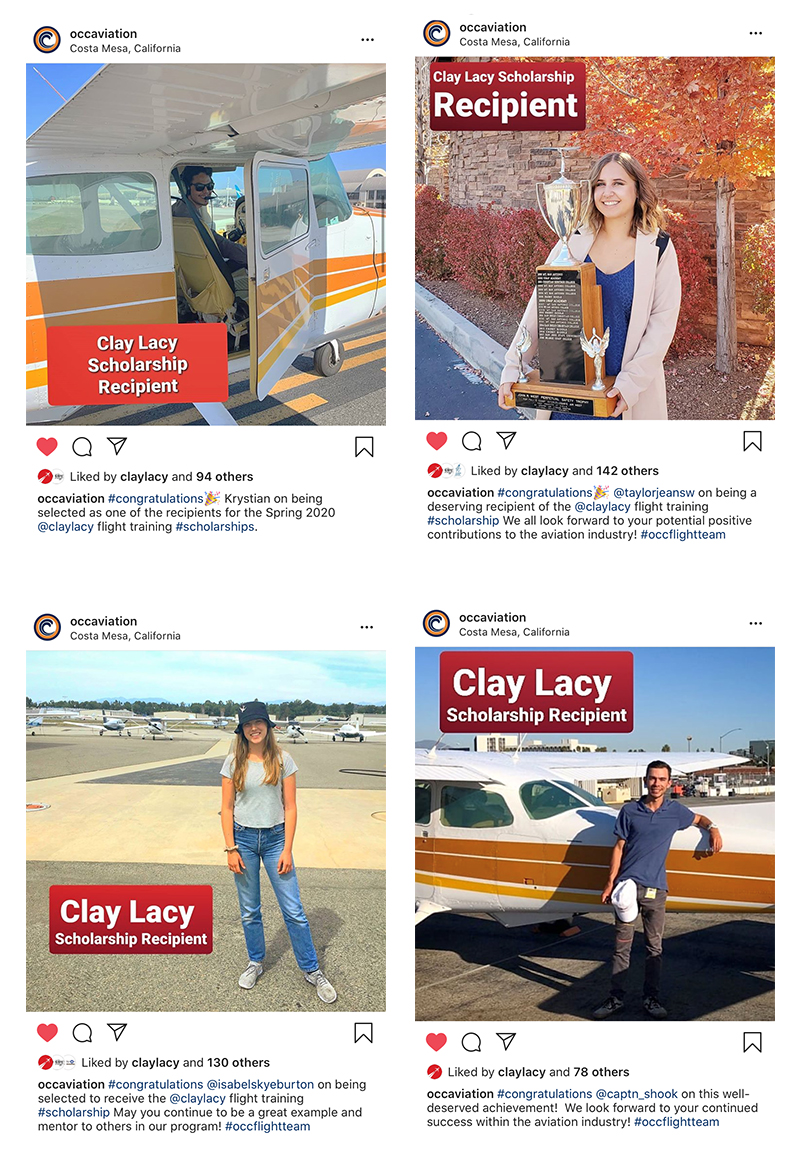 Clay Lacy Aircraft Mechanic Scholarships for LAUSD Students
This year's scholarship recipients were announced at a special awards ceremony in March. Since the scholarships began in 2015, 143 students have received Clay Lacy funds toward earning their FAA airframe and powerplant (A&P) license. About 16 percent of those recipients are women, a percentage the company hopes will continue to grow as more young women realize the opportunities available to them in this dynamic field. The FAA-approved curriculum prepares students for the licensing examination, the crucial first step toward beginning their careers. Details are available online. And you can watch the video here.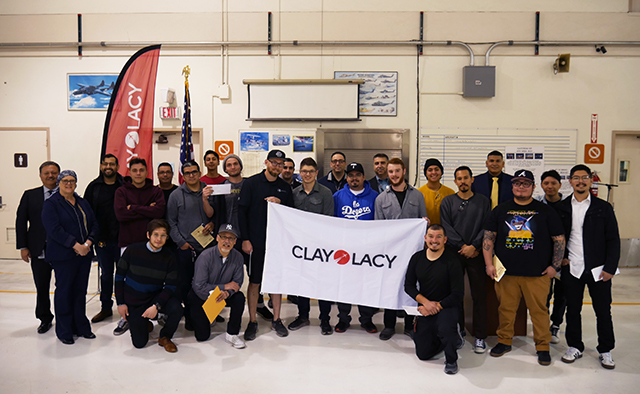 Clay Lacy also offers a Professional Pilot Scholarship through the University of North Dakota Odegard School of Aerospace Sciences, and the Flight Path Learning Center is Los Angeles. For more on the ways Clay Lacy contributes to the aviation industry and to local communities, visit claylacy.com/givingback.
About Clay Lacy Aviation
Founded in 1968 by legendary aviator and industry pioneer Clay Lacy. Today, Clay Lacy Aviation is considered the world's most experienced operator of private jets. Prominent individuals and leading corporations trust Clay Lacy for aircraft management, charter, maintenance, avionics, interiors and FBO services. The company has aircraft operations and regional offices across the U.S., including a full-service FBO at Van Nuys Airport in Los Angeles, and FAA Part 145 aircraft maintenance centers in Los Angeles, San Diego and Oxford, Connecticut. With the most knowledgeable team in the industry, Clay Lacy delivers superior safety, service and value to aircraft owners and jet travelers worldwide. Visit claylacy.com
Press Contacts
Scott Cutshall
Clay Lacy Aviation
+1 (818) 989-2900 X706
Email
# # #