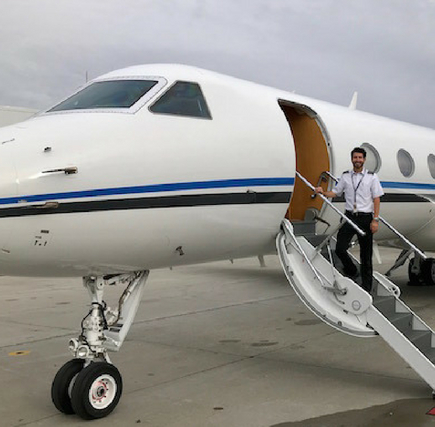 Timeline of a Corporate Pilot
Professional pilots, in corporate aviation, dedicate much of their lives to perfecting their craft and advancing their flying skills. To become a pilot, one must commit a significant amount of time and money to their career. The timeline for the profession is in part why many private jet operators and aircraft owners struggle to find and retain qualified pilot candidates.
The demand for professional pilots is increasing at a disproportionate rate to the number of pilots entering business aviation. There are simply not enough individuals choosing the pilot lifestyle, but why is that the case? How much time does it require, what does it cost, and what is the overall value of becoming a professional pilot?
The Pilot Career
The cost, and time-involved journey, to achieve the most sought-after aviation jobs may appear to outweigh the benefits, but with any profession, one has to build skills, experience, and a network of colleagues and peers. "To be a professional pilot, you really have to love it. Otherwise, you won't stick with it," says Clay Lacy Gulfstream G450 Lead Captain, Cliff Holt. Cliff speaks to a narrative similar in story to any genre of career. To be wildly successful, one will have to find reasons to persevere regardless of setbacks and uncertainty faced. Prolific aviation blogger and private jet pilot, Ron Rapp, writes on his blog that pilots must derive more value from flying than only the paycheck. Flying is not a type of job that can only be quantified through a salary, but in business aviation, the job includes intangible benefits of unconventional schedules, unexpected adventure, and amazing possibility. "We each have our own perception of value." Says Ron. "Sad to say, for many [aspiring aviators], aviation isn't high enough on 'the list' to make the sacrifices required to achieve the goal."
Setting goals, outlining priorities, and maintaining an innate love for the lifestyle and job is how a pilot counterbalances the downsides of the profession. There needs to be a deeper motivation that exists to make it through the amount of time that it takes to get to 'the next step' of a pilot's career. "I love what I do," says Clay Lacy Gulfstream G550 pilot, Trent Groth. "But, I went through a lot of years of struggling to survive financially. Many pilots go through this. That is the way that the industry is when you launch into an aviation career. What keeps you going is the love for the profession."
Trade-Offs
The training costs to reach a minimum wage, entry-level, flying job currently run upwards of $250,000. First year pilots, with the required hours to fly at regional airlines and with some private jet operators have historically started with a salary of less than $35,000 a year. As the pilot shortage is felt within aviation, pay and quality of life for entry-level professional pilots is also changing, allowing pilots to achieve livable levels of income and better benefits, overall.
Becoming a respected pilot, in business aviation or within the commercial sector is a process that takes many years. Reaching the place where a pilot has the necessary skills and experience to operate a large-cabin aircraft like a Gulfstream G550 or Global 6000 takes, for many aviators, over two decades or longer.
The Path
Business aviation is a non-linear career path, uncertain due to economic factors, aircraft sales and acquisitions, and various unexpected factors. There is no general rule for the amount of time it will take to reach the left seat of their 'dream aircraft.' "Progression is different in the corporate ranks," says Cliff Holt.
For most professional pilot jobs in business aviation, the top candidates are generally referral based, and interviews happen (often) on an "invite only" basis. "A lot of being a corporate pilot is personality, and a lot of it is skill," says Trent Groth. "It also is knowing what jobs are available and having an industry recommendation. All of my jobs, once I was established, came from recommendations."
The Future
To counterbalance what many see to be 'a daunting journey' of cost and time investment on the path to becoming a professional pilot— elementary age children, high school and young adults need to be educated on the benefits and bliss of aviation. There are few professions that can captivate an individual the way that flying has the power to do. "There is nothing else like it," says longtime Clay Lacy pilot Ralph Salisbury. "There is nothing else that I would rather be doing."
To continue to share that love, passion, and purpose of flying, organizations like Women In Aviation and regional aviation groups exist to support the future of deserving pilot candidates. Clay Lacy Aviation offers both pilot and maintenance technician scholarships to aspiring aviation professionals. It is essential that the aviation community, and those closely connected to aviation, continue to invest in future flying talent through organizational support and mentorship— as the future is the way to continue to build upon the success of the present.
---
Want to learn more about what it is like working as a professional pilot in business aviation? Discover the perspectives and appreciation one pilot has for his profession.