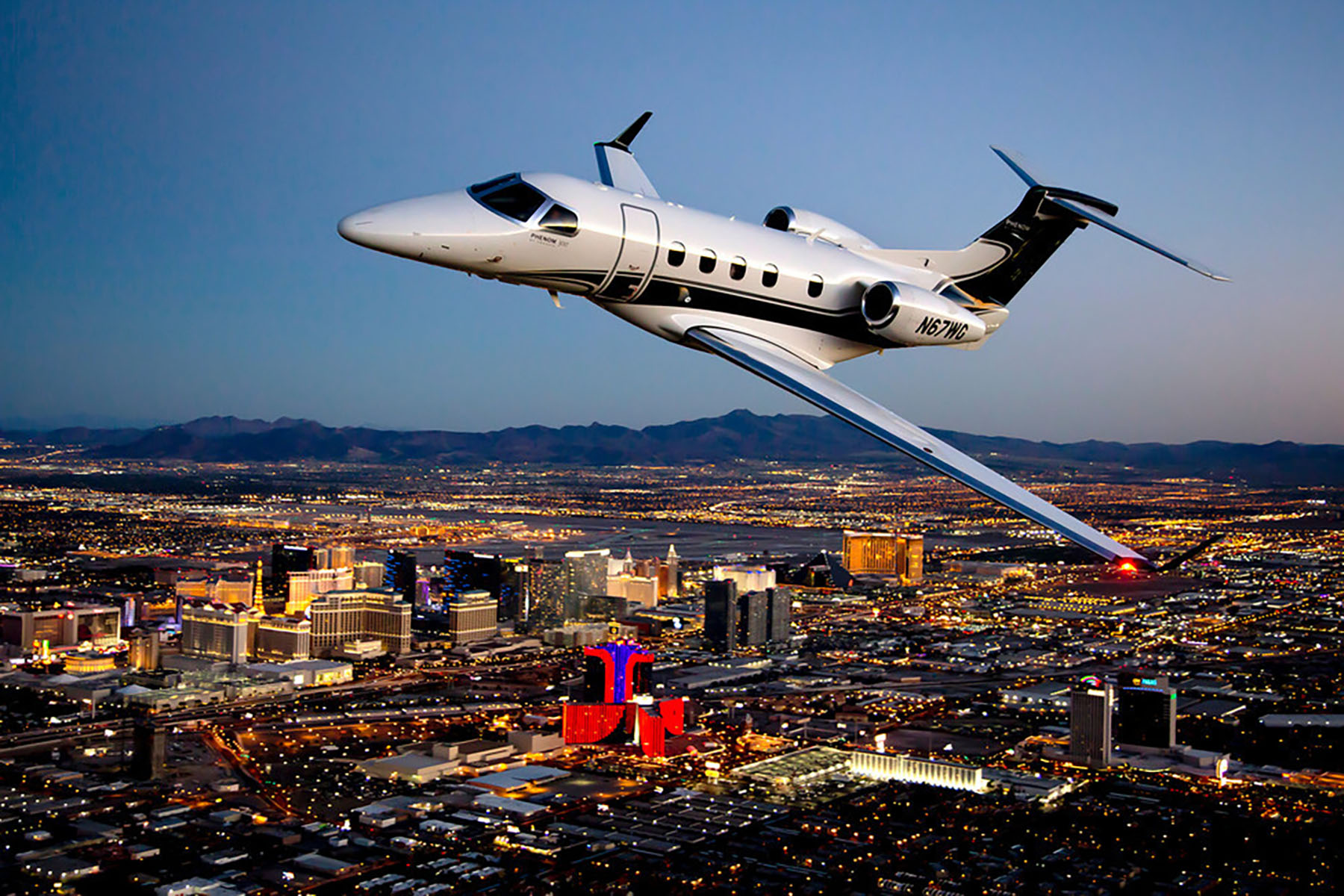 What Happens in Vegas is Good For Aviation Firms
What Happens in Vegas is Good For Aviation Firms
Flying: NBAA convention a draw for aviation businesses from Valley to Ventura County.By MARK MADLER Monday, October 24, 2011
Thirty companies from the San Fernando and Santa Clarita valleys and Ventura County exhibited at the recent National Business Aviation Association convention in Las Vegas.
The three-day event, held Oct. 10-12, drew more than 26,000 attendees to view the booths of 1,100 aviation related businesses and the 101 aircraft parked at two static displays.
Valley exhibitors had mixed opinions about the atmosphere of the convention. Some said it was more upbeat than the past two years, while a few others hadn't detected a change at all.
A big topic of conversation was the comments President Barack Obama made in June, when he disparaged users of corporate aircraft, and his proposal to lengthen depreciation on corporate planes to collect additional tax dollars.
"It hurts an industry where everyone is trying to succeed,"
–said Neil Looy, president of Corporate Air Parts Inc. in Van Nuys.
Such companies are the backbone of general aviation. The aircraft manufacturers — Gulfstream, Cessna, Bombardier, Embraer and others — had massive, eye-catching displays and got much of the media attention. But there were many more companies the size of Looy's, which took up a single table with modest graphics.
Parasol Aviation was a first-time exhibitor at NBAA's annual convention. Its decision to attend was the result of a suggestion by one of the Sunland company's customers, said Kevin Lee, director of operations.
Lee's father, Wallace, started Parasol more than 50 years ago. The company began supplying aluminum hinges for the aviation industry and later added plastic hinges for uses around water, such as galleys or submarines.
Also attending the show for the first time was Semco Instruments Inc., represented by its president Vincent Sandoval.
Semco, based in Valencia, was acquired last year by TransDigm Group Inc. The company makes components used in engines of turbo-prop and turbine aircraft.
Exhibiting at NBAA was a good way for Semco to satisfy a goal set by parent TransDigm for its subsidiaries to seek more exposure, Sandoval said.
"This is an opportunity to get out and see people and to be seen,"
–Sandoval said.
Clay Lacy Honored
San Fernando Valley pilot and businessman Clay Lacy was honored Oct. 11 with the highest award from the NBAA.
The award recognizes lasting contributions to aviation. Past recipients include Charles Lindbergh, the crews of the Space Shuttle, test pilot A. Scott Crossfield, and aircraft inventor Burt Rutan.
"Even at my age there is a lot more flying to do," said Lacy, who began as a pilot while growing up in Kansas in the 1930s.
For more than 60 years, Lacy's career has touched upon all aspects of aviation from commercial to military, air racing and even aerial photography. He pioneered business aviation at Van Nuys Airport and piloted the first flights of five different aircraft.
Lacy started his air charter and aircraft management firm in Van Nuys in 1968. He is often credited with introducing the Lear Jet to the West Coast.
While the business aviation industry is lagging, Lacy said the industry must stand together in support of aviation.
"It is too good to let die out," Lacy said. "The world's economy depends on aviation."
The ceremony honoring Lacy featured a panel discussion of fellow pilots, including Apollo 17 astronaut Eugene Cernan, Federal Aviation Administrator Randy Babbit, and actor Harrison Ford.
The NBAA award is just one of many given to Lacy in the past year.
In 2010, Lacy was inducted into the National Aviation Hall of Fame. He is the recipient of the Pathfinder Award from the Seattle Museum of Flight, and the Wright Brothers Master Pilot Certificate from the Federal Aviation Administration.
Staff Reporter Mark Madler can be reached at (818) 316-3126 or by e-mail at mmadler@sfvbj.com