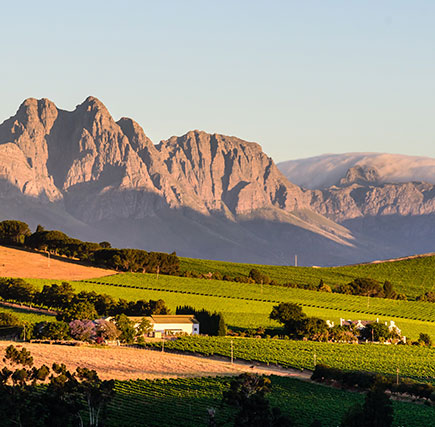 Private Jet Wine Tour Itinerary in South Africa
July 16, 2021
By David Lincoln Ross, Ross Wine Tours
Imagine taking an exciting "wine safari" to one of the Southern Hemisphere's most innovative, yet historic wine destinations: South Africa.
Let expert wine adventurer David Lincoln Ross, Founder of Ross Wine Tours (RWT), personally curate a tour of this amazing country. Today, South Africa is in the midst of rapid change, and RWT offers a privileged entrée to new and established wineries via private, winemaker-led tours and tastings, with each visit amplified by local gastronomic dishes.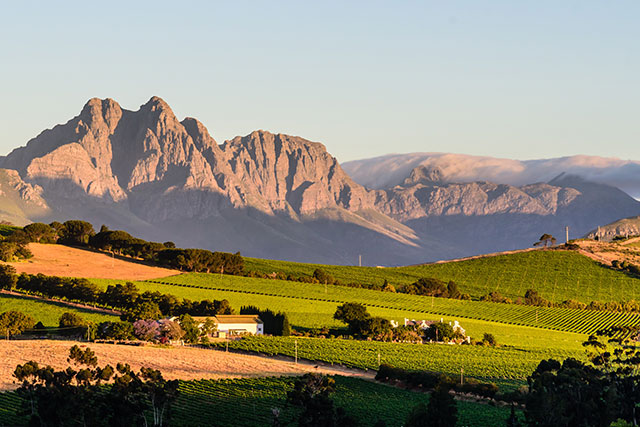 In this vinous hunt, you will track down South Africa's signature red wine, Pinotage, a cross between Pinot Noir and Cinsault; it tastes a bit like a Syrah/Shiraz, but a bit fruitier. Among the white grapes, Chenin Blanc and Chardonnay are winners, the former is an ideal aperitif, but also perfect with your main course of local seafood and shellfish.
With more than 350 years of winemaking history and long dominated by white families, black winemakers have emerged as key players in the transformation of South Africa's wine industry, including Ntsiki Biyela, who became the first black winemaker in 2004. At your request, RWT is able to craft individualized tours by winemaker, by vineyard or by region.
South Africa's wine appellations are divided into distinct geographic regions. They all share elements of terroir – a French term denoting the specific attributes of a vineyard's soil, climate and topography. The country's three most important are located in the Western Cape.  Here are three regions and three wineries to consider for a sample RWT itinerary: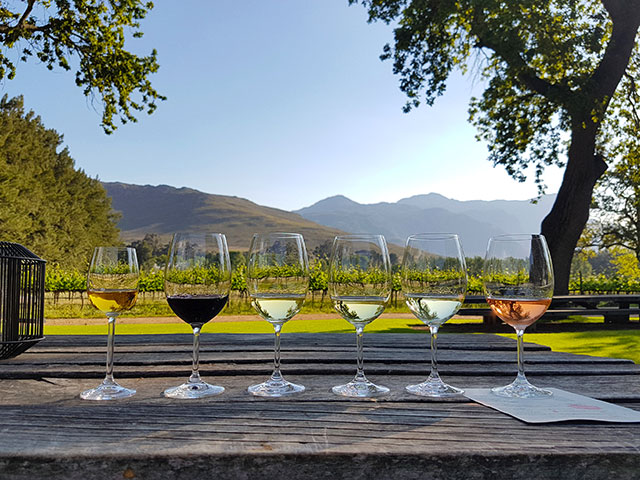 Breede River Valley
Located about 100 miles east of Cape Town lies the Breede River Valley which includes the district of Robertson. Plan a trip to one of the country's top sparkling wine producers, Celine, at its Mount Blois Estate, where a blend of Chardonnay and Pinot Noir is transformed into a delicious, world-class bubbly.
Cape South Coast
Next, in the Cape South Coast region, which includes the Elgin and Walker Bay districts, tour and taste at the esteemed property, Nederburg The Winemasters Cabernet Sauvignon, near Paarl.  With a deep color of ruby red and an abundance bouquet of ripe dark berry fruit and a fine dusting of spice, nuts and oak shavings. On the palate, savor a layered, textured mouthful of hedgerow fruits, cassis, light leather and cigar box. Refined, elegant and svelte with a pleasant dryness that add to this wine's long finish.   Dine in the Manor House or spend the afternoon relaxing on the lush lawn. Take in magnificent views of the surrounding landscape with the Nederburg historic manor house as backdrop.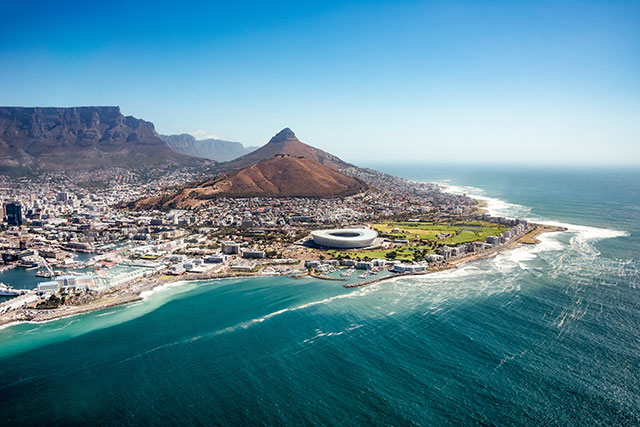 Coastal Region
Located South of Cape Town, not far from Hout Bay is the Coastal region, which includes the historical Constantia ward (established in 1685) in the Cape Peninsula district. Visit the oldest winery in South Africa, Groot Constantia, which has a long history of producing some of the best wines in the world. "Groot" in Dutch and Afrikaans translates as "great", and you are sure to understand why after a visit to their historic manor house built in the Cape Dutch style.  Known for their Shiraz, Merlot and blended red Gouverneurs Reserve, you can also enjoy their Constantia dessert wine, Grand Constance.

Ross Wine Tours specializes in designing custom wine tours of the world's most celebrated wine regions.  Enjoy exclusive access to private wineries, special vintages, and food pairings from some of the worlds most celebrated chefs.  All led by renowned writer and wine expert, David Lincoln Ross, who has been featured in The New York Times Sunday Magazine, Wine Spectator, Time, and Wine Enthusiast.
To begin designing your bespoke wine and food adventure, please contact david@rosswinetours.com
Ready to Experience World Class South African Wine?
If you are ready to schedule your bespoke tour of South Africa's wine regions, here is how to get started.
Call or email David Lincoln Ross with Ross Wine Tours.
Let him know when you would like to go.
David will provide a custom itinerary, and once everything is confirmed;
David will coordinate with Clay Lacy to arrange travel by private jet.
About Ross Wine Tours & Clay Lacy Aviation
This article is part of a series created in collaboration with Ross Wine Tours for people looking to combine their love of travel, wine, and great food. Ross Wine Tours creates bespoke wine experiences around the globe.  To explore wine itineraries or create one of your own in consultation with Ross Wine Tours, please David Lincoln Ross at rosswinetours.com.  Once your itinerary is confirmed, Ross Wine Tours will coordinate travel arrangements with Clay Lacy Aviation for a safe, secure, and seamless travel experience.