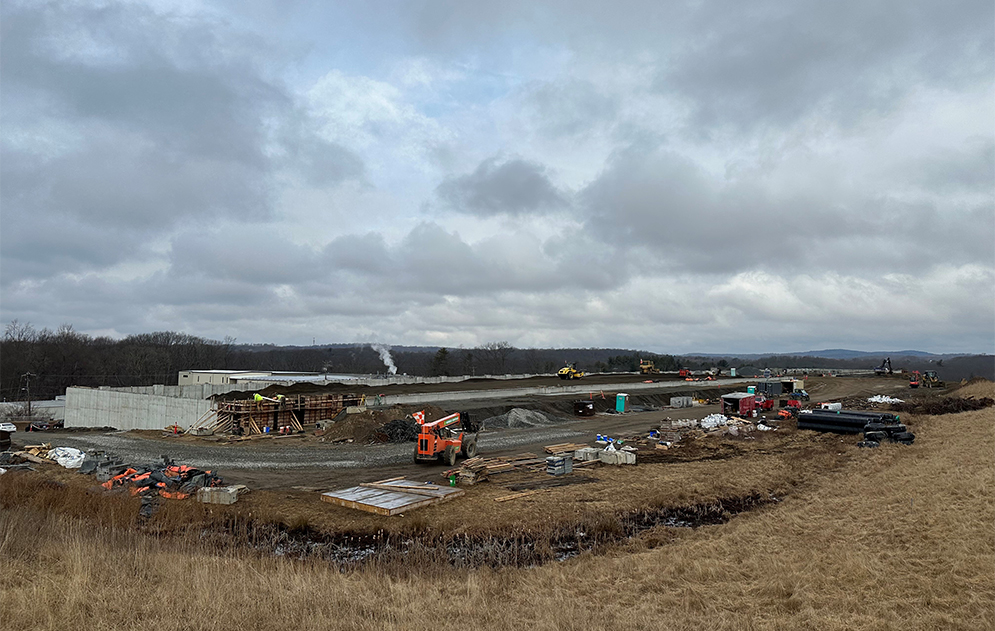 Clay Lacy's Connecticut FBO and MRO Development Moving Quickly
April 14, 2023
From the time Clay Lacy Aviation announced its expansion and development of its Waterbury-Oxford Airport (KOXC) facilities, aircraft owners have been anticipating the new FBO facilities and expanded, aircraft management, charter, and maintenance capabilities the project includes.
In the eight months since groundbreaking on the $20 million, 11-acre first phase of development, Clay Lacy's team is ahead of schedule with its construction, pouring footings starting before the Connecticut winter, and steel going vertical this spring. The project, expected to have its first hangar ready for occupancy in the first quarter of 2024, is featuring a new FBO passenger terminal, executive offices and a 40,000-square-foot hangar.  The second phase, that includes an additional 80,000-square-feet of hangar and 12,000-square-feet of office and shop space will start upon completion of Phase 1. The development has created a buzz with aircraft owners and corporate flight departments throughout the Northeast, including the New York area, where space is hard to find.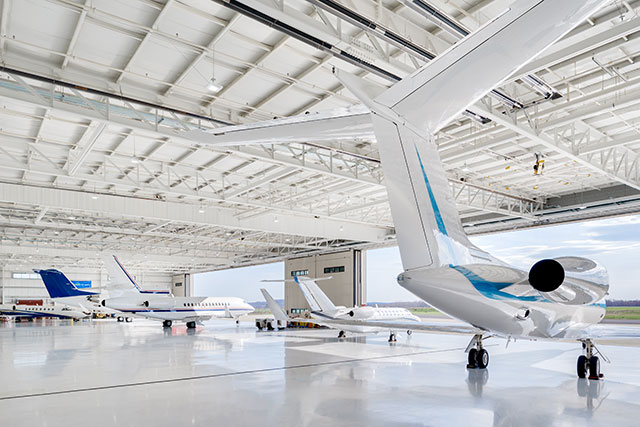 Additional Hangar Space for Large Aircraft
"Clay Lacy has multiple LOI's now in place with future tenants and are working with them to incorporate their specific needs and design features into their offices and hangars," said Buddy Blackburn, Clay Lacy's Senior Vice President of FBO Operations, based at Oxford.

"Aircraft owners who commit now will be in greater position for flexibility and availability," Blackburn said. With the Northeast private aviation space already at capacity, Oxford's amenities and capabilities are extremely attractive to owners of single or multi-aircraft fleets. His team is tailoring the first-phase 5,000-square-foot office space construction to meet the needs of these flight operations, and as larger aircraft secure their spots, that will shape the number of spaces available for additional aircraft.
Advantages of the Waterbury-Oxford Airport:
Longest general aviation airport runway in Connecticut at 5,800 feet.
Recent runway and taxiway resurfacing including an EMAS system
Drive-up vehicle ramp-side access to aircraft.
Less congestion and more space compared to NYC airports
Lower costs on hangar and office rentals
Sales and use tax exemptions1
U.S. customs facilities on-site
Short flights to other Tri-State airports
Complete jet maintenance services with 24/7 AOG support

Sustainability Built Throughout
The facilities will be certified and operated carbon natural and include solar panel provisions, electric vehicle (EV) charging, efficient building design, and a continuous supply of Sustainable Aviation Fuel (SAF).
The climate-controlled hangars are specifically designed for tomorrow's aircraft with 29-foot door heights to accommodate larger long-range aircraft such as the Dassault Falcon 10X, Bombardier Global 7500 and Gulfstream G700.
With our new facilities the FAA Part 145 MRO will have greater capacity for work, as well, delivering faster turnarounds and reduced downtime. Clay Lacy has an ongoing scholarship and internship program with CT Aerotech, a Connecticut-based aircraft mechanics school, to develop technicians for the aviation industry. Building up these local relationships helps Clay Lacy deliver a highly trained workforce, benefiting the owners and providing development opportunities for the local economy.
For more information about the development visit https://www.claylacy.com/contact-us/locations/waterbury-oxford-airport-koxc/, or contact Buddy Blackburn 646-609-9505, dblackburn@claylacy.com.
---
1 Reference NBAA Aviation Sales Taxes Directory: Connecticut, updated April 28, 2021: Aircraft with a maximum gross takeoff weight of greater than 6,000 pounds are exempt from sales tax.