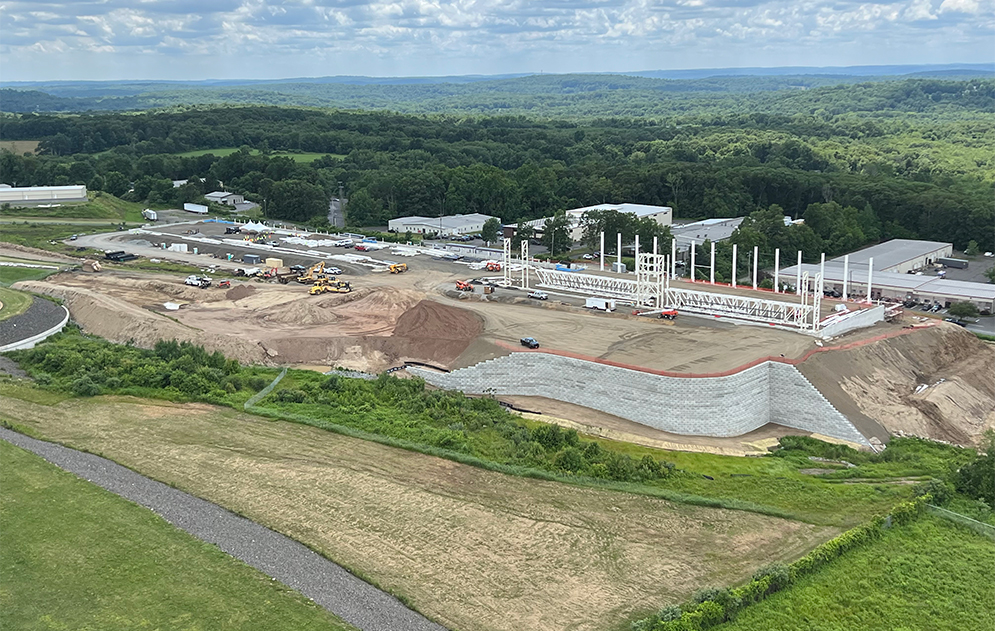 Unique and Thoughtful Amenities Distinguish Clay Lacy's Northeast FBO Development in Connecticut
June 28, 2023
Clay Lacy Aviation's expansion and FBO/MRO development at the Waterbury-Oxford Airport (KOXC) already has aircraft owners excited, just based on the 120,000 SF of hangar space the project will add to help alleviate a hangar shortage in the Northeast.
While the $20 million, 11-acre first phase of development clearly answers the market demand for aircraft hangar space in the Tri-State area, the benefits owners will experience go well beyond just availability. The project is the culmination of Clay Lacy's other fixed-base operations (FBO) expertise and of more than 30 years' worth of expertise at Oxford for Buddy Blackburn, Clay Lacy's Senior Vice President of FBO Operations, based at the airport.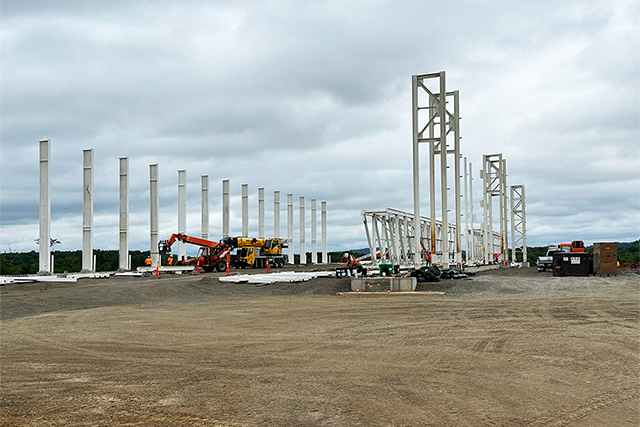 During the more than three decades Blackburn has spent at Oxford, with Clay Lacy and other aviation providers, he's seen the airport expand from smaller roots to become an integral part of the region's business aviation infrastructure. In that time, Oxford has become Connecticut's primary hub for business aircraft.
The Clay Lacy expansion, which is expected to have its first section ready within nine months, features a new passenger terminal, executive offices and a 40,000-square-foot hangar. The new hangars being built right now have been designed and constructed with features and amenities that capitalize on industry innovation, best practices and local knowledge. Two more 40,000-square-foot hangars will follow in phase II.
Preparing for Larger Aircraft and Engineered for Heavy Snow Loads
One of the first considerations aircraft owners will notice will be taller door heights on the hangars. While many hangars handling general aviation have 20-foot door heights, those accommodating business jets are usually equipped with 28-foot doors. Clay Lacy's new hangars are being built to house today's and tomorrow's larger jets, setting a new standard with 29-foot doors.
That extra space will help accommodate large-cabin, ultra-long-range jets, such as the Bombardier Global 7500, the Falcon 10X or the Gulfstream G700/G800. This complements existing features at the airport that includes a 5,800-foot runway, Connecticut's longest GA runway, serving private aviation jets.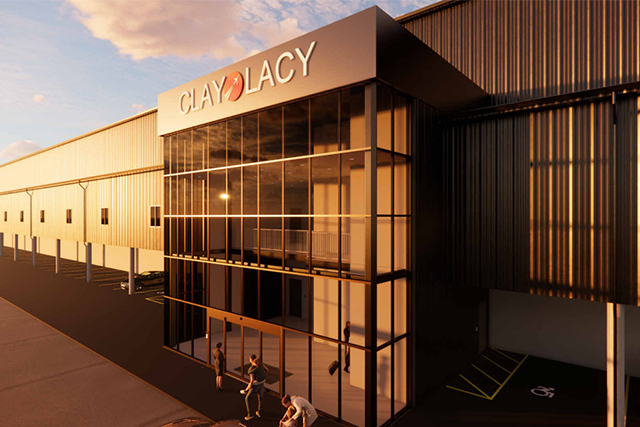 In addition to the added door height, the hangars are engineered to handle the challenge of heavy snow loads during a Connecticut winter, Blackburn said. Having seen his share of snowstorms in his 30+ years at Oxford, the new hangars had to be ready for anything.
The hangars are built with higher strength and a truss system that is designed to not allow for more than a two-inch deflection, even with a massive snowstorm. Even when a winter Nor'easter dumps a foot of snow on the airport, Clay Lacy's hangars will remain fully operational, as opposed to previous hangars that could have difficulty keeping the deflection below a half foot and limiting use.
Greater Efficiencies and Safety
Clay Lacy's new hangars are being built with more windows than before, allowing more natural light in workspaces and reducing electricity consumption and expenses. They are being constructed into the sides of the hangars, not as skylights, to protect aircraft from potential vertical leakage – something Blackburn has seen in the past.
Careful consideration of airplane electrical outlets and wiring was also made for the hangar, implementing greater safety standards and preventative designs. Moving wires away from the hangar door tracks lessens the threat of accidental disruption. It also aligns with Clay Lacy's overall Safety Management System, which takes a fresh look at every aspect of operations for ways to increase efficiency and safety. The Federal Aviation Administration recently validated and recognized Clay Lacy's organization-wide SMS to meet the new standards of the federal SMS Voluntary Program, placing it in the top 2% of Part 135 operators in the United States.
The new hangars will also have better, more efficient, Cambridge heating systems, which work well to reduce costs and handle the cold weather. Insulation on the climate-controlled buildings will be thicker, adding to the heating and cooling efficiencies.
Even the shape and method of drainpipes were investigated and considered based on previous building experience and what works well. Round drains were chosen for higher ease of maintenance and efficiency of flow versus trench drains.
In addition to the larger jets, the facilities are designed to maximize flexibility for a wide mix of aircraft type, which will offer travelers more options for transient hangaring. It will be easier to move aircraft in and out of the hangars, meaning owners have better access to their aircraft when they are needed.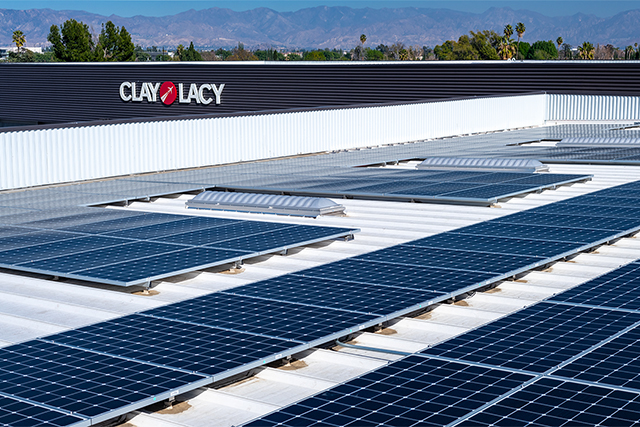 Sustainability and Convenience
As with all Clay Lacy properties nationwide, Oxford's expansion is built with sustainability in mind. Electric vehicle (EV) charging is available, as well as drive-up access to the aircraft. The certified carbon-neutral facilities also include solar panel provisions, efficient building design, and a continuous supply of Sustainable Aviation Fuel (SAF).
The ramp and facilities are even being built with an electric aircraft charging infrastructure for future technologies, planning for a time when electric vertical take-off and landing (eVTOL) will play a more prominent role in the region. Clay Lacy areas are designed to allow easy upgrades to the electrical system and to get power where it will be needed in the future.
Finally, as someone who has seen expansion at Oxford and other cold-weather airports such as in Minnesota, Blackburn knows the value of the new covered automobile parking that will be available at Clay Lacy's FBO. Roughly 75% of the parking will be under cover, giving aircraft owners and travelers protection from the elements and easy access to adjoining office space. And of course, end the practice of returning home from a long trip to have to shovel out a car.
The new hangars will become operational in phases, with services offered in one building commencing even before the entirety of the project is completed. Prospective tenants should contact Clay Lacy's Oxford team now to answer questions and secure their spots.
For more information about the development visit https://www.claylacy.com/contact-us/locations/waterbury-oxford-airport-koxc/, or contact Buddy Blackburn 203.509.1480, dblackburn@claylacy.com.