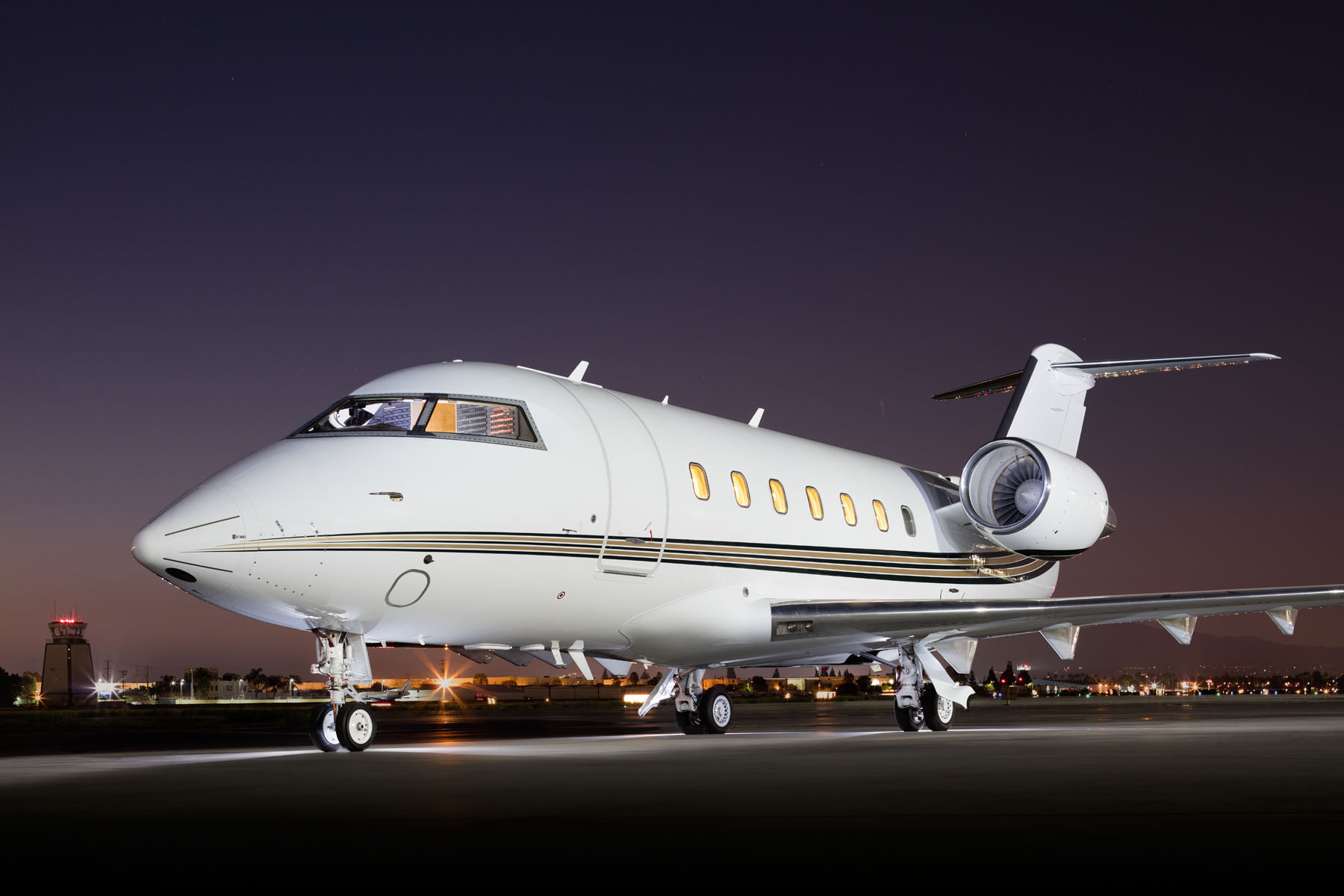 Clay Lacy Aviation Announces FANS-1/A+ STC for Challenger 601-3A/R
(Los Angeles, Calif. – September 15, 2015) Clay Lacy Aviation has received FAA STC approval for a FANS-1/A+ solution that enables Challenger 601-3A/R owners to meet worldwide mandates for preferential routing in the North Atlantic Track region and other oceanic airspace.  This comprehensive upgrade provides a feature-rich, low-cost and versatile solution with minimal downtime, and follows the company's introduction of a FANS program for the GIV, GIVSP and GV in March 2015.
"Our Challenger FANS program provides owners the most cost-effective and convenient solution to meet current and future worldwide mandates, while offering increased functionality and ease of operation," said Clay Lacy Aviation Director of Avionics Jim Lauer. "We are installing the STC at our Van Nuys Airport FAA repair station, as well as making it available to Universal Avionics Authorized Dealers."
Clay Lacy Aviation's Challenger FANS-1/A+ solution features:
Dual Universal Avionics UNS-1Fw SBAS-Flight Management Systems (FMS)
Universal Avionics UniLink® UL-801 Communications Management Unit (CMU)
Universal Avionics CVR-120 Digital Cockpit Voice Recorder
TrueNorth Avionics' Simphonē FANS-1/A Data Link UnitPlus Iridium Data Link

The company has successfully completed the first installation of its STC'd FANS-1/A+ solution in a Challenger 601-3A using TrueNorth's Data Link Unit, the first to receive FAA, Transport Canada and EASA TSO C-159a approval.
"We are incredibly pleased to provide a key component this FANS-1/A+ compliant system that enables aircraft operators to improve safety and efficiency," said TrueNorth CEO Mark van Berkel. "Clay Lacy Aviation has an excellent reputation for avionics installation and certification, and we are proud to work with their team."
FANS-1/A+ improves communication between pilots and air traffic controllers by automatically transmitting position reports in text rather than voice format. This reduces stress on crew members and eliminates communication errors, while improving aircraft safety and efficiency. Effective Feb. 15, 2015, FANS-1/A+ is required for all aircraft using North Atlantic Track Crossings. Impending worldwide mandates will deny non-FANS-equipped aircraft access to other North Atlantic crossing routes by 2020.
"We are very excited to work with Clay Lacy Aviation on certified FANS solutions for today's most preferred business jets, including the Challenger 601-3A/R and Gulfstream GIV/IVSP," said Dan Reida, Universal Avionics Vice President of Sales and Marketing. "We value our long-term relationship with a company that is so highly respected and trusted in the aircraft maintenance and management industry."
Clay Lacy Aviation provides a complete spectrum of maintenance repair and upgrade services to minimize downtime and increase aircraft value. Its award-winning Class 3 and 4 repair station is open 24 hours with three shifts, a mobile response team and a $2 million on-site parts inventory. As an authorized dealer for leading avionics manufacturers, it specializes in full-suite avionics installations, system upgrades and modifications, and STCs. All work is backed by an installation workmanship warranty.
For a quote and more information contact Jim Lauer, FANS@claylacy.com or (818) 404-8119.
About True North
More Fortune 100 business jet owners trust TrueNorth inflight communications systems than any other. Our innovative and reliable solutions work everywhere passengers and crew fly. Optelity, our newest product family, embodies the software-defined cabin, while our cockpit communication systems enable safety and efficiency. Our systems deliver high fidelity voice, GSM, Wi-Fi, enterprise E-mail, and effortless connectivity for smart phones and other mobile devices, for seamless connectivity from the earth to the sky. Only TrueNorth provides a ready-to-upgrade, app-based solution, empowering business jet users to stay connected and be more productive inflight. Fly. Connect. Succeed. Visit TrueNorth at truenorthavionics.com.
About Universal Avionics Systems Corporation
Universal Avionics is a leading manufacturer of innovative avionics systems offered as retrofit and forward-fit solutions for the largest diversification of aircraft types in the industry. Markets served include Business, Helicopter, Special Missions, Government / Military, Airline (regional / commercial) and OEM. To learn more about Universal Avionics, visit www.uasc.com.
About Clay Lacy Aviation
Founded in 1968 by an aviation legend, Clay Lacy Aviation is distinguished as the most experienced operator of private jets in the world, with one of the most diverse fleets of charter and managed aircraft available. The company provides a comprehensive set of aviation services including aircraft management, charter, sales, acquisitions, FBO, maintenance, avionics, interiors and aerial cinematography. It's also an authorized service center for the Embraer Phenom 100 and 300. Clay Lacy Aviation operates two full-service private jet facilities at Los Angeles' Van Nuys Airport and Seattle's Boeing Field, with regional offices and aircraft operations based at 10 additional U.S. cities. Its experienced team is globally recognized for providing aircraft owners and jet travelers unequaled safety, service and value. For more information visit www.claylacy.com.
Press Contacts
Scott Cutshall

Clay Lacy Aviation

+1 (818) 989-2900 X706

Kate Murchison

TrueNorth Avionics

+1 (613) 224-3301 X209

Stacy Honda

Universal Avionics

+1 (520) 295-2300