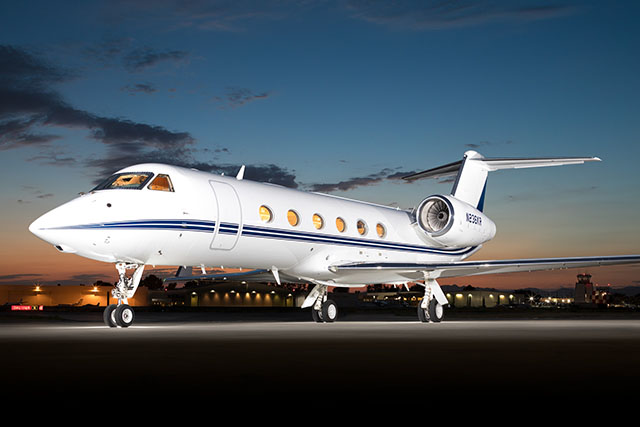 Clay Lacy Installs Gogo AVANCE L5 4G in Gulfstream G450
(Los Angeles.—April 3, 2018) Clay Lacy Aviation has installed a state-of-the-art Gogo AVANCE L5 4G technology platform in a Gulfstream G450. Gogo AVANCE L5 transforms the domestic in-flight internet experience with streaming 4G video and audio for business and entertainment, from conferences, web browsing, social media and email to on-demand movies, television and publications. The system also enables real-time data for cockpit apps and provides remote monitoring and support. In April, Clay Lacy is scheduled to install additional Gogo AVANCE L5 systems in a Falcon 2000EX and second Gulfstream G450.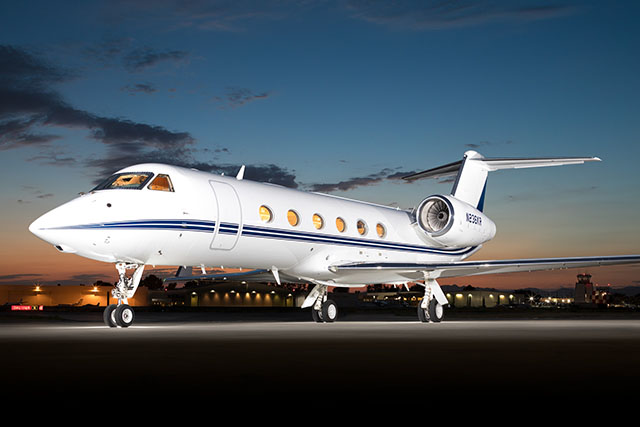 "Gogo AVANCE L5 allows our clients to take their entire digital lifestyle with them throughout the U.S. and the coasts of Canada, making the most of every moment they are in the air," said Ed Mirzakhanian, Clay Lacy's Vice President of Maintenance and Business Development. "Installation requires just six days of downtime if the aircraft is already provisioned, and 17 days if not. It is also future-ready, so clients can easily move up to NextGen network performance when that technology comes online."
"Clay Lacy has a fifty-year history of innovation, an exceptional team of avionics and cabin connectivity experts, and a commitment to personalized service," said David Salvador, VP – Aftermarket Sales, Gogo Business Aviation. "They're a trusted, long-time provider of Gogo Business Aviation solutions, and we are excited to once again work in partnership with them to deliver the ultimate in-flight internet experience to their clients."
For more information about Gogo AVANCE L5 and installation services provided by Clay Lacy, contact Pat Conroy, 1+818-808-6456, pconroy@claylacy.com or visit www.claylacy.com/Gogo4G.
About Clay Lacy Aviation
Founded in 1968 by legendary aviator and industry pioneer Clay Lacy. Today, Clay Lacy Aviation is considered the world's most experienced operator of private jets. Prominent individuals and leading corporations trust Clay Lacy for aircraft management, charter, maintenance, avionics, interiors and FBO services. The company has aircraft operations and regional offices across the U.S., including FBOs at Van Nuys Airport in Los Angeles and Seattle's Boeing Field, and FAA repair stations in Van Nuys, Seattle, and San Diego. With the most knowledgeable team in the industry, Clay Lacy delivers superior safety, service and value to aircraft owners and jet travelers worldwide. Visit claylacy.com
About Gogo Business Aviation
Gogo is the in-flight internet company, the leading global provider of broadband connectivity products and services for aviation. Gogo designs and sources innovative network solutions that connect aircraft to the Internet. They develop software and platforms that enable customizable solutions for and by our aviation partners. Once connected, Gogo provides industry-leading reliability around the world. The company's mission is to help aviation go farther by making planes fly smarter, so their aviation partners perform better, and their passengers travel happier.
Gogo's products and services are found on thousands of aircraft operated by the leading global commercial airlines and thousands of private aircraft, including those of the largest fractional ownership operators. Gogo is headquartered in Chicago, Ill., with additional facilities in Broomfield, Colo., and locations across the globe. Connect with Gogo at business.gogoair.com.
Press Contact
Scott Cutshall
Clay Lacy Aviation
+1 (818) 989-2900 X706
Email
# # #