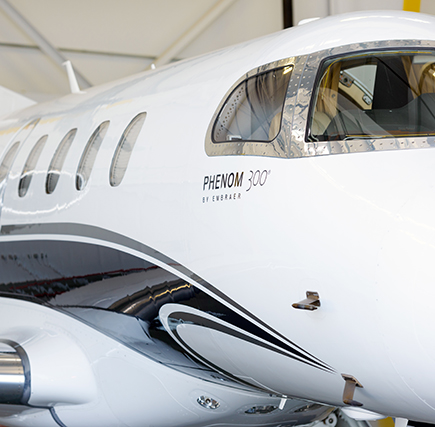 Phenom Inspections: Owners Gain From Clay Lacy Experience
July 6, 2020
Embraer Phenom 100 and 300 aircraft manufactured in 2010 are coming due for their extensive 10-year, 120-month inspections; 2011 models must be inspected next year. To perform these inspections, Phenom owners throughout the Southwest are trusting their planes to the highly skilled specialists at Clay Lacy's Embraer Authorized Service Centers at Van Nuys Airport and McClellan-Palomar Airport near San Diego.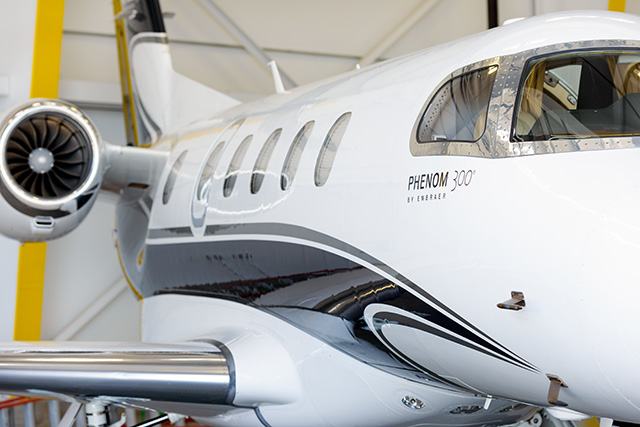 "When we began performing these inspections last year, we already had 11 years of Phenom maintenance experience, more than anyone else on the West Coast ," said Ned Zolota, Clay Lacy's Embraer Program Manager. "Now, with more than ten inspections completed and more underway, we can provide Phenom owners with insights and benefits other MRO shops might not be able to offer. For example, we have added $1.8 million in Phenom-dedicated parts inventory to support common issues we are discovering, such as flight control cables that may need replacement. This is one of the ways we ensure on-time completion and return to service."
Ned noted other points of interest for Phenom 100 and 300 owners, including avionics and interior upgrades that add value without adding downtime, and advice on issues related to landing gear overhauls and what owners can do to facilitate the inspection process.
Four great upgrades that will not increase downtime.
Making the most of downtime, here are four popular upgrades that will add to owner enjoyment, as well as the performance, safety and value of the aircraft. It's convenient and reliable, since Clay Lacy is an authorized dealer for Gogo, Garmin and other leading avionics and cabin entertainment solutions.
Move up to seamless inflight connectivity with Gogo AVANCE L5 or AVANCE L3 high-speed internet solutions
Take avionics to the next level with the Garmin G1000® NXi integrated flight deck for greater situational awareness
Reupholster seats in Embraer original premium leathers through our onsite partner, Seat Air Systems
Refresh baggage area with reupholstered side panels, new floor liner and a leather flap to protect the door frame
Mandatory landing gear overhauls add time and complexity.
In addition to the 10-year inspections, Embraer requires Phenom landing gear to be removed and overhauled at 120 months. It makes sense for owners to combine the two maintenance events to limit downtime. For the inspection alone, downtime is typically three weeks—and four-to-five weeks when combined with the gear overhaul. However, landing gear overhauls can be performed only at a small number of specialized third-party facilities and slots are filling up. Moreover, there have been some issues with parts availability. Owners need to be aware that these factors can combine to potentially delay return to service. The good news is that Embraer may grant exceptions to owners on a case-by-case basis if parts are unavailable. Phenom owners can contact Clay Lacy for details and guidance.
How owners can facilitate the inspection and overhaul process.
Whether owners choose Clay Lacy or another MRO, they should make sure the facility has everything necessary to perform this complex inspection and coordinate a landing gear overhaul. The following items and information are essential when presenting a plane for input.
Landing gear log cards (incorrect log cards will delay the overhaul and ultimately return to service)
All current aircraft records
Garmin SD cards (Garmin is limiting the replacement options to one)
Avionics database and CAMP card login details
Paint codes if planning any touch ups
Book Phenom 100 and 300 inspections six months in advance.
"With slots filling up and the year half over, the most important thing for Phenom owners is to be proactive," Ned said. "If their inspections and gear overhauls are due by the end of 2020 they need to book their slots now, and start planning very soon if inspections are due in 2021."
---
To schedule a Phenom 100 or 300 inspection, or for more information, owners can request a maintenance proposal or call +1.818.947.5410.