Bombardier's Challenger family of aircraft includes super-midsize and large jets. With a Challenger jet charter from Clay Lacy, you receive a perfect balance of high speed and impressive range. The Challenger family of jets has been finely tuned to meet the needs of corporate travelers as well as those seeking privacy on a personal getaway.
The Clay Lacy charter jet fleet includes three models of Challenger aircraft: the Challenger 300, Challenger 601-3A and Challenger 604. Each private Challenger jet features a luxurious interior with stand-up cabin heights exceeding six feet. The spacious cabin accommodates numerous passengers in large, comfortable seats, allowing you to recline during downtime or to sit at ease through a long business meeting. Challenger charter aircraft offer unique high-altitude boardrooms, giving you the freedom to conduct business from thousands of feet in the air.
Challenger charter aircraft from Clay Lacy can seat 8 to 10 passengers and has a range that makes a private Challenger jet the ideal solution for your next trip from New York to Los Angeles, Vancouver, Mexico City, London, or anywhere in between. Leave the hassles of commercial air travel behind when you step onto your fast, luxurious Challenger charter jet from Clay Lacy.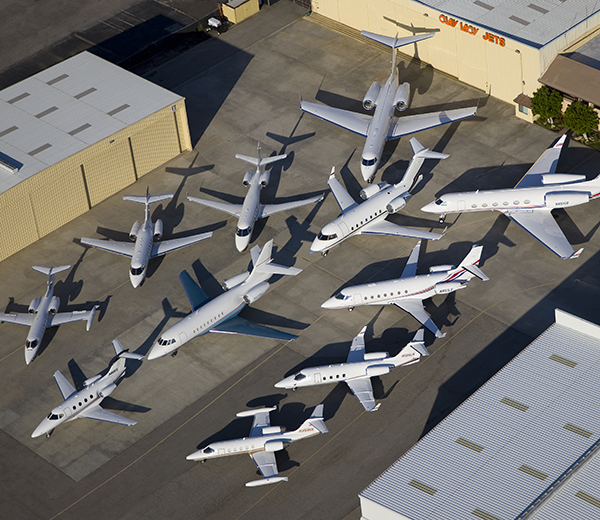 Exceptional Safety Record
With five decades of experience, Clay Lacy has an impeccable safety record. Clay Lacy has the prestigious ARGUS Platinum Rating, is the longest standing Wyvern Wingman charter operator and received IS-BAO Stage 3 certification from the International Business Aviation Council. We are a member of NATA Safety First and the recipient of the U.S. Department of Transportation's FAA Diamond Award for maintenance excellence. Clay Lacy's reputation for safety is unsurpassed by any other company.