Learjet was founded in the late 1950s and established a strong reputation as one of the first manufacturers of high-quality business jets. Clay Lacy landed the first Learjet in Los Angeles in 1964 and later went on to establish Clay Lacy Aviation as the first private jet charter company in the western United States. Today, the Bombardier Learjet family carries on this fine tradition by producing aircraft with optimized efficiency, strength, and agility. Clay Lacy offers the Learjet 35, Learjet 55, Learjet 45XR and Learjet 75 jet for charter. Each well-suited to corporate flights or personal travel.
Your Learjet charter aircraft will exceed your expectations with its technologically advanced avionics, spectacular performance, and exquisite interior. Its cabin space utilizes a space-saving design to give you the opportunity to comfortably move around. The aircraft offers a heated external baggage compartment as well as a smaller interior luggage area, allowing you to take everything you need for your journey. Your private Learjet aircraft will impress with its innovative environmental control system that keeps noise levels below 72 decibels and offers exquisite temperature control. With its technologically advanced controls and comfortable interior, a Learjet charter jet gives you the flexibility to travel in style.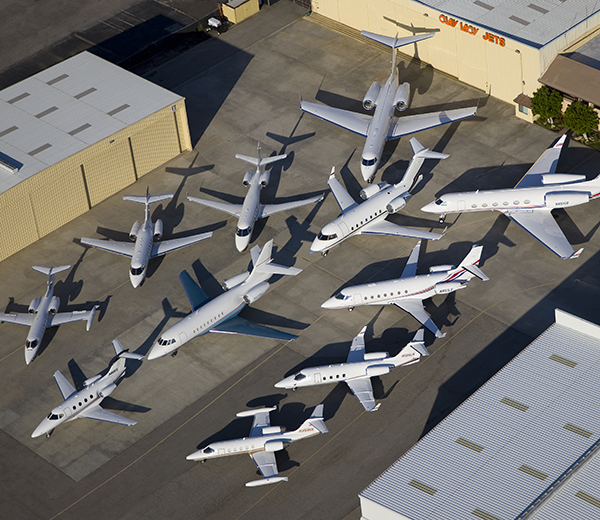 Exceptional Safety Record
With five decades of experience, Clay Lacy has an impeccable safety record. Clay Lacy has the prestigious ARGUS Platinum Rating, is the longest standing Wyvern Wingman charter operator and received IS-BAO Stage 3 certification from the International Business Aviation Council. We are a member of NATA Safety First and the recipient of the U.S. Department of Transportation's FAA Diamond Award for maintenance excellence. Clay Lacy's reputation for safety is unsurpassed by any other company.