Bombardier Challenger 604
Aircraft Amenities
2 TV monitors
Airshow map
DVD player
Power outlets
Microwave
Forward lavatory with vanity
Cabin Configuration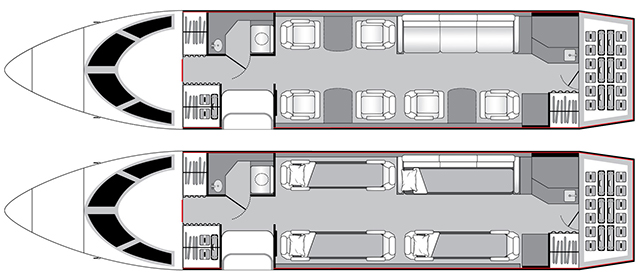 Aircraft Description
BOMBARDIER CHALLENGER 604 FOR CHARTER
Bombardier designed the Challenger 604 with the primary goal of passenger comfort.
BOMBARDIER CHALLENGER 604 PERFORMANCE
This extra wide-bodied aircraft can carry up to seven passengers in its 8.2 foot wide cabin. It has transcontinental range and is able to complete nonstop flights between almost any two cities in the United States.
BOMBARDIER CHALLENGER 604 INTERIOR & SPECS
The Bombardier Challenger 604 jet cabin includes a full-sized galley, equipped for hot and cold food preparation; power outlets for office equipment; fold-out work tables and more. The Challenger 604 spacious interior also includes an enclosed lavatory with a vanity. With TV monitors, an airshow moving map to show trip progress, you'll have every amenity needed.
Jet Charter Quote
Use our interactive map to receive an instant jet charter quote.