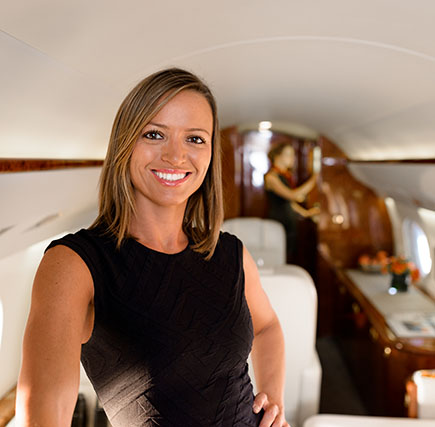 The Importance Of A Private Jet Cabin Attendant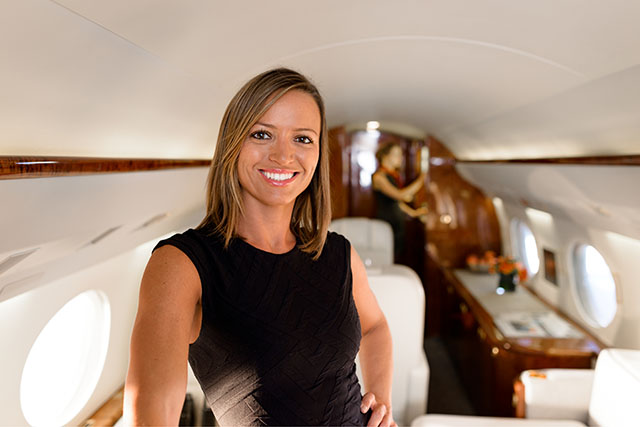 A professional pilot is a necessary extension to any aircraft, but equally important is the private jet flight attendant to enhance the safety environment during a flight. While not required under FAA regulation, a private jet flight attendant, more commonly referred to as a 'cabin attendant,' is an essential component of a flight department's operations. Cabin attendants are the anticipatory, adaptable, elegant, detail-oriented, and multi-talented safety and service professionals for a business jet.
A professional pilot must first, and always, consider safety when performing their job. When there is a third crew member, like a cabin attendant, a pilot can focus on the technical and management elements of flying to a greater degree. Ron Rapp, a widely respected aviation writer and corporate pilot, is a huge proponent of having a third crew member for the cabin. "The flight attendant has, by far, the hardest and most important job on a private jet," states Ron. "I've flown international trips— both with and without a flight attendant— and having one onboard makes a huge difference in the guest experience and overall safety of the flight. Cabin attendants enable me to do my job better; by allowing me to focus on the critical aspects of flying," Ron says.
Behind the scenes, cabin attendants work tirelessly to create an experience that owners and charter guests rave over. However, it is the extensive safety training required for cabin attendants to complete that makes the ultimate difference for clients and aircraft owners. For ultra-luxury air travel, world-class cabin attendants go through educational courses that include water evacuations and emergency drills, CPR and first aid certifications; as well as advanced culinary and etiquette preparation.
Valerie Kracht, Director of In-flight Services at Clay Lacy, reiterates how important cabin attendants are as both safety and service professionals. "Cabin servers act as the point of communication between pilots and the events that occur in the cabin," says Valerie. "If a problem or need arises, the cabin server can solve issues quickly and safely."
How private cabin attendants are trained— both in safety and service— varies widely across the corporate aviation industry. Although training standards in business aviation exist, not all cabin attendants will offer the same benefits to a flight department. Clay Lacy Aviation carefully vets its cabin attendants and pilots; only accepting those who meet and surpass the company's high standards. Jennifer Giller, a cabin attendant with Clay Lacy, vouches for the way that in-flight crew members are— in terms of experience and performance— at the company. "I consider Clay Lacy Aviation the industry standard to which all others should strive for," says Jennifer. "No matter what aircraft assigned; one can expect to find professionalism, perfection, and an exceptional crew.
Employing a cabin attendant is advisable for aircraft owners from both a safety and service perspective. The yearly expense of hiring a cabin attendant is easily recouped through the benefits and value added. Masters at details, communication, customer service, planning, coordinating, and safety— a private jet cabin attendant infuses the in-flight experience with a personalized and professional touch that is unique and exclusive to private aviation.
---
How does Clay Lacy match aircraft owners with the best and most qualified crews? Find out here!