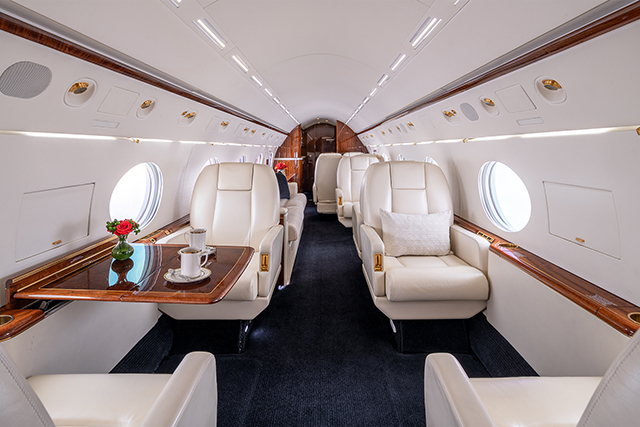 Gulfstream GV, G450, GIV-SP and Citation CJ3 Join Clay Lacy Jet Charter Fleet
(Los Angeles—October 20, 2020) Clay Lacy Aviation has added a 14-passenger Gulfstream GV, a 14-passenger Gulfstream G450, an 11-passenger Gulfstream GIV-SP and a seven-passenger Citation CJ3 to its nationwide charter fleet of managed business jets. For over 52 years, corporate travel departments, business leaders, luminaries and private individuals trust Clay Lacy for safe, efficient, luxurious worldwide jet charter services. Clients can choose from a wide variety of business jets located throughout the U.S. Every flight offers Clay Lacy's legendary Inflight personal service, and the CleanCheck Standard assures a healthy and safe environment for passengers and crew.

Gulfstream GV: U.S. and International Streaming Wi-Fi, 14 Passengers
With an ultra-long range of 6,250 nautical miles, this outstanding GV is based at Van Nuys Airport (KVNY) and is ideal for worldwide business and personal jet charter flights. The spacious, light-filled cabin sleeps up to six passengers and features premium upholstery, wood accents and the latest entertainment and communications technologies. Charter passengers can seamlessly stream internet content and conduct phone calls wherever their journey takes them. Amenities include Airshow moving map, power outlets throughout the cabin, a fully equipped galley and separate passenger and crew lavatories. View photos.

Gulfstream G450: Gogo Iridium International Satellite Phone, 14 Passengers
Featuring a distinctive exterior, beautifully appointed cabin that sleeps six, a 4,100-nautical-mile range and powerful Rolls-Royce engines, this G450 speeds you effortlessly from Los Angeles throughout the Western Hemisphere or from the East Coast to Europe. In addition to the domestic and international flight phone, passengers will appreciate the entertainment system with personal club seat monitors and the large fully equipped galley. There is also a separate lavatory for the crew. View photos.

Gulfstream GIV-SP: U.S. and International Wi-Fi, 11 Passengers
Based at Orange County's John Wayne Airport (KSNA), this GIV-SP can transport charter passengers up to 3,880 nautical miles, perfect for journeys throughout the Americas and Hawaii. Everything onboard is designed to enhance comfort and productivity, with an airy, beautifully appointed cabin that sleeps four, domestic and international phone and Wi-Fi, six iPads, Airshow moving map and four display monitors. There is a well-equipped galley and aft lavatory with full vanity. View photos.

Cessna Citation CJ3: Satellite Phone, Seven Passengers, Plus Belted Lav
Featuring a roomy cabin, nonstop range of 2,040 nautical miles and 45,000-foot cruising altitude, this Van Nuys-based CJ3 is a great option for regional travel in the U.S., Canada and Mexico. Passengers will appreciate the domestic and international flight phone, refreshment center with ice drawer, multiple power outlets and an enclosed belted lavatory which increases seating to eight. View photos.

In other Clay Lacy charter fleet news, a 12-passenger Falcon 900C, based at Van Nuys Airport, has a newly repainted exterior and completely refurbished cabin, featuring leather executive seating and carpeting in rich shades of gray, complemented by lustrous dark-brown veneers. View photos.
Learn more about the Clay Lacy jet charter fleet at claylacy.com. For immediate assistance, call +1.818.989.2900 or obtain an instant charter quote online.
Information about Clay Lacy aircraft management solutions with charter revenue is available at claylacy.com/management.

Clay Lacy CleanCheck Health and Safety Standard
Clay Lacy designed its CleanCheck Standard to eliminate the spread of COVID-19 and other diseases, providing customers and guests with the highest level of confidence at each phase of the flight experience. Learn about Clay Lacy CleanCheck.
About Clay Lacy Aviation
Founded in 1968 by legendary aviator and industry pioneer Clay Lacy. Today, Clay Lacy Aviation is considered the world's most experienced operator of private jets. Prominent individuals and leading corporations trust Clay Lacy for aircraft management, charter, maintenance, avionics, interiors and FBO services. The company has aircraft operations and regional offices across the U.S., including a full-service FBO at Van Nuys Airport in Los Angeles, a new FBO that begins operations at Orange County's John Wayne Airport in January 2021, and FAA Part 145 aircraft maintenance centers in Los Angeles, San Diego and Oxford, Connecticut. With the most knowledgeable team in the industry, Clay Lacy delivers superior safety, service and value to aircraft owners and jet travelers worldwide. Visit claylacy.com
Press Contacts
Scott Cutshall
Clay Lacy Aviation
+1 (818) 989-2900 X706
Email
# # #