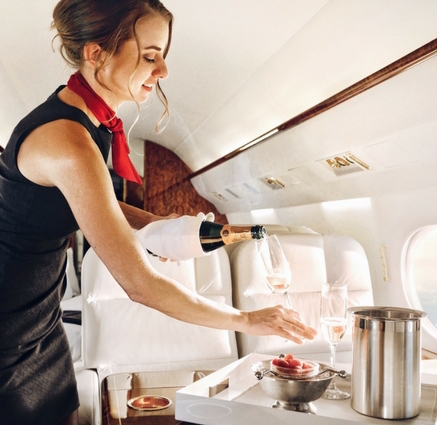 The Onboard Experience: The Way Private Jet Travel Should Be
As jet-cards, jet sharing and other private aviation programs work to lower the cost of flying by private jet, one element that is often overlooked is the onboard experience. "The quality of one's flight isn't something that can be assessed beforehand. Therefore, many clients take the onboard service for granted. The assumption is made that, if a company and its flight professionals are in the niche of private jet travel, they must know how to deliver a superior onboard experience," says Valerie Kracht, Director of InFlight Services at Clay Lacy Aviation. In reality, nothing could be further from the truth.
Many private jet companies rely heavily on the individual skills of a flight attendant— working as an independent contractor— or in the case of a small or medium size jet, the pilots for service in the back of the cabin. For the flight attendants who work in private aviation, many begin and build their careers upon little or no formal training in the areas of luxury service, etiquette, food sourcing, or culinary preparation. The InFlight Services team at Clay Lacy Aviation takes a different, more holistic approach to crafting every flight experience. "We do things differently here," says Valerie. This difference that Valerie mentions is noticeable when flying with Clay Lacy— originating in the way that flight attendants are recruited, trained, hired, evaluated and mentored.
"We do things differently here,"—Valerie Kracht, Director of Inflight Services

The onboard experience
The attention to detail, so instilled in the flight attendants— which are known by the name of 'Cabin Server' at Clay Lacy— translates into a flight environment unmatched within the industry. Charter guests and owners tend to appreciate and remember the touch of excellence that a cabin server adds to a flight. "Our service is personalized based on exactly what the guest wants," says one Clay Lacy cabin server.
Cabin servers are trained to not only listen and fulfill mentioned requests, but understand the necessity of anticipating the needs and unsaid wishes of guests. "The skill that I have found to be most important as a corporate flight attendant is 'the art of anticipation.' A cabin server must think ahead and notice what a client might want before he or she even asks," says Cindy, a Clay Lacy cabin server with over twelve years of experience.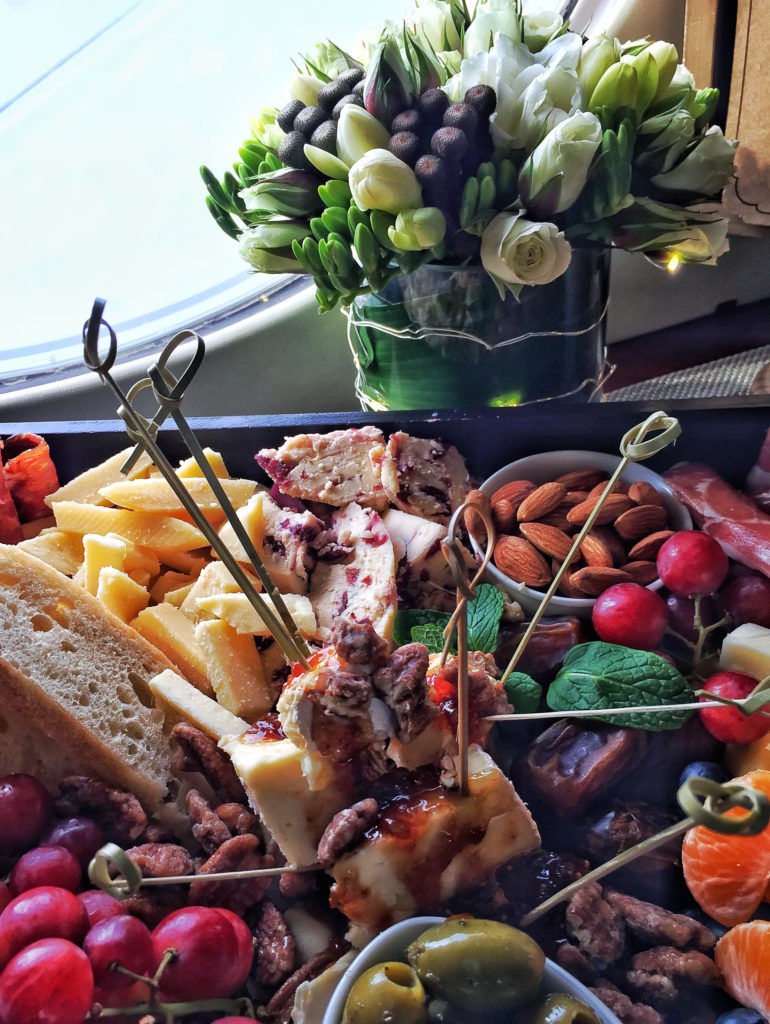 Unmatched excellence
The Clay Lacy onboard experience is built upon a firm foundation of safety, culinary creativity, and etiquette training, but it is a cabin server's personality that plays an integral part in composing an excellent flight. The element of 'personality' in business aviation cannot be ignored. The "presence" that a cabin server exhibits is an aspect of the job that only the very best posses and is difficult to teach, train, or fake.
There are many qualified flight attendant candidates industry-wide, but it is the hard-to-pinpoint social and emotional elements that truly set one cabin server apart from another. Clay Lacy cabin servers are known for their bright and sometimes unidentifiable energy that communicates beyond what a resume has the power to mention.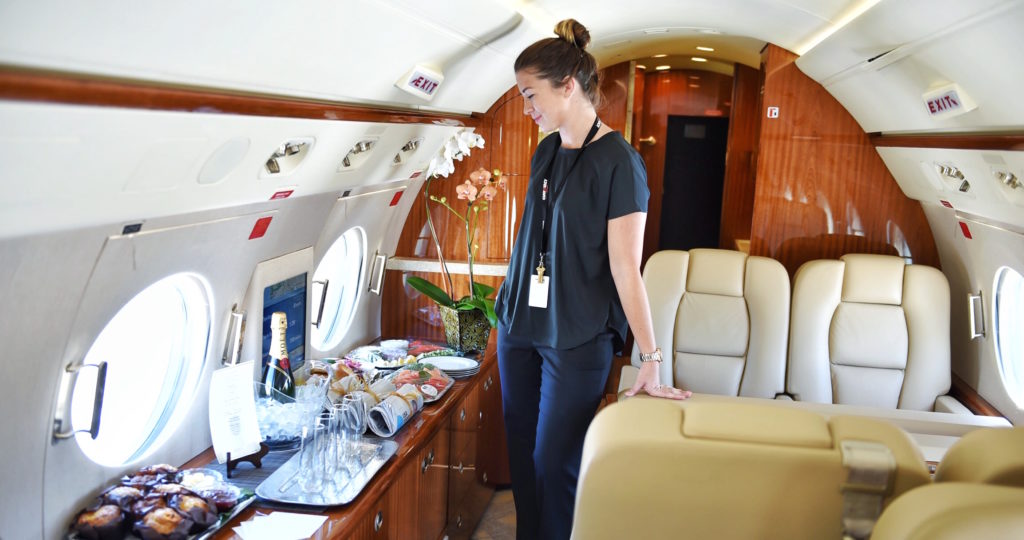 A flight to remember
A cabin server's commitment to providing an exceptional flight for the client is apparent at Clay Lacy. There is a sense of pride and joy that exudes from a cabin server in creating an atmosphere that is professional, yet comfortable and welcoming. It's not a surprise, that if you charter a jet with Clay Lacy for a vacation getaway or business trip, to find a beautiful smiling face at the jet stairs; along with gorgeous flowers, handcrafted cocktails, or a tasty boarding snack.
The onboard experience, from departure to arrival is one of continuous care, consideration, and class. "It's as if I'm throwing a lovely dinner party in someone's home," says one cabin server. "I'm respectful, as well as grateful to host the experience and orchestrate a beautiful ambiance— one that my guests will hopefully remember, enjoy, and return to."
---
What makes a professional, employed with Clay Lacy Aviation, exceptional? Find out the 5 life philosophies that fuel one cabin server's success.