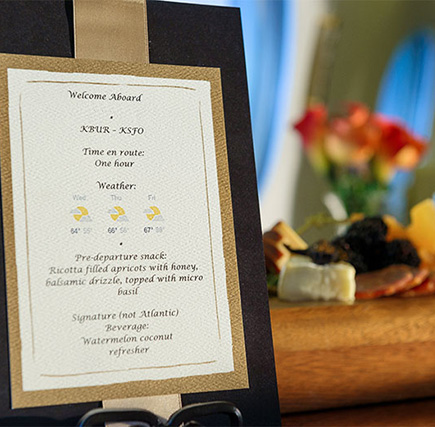 The Perfect Charter Flight Begins Long Before Takeoff
One of the hallmarks of a great charter experience is excellence that appears effortless. The food and amenities are perfect. The attentive personnel anticipate every desire. Everything happens on time.
The key to this seamless performance is what occurs behind the scenes, hours before you board the jet. Here are a few highlights from a recent flight from New York to Los Angeles for an overnight business trip.
At Teterboro Airport, the crew arrives at the aircraft 90 minutes in advance of departure to begin preflight preparations. They would have arrived even earlier for an international flight or during the winter if de-icing was needed.
The jet was cleaned, vacuumed and restocked upon arrival the day before, so those tasks are done. The decision was made to wait on refueling, since the plane would be towed and the extra weight puts a strain on the nose and tires. A pre-scheduled fuel truck is set to arrive at the jet in less than half an hour. It will take 15 minutes to refuel so the crew double checks to make sure the truck is on its way.
Already onboard is the cabin attendant. Instead of simply ordering catered food delivered to the aircraft, she spends the hour and a half to unpack and prep the fresh food sourced from a local farmers market and your favorite New York restaurant, and set up the cabin entertainment.
Meanwhile, the crew removes the covers they carefully placed over the engines the night before. It's time-consuming and since it requires a 10-foot ladder, potentially dangerous. The copilot steadies the ladder while the copilot detaches each cover. Why did they bother, when most crews don't? Because jet engines are vulnerable to nesting birds, ice, and snow, or windblown pebbles that pit the turbine blades. Even wasps can cause an aborted takeoff, by rapidly building nests inside the pitot-static probes that gauge airspeed. That would mean missing the slot time, and an unacceptable delay.
Now the client arrives. He is unaware of all the extra planning, time and work that have gone into making this charter flight a success. That's just as it should be. Greeted by the crew, he quickly boards the aircraft and takes his seat. The plane is cleared for takeoff and his journey home begins. Right on time, and seemingly effortless—as usual.