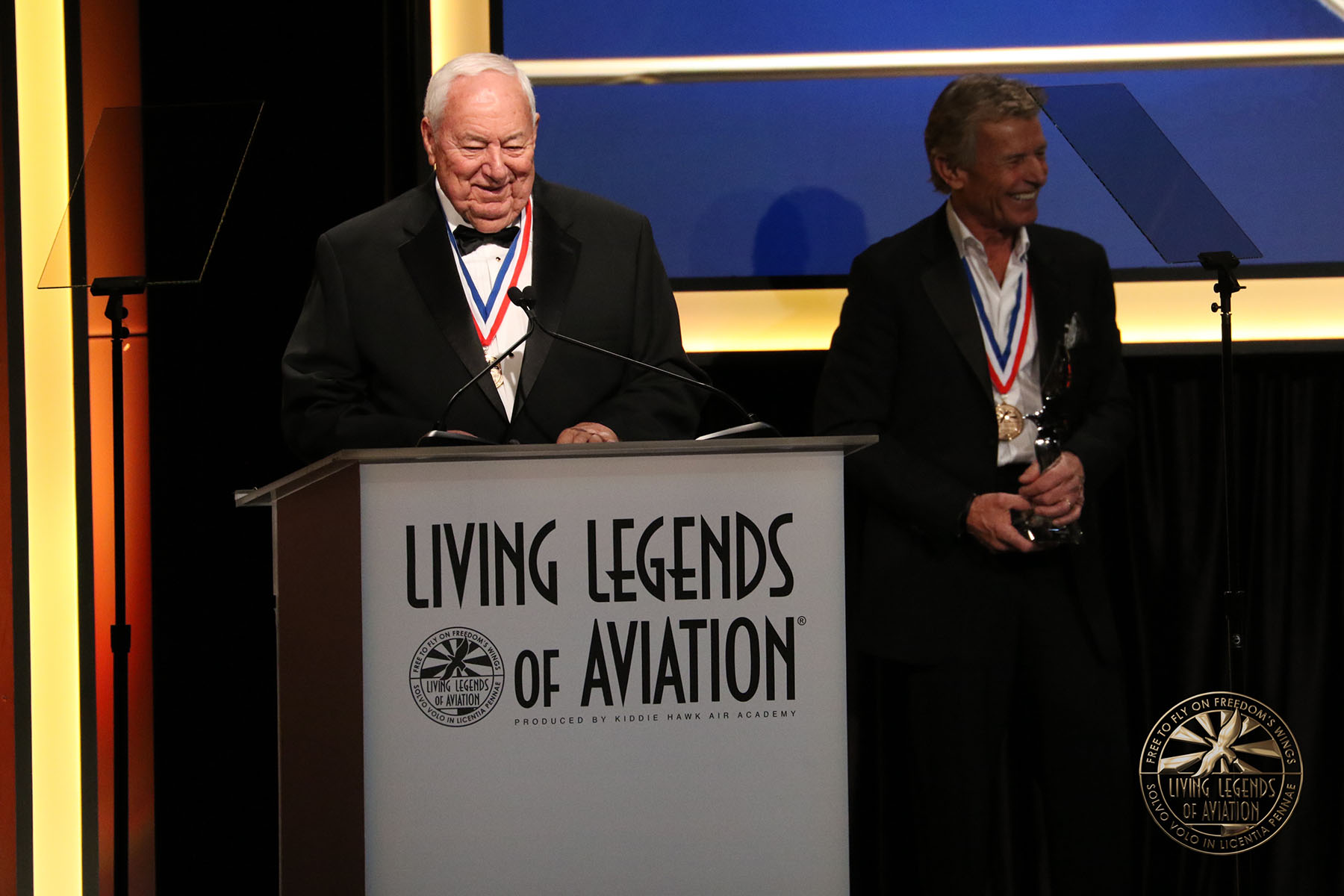 9th Annual Living Legends of Aviation Awards Takes Flight
BEVERLY HILLS, Calif., Dec. 9, 2011 /PRNewswire-USNewswire/ — The 9th Annual "Living Legends of Aviation"® Awards, presented by Learjet, welcomes ONEflight International as a Presenting Sponsor.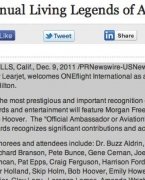 The awards will be held January 20, 2012, at the Beverly Hilton.
Considered the most prestigious and important recognition event of aviation, this intimate, memorable, and historic evening of aviation awards and entertainment will feature Morgan Freeman, with a special tribute to Cliff Robertson and a 90th birthday salute to Bob Hoover.  The "Official Ambassador or Aviation"®, John Travolta, is the evening's host. The Living Legends of Aviation Awards recognizes significant contributions and achievements during aviation's second hundred years.
Legends, honorees and attendees include: Dr. Buzz Aldrin, Maj. Gen. Bill Anders, Tony Bill, Dr. Forrest Bird, Linden Blue, Ed Bolen, Sir Richard Branson, Pete Bunce, Gene Cernan, Joe Clark, Julie Clark, Tom Cruise, Tom Danaher, Bonnie Dunbar, Robert J. Duncan, Pat Epps, Craig Ferguson, Harrison Ford, Morgan Freeman, Charles Hall, Pres Henne, Greg Herrick, Barron Hilton, Dexter Holland, Skip Holm, Bob Hoover, Emily Howell-Warner, David Hurley, Charlie Johnson, John and Martha King,Alan Klapmeier, Clay Lacy,  Lorenzo Lamas, Amanda Wright Lane, Bill Luckett, Robert A. Lutz, Bruce McCaw, George McGovern, Mike Melvill, Russell W. Meyer Jr., Col. Paul "Max" Moga, Zoe Dell Lantis Nutter, Tom Poberezny, Vern Raburn,James Raisbeck, Si Robin, Frank Robinson, Kurt Russell, Burt Rutan, Dick Rutan, Carroll Shelby, Delford M. Smith, Murray Smith, Capt. "Sully" Sullenberger, Ed Swearingen, John Travolta, Steven Udvar-Hazy, Patty Wagstaff, and Kermit Weeks.
Corporate Sponsors include: Bombardier Learjet, ONEflight International, Bell Helicopter, Jet Aviation, Jeppesen, Qantas Airlines, Breitling, Air Lease Corp., and Aviation Partners.
For more information and tickets please visit: http://www.livinglegendsofaviation.org
About ONEflight International:
ONEflight International is a world premier private jet charter services company with access to more than 12,000 private aircraft and 5,000 airports worldwide. They have more than 30 years of experience and provide worldwide executive, corporate, and personal private jet concierge services. Additionally, ONEflight International offers a unique advantage to their members allowing them to own their flight, without owning a jet by flying at direct operating costs. At ONEflight, "You Don't Need to OWN, You Just Need to Fly."
About Living Legends of Aviation:
The "Living Legends of Aviation" are defined as aviation entrepreneurs, innovators, record breakers, industry leaders, astronauts, pilots who have become celebrities and celebrities who have become pilots. The Legends meet yearly to recognize and honor individuals that have made significant contributions in aviation.  Living Legends of Aviation is a registered trademark.
About Kiddie Hawk Air Academy:
The Living Legends of Aviation Awards event is produced by the Kiddie Hawk Air Academy, a non-profit 501(c)(3) qualified organization. Kiddie Hawk introduces children ages 4 thru 9 to flight with the Kiddie Hawk Trainers. These trainers allow kids to take their first flight lesson with the sophistication of motion and control of real flight, piloting their airplane, albeit a few feet off the ground.  Kiddie Hawk follows the students as they progress, making scholarships available as Kiddie Hawk pilots enter actual flight training.  The Kiddie Hawk program also introduces youngsters to other aviation related careers.
CONTACT: Megan Lips of Entertainment/Consumer & Aviation/Trade (including Red Carpet), +1-720-280-5477,Media@LivingLegendsofAviation.org
SOURCE Kiddie Hawk Air Academy