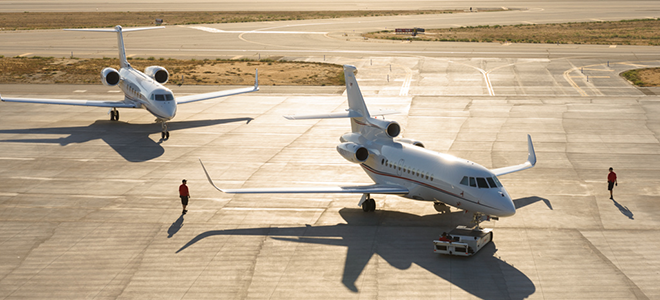 Clay Lacy and Key Air Become One
Together expanding nationwide coverage for jet charter, aircraft management and maintenance support with new locations in Greater New York and throughout the Northeast.
(New York– September 14, 2016) Clay Lacy Aviation, the world's most experienced operator of private jets, has united with Key Air, an aircraft management and charter company with a rich 30-year history, headquartered in Oxford, Connecticut. Their combined resources benefit new and current clients with lower operating costs, higher dispatch reliability, greatly expanded support services and access to a nationwide charter fleet. The company moves forward as Clay Lacy Aviation, representing more than 75 aircraft in fifteen U.S. locations, with two world-class FBOs and four maintenance centers.
"Our clients asked us for a larger presence in New York, and this is the first of several strategic steps to expand our East Coast services," said Brian Kirkdoffer, President and CEO of Clay Lacy Aviation. "We now have a great team of aviation experts on both coasts, focused on providing the highest levels of safety, service and value in the business aviation industry."

"Joining the Clay Lacy family brings immediate benefits to our clients and employees," said Chris Hand, Vice President of Operations, Key Air. "We offer 78 years of combined experience and a very compelling service value to jet aircraft owners in the New York area and along the East Coast."
About Clay Lacy Aviation
Founded in 1968 by legendary aviator and industry pioneer Clay Lacy. Today, Clay Lacy Aviation is considered the world's most experienced operator of private jets. Prominent individuals and leading corporations trust Clay Lacy for aircraft management, charter, sales, acquisitions, maintenance, avionics, interiors and FBO services. The company has full-service, fixed-base operations and part 145 repair stations at Van Nuys Airport in Los Angeles and Seattle's Boeing Field, and offices and aircraft operations across the U.S. With the most knowledgeable team in the industry, Clay Lacy delivers superior safety, service and value to aircraft owners and jet travelers worldwide. Visit claylacy.com.
Press Contact
Scott Cutshall
Clay Lacy Aviation
+1 (818) 989-2900 X706
Email