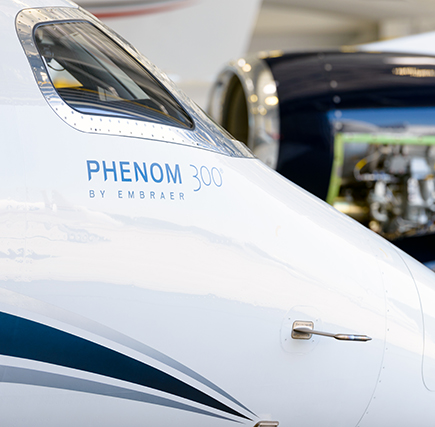 120-month inspections due for Phenom 100 and 300 jets
The very first deliveries of Phenom 100 and 300 produced in 2008 are coming due for their 120-month inspection this year. This inspection is largest and most thorough in the Phenom maintenance manuals. The interior is completely removed, all inspection panels are opened, and the gear are removed and sent for overhaul. The estimated downtime is four weeks. This is an ideal time for other modifications and upgrades at our Part 145 Repair Station and Authorized Embraer Service Center at Van Nuys Airport.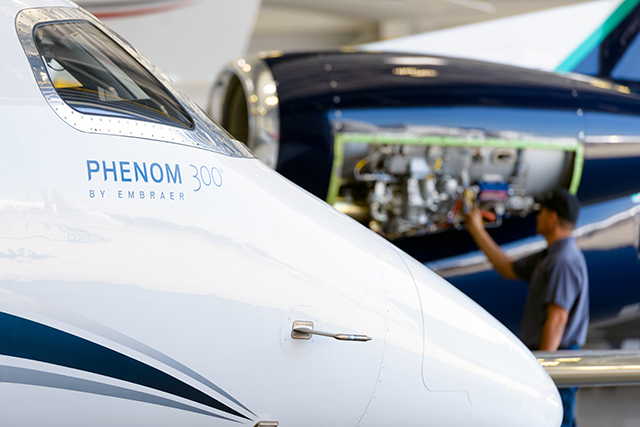 Recover passenger seats with premium leathers.
Owners can recover passenger seats quickly and conveniently from a large selections of quality leathers through our partner Seat Air Systems, co-located within our Van Nuys Airport facility. The new seat covers have FAA Parts Manufacturer Approval (PMA) and, since they must be removed for inspection, there is no charge to remove existing seats and install the newly recovered ones.
Upgrade or modify avionics: Gogo 4G Wi-Fi and more.
Clay Lacy is an authorized dealer for leading avionics manufacturers and systems, including Gogo, Garmin, Honeywell and Rockwell Collins. Accelerate your onboard communications and entertainment with Gogo Biz domestic 4G Wi-Fi solutions, or add other avionics modifications.
Seven Year Planner: Phenom 100 and 300 120-month Inspections
Year Produced……….. Inspection Due
2008…………………………. 2019
2009…………………………. 2020
2010…………………………. 2021
2011…………………………. 2022
2012…………………………. 2023
2013…………………………. 2024
2014…………………………. 2025
---
Speak with one of our Embraer Phenom experts at 800.423.2904 or request a maintenance proposal.