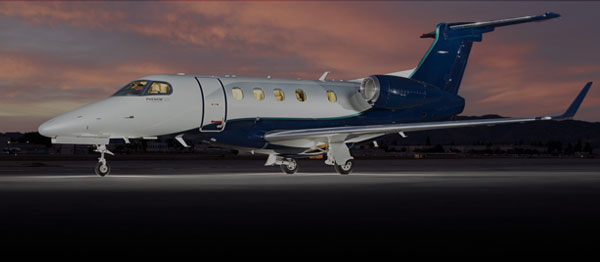 Embraer
Embraer Authorized Maintenance Services
Clay Lacy is an Authorized Service Center for the full range of Embraer business jets: Embraer Legacy 450, 500, 600, 650 models, Praetor 500 and 600 jets, and Phenom 100 and 300 aircraft. We provide line maintenance and airframe inspection services, as well as AOG support, parts sales, rotable service, avionics installation and repairs, and interior refurbishment and upgrades. Our factory-trained Embraer experts include A&P technicians, IA-qualified inspectors and an onsite FAA Designated Airworthiness Representative.
Embraer maintenance services are provided at our Class 3 and 4 FAA Part 145 Repair Station at Van Nuys Airport in Los Angeles. With three-daily shifts, our team is ready 24/7 to meet your maintenance, parts, avionics or interior needs. We also have mobile AOG support teams at Van Nuys Airport, John Wayne Orange County Airport, McClellan-Palomar Airport near San Diego and Seattle's Boeing Field. They provide around-the-clock support for your Embraer business jet throughout the West Coast.

"Clay Lacy is one of our top three Authorized Service Centers for warranty claim administration."
— Danny Ferrell, Warranty/Special Programs Administrator for Embraer
Executive Jets North America

"I chose Clay Lacy's operation to manage my Phenom because of the company's longstanding reputation and have been very satisfied with the results."
— Wayne Gorsek, Phenom 300 owner, pilot and Founder & CEO of Drvita www.drvita.com

"One of the many reasons we chose Clay Lacy was their in-depth expertise with the Phenom aircraft. My 10-year inspection and gear overhauls were completed on time and on budget, and their service was exceptional throughout the process."
— Tim Brown, Phenom 100 owner and CEO
For other Jet services, see our maintenance services for Falcon, Gulfstream, Hawker, and Learjet models as well!
Contact us for more information about our Embraer maintenance services.
+1.818.947.5410        jetsupport@claylacy.com