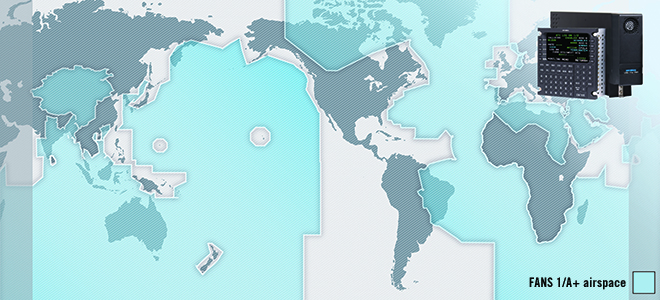 Clay Lacy Aviation Certifying FANS Solution for Challenger 601-3A/R
As North Atlantic mandates rapidly approach, innovative cockpit technology places company at the forefront of global air traffic modernization efforts.
(Los Angeles, Calif. – Oct. 10, 2014)
Clay Lacy Aviation
—home to an expanding avionics sales, installation and repair facility—is certifying a
FANS solution for the Challenger 601-3A/R
 that will enable aircraft owners and operators to enjoy lower fuel burns, shorter flight times and enhanced safety by reducing pilot fatigue and improving communications.
Certified through the supplemental type certification (STC) process, the avionics upgrade will also comply with approaching worldwide mandates for access to FANS airspace and ultimately provide preferential access to optimal tracks and altitudes across the North Atlantic.
Clay Lacy Aviation is currently completing installation on the initial certification aircraft and expects final certification early next year.  The STC solution incorporates the key aspects of FANS 1/A+ including CPDLC, ADS-C with provisioning for Link 2000+ and ADS-B. For reliable data communications between the cockpit and air traffic control, the STC package will use a dedicated TrueNorth Simphonē FANS-1/A Iridium Data Link Unit, which fully complies with the current advisory circular and has been in use for years with commercial aircraft.
"We're proud to partner with leading equipment providers Universal Avionics and TrueNorth Avionics to develop a solution that reduces fuel consumption, shortens flight times and creates a safer environment for passengers and crewmembers," said Clay Lacy Aviation Director of Avionics Jim Lauer. "This proven technology is at the center of the NextGen airspace modernization program, and is another example of Clay Lacy Aviation's commitment to providing superior service, safety and value."
The scope of work will include:
Replace the existing flight management system with dual, factory new Universal Avionics UNS-1Fw SBAS-Flight Management Systems (FMS)
Replace the existing automatic flight information service system with a new Universal Avionics UniLink® UL-801 Communications Management Unit (CMU), providing advanced air-to-ground, two-way data link capabilities
Install a new Universal Avionics CVR-120R Cockpit Voice Recorder
Install a dedicated TrueNorth TN1007 FANS-1/A Iridium Data Link Unit with AFIS / ACARS international connectivity
"We are very excited that Clay Lacy Aviation, a company with a long history of excellence in the charter and aircraft management industry, will be one of the first to equip today's most preferred business aircraft with this innovative technology," said Robert Clare, Universal Avionics Director of Sales. "We will continue to work together to provide advanced avionics solutions that enhance safety, reduce operational costs and address current and future requirements."

"Our data link unit, which achieved RTCA DO-178B Level D software certification earlier this year, has recently received Iridium product certification," said Mark van Berkel, TrueNorth CEO. "The TSO package has been submitted to Transport Canada and the FAA and we are waiting to receive approval. This certification will make it easier for aircraft operators to benefit from better routes and the resulting fuel savings. We're extremely pleased to work with the Clay Lacy team on solutions that aircraft operators demand."
Gulfstream GIV-GIVSP-GV FANS STC Update
Clay Lacy Aviation is also on course to receive a
FANS STC for the Gulfstream GIV, GIVSP and GV
. Installation in the initial certification aircraft is complete and final paperwork has been submitted to the Federal Aviation Administration (FAA) for certification.  The company will install and sell both the Gulfstream and Challenger STC solutions at its Van Nuys, Calif. FAA Part 145 Repair Station, as well as make it available to Universal Avionics Authorized Dealers.
ABOUT CLAY LACY AVIATION
Founded in 1968 by world-renowned pilot Clay Lacy, Clay Lacy Aviation (CLA) operates one of the largest fleets of charter and managed aircraft in the world. The company's fixed based operations in Los Angeles and Seattle set the industry standard for corporate aviation facilities and amenities. CLA offers a complete range of aircraft charter, management, sales, maintenance, avionics and interior completion services, and is an authorized service center for the Embraer Phenom 100 and 300. Home to an award-winning Class 3 & 4 maintenance repair station, CLA's factory-trained technicians provide 24-hour on-site and mobile maintenance support.  For more information, visit
www.claylacy.com
.
ABOUT UNIVERSAL AVIONICS
Universal Avionics is a leading manufacturer of innovative avionics systems offered as retrofit and forward-fit solutions for the largest diversification of aircraft types in the industry. Markets served include Business, Special Missions, Government/Military, Airline (regional/commercial), Helicopter and OEM. To learn more about Universal Avionics, visit
www.uasc.com/company/about
.
ABOUT TrueNorth
More Fortune
®
100 business jet owners choose TrueNorth Simphonē inflight communications systems than any other. Our Simphonē OpenCabin family of products is innovative and reliable and works everywhere passengers and crew fly. Optelity, our newest product family is the latest development in airborne communications, and built on Simphonē's foundations. TrueNorth's systems deliver high fidelity voice, Fax, Wi-Fi, enterprise E-mail, and effortless connectivity for smart phones and other mobile devices, enabling seamless connectivity from office to sky to fly. connect. succeed. Only TrueNorth provides ready-to-upgrade, app-based solutions, empowering business jet users to stay connected and be more productive inflight. Learn more at
www.truenorthavionics.com
.
For more information
Scott Cutshall
Vice President, Marketing
(714) 369-7027
NBAA Booth #678
#  #  #