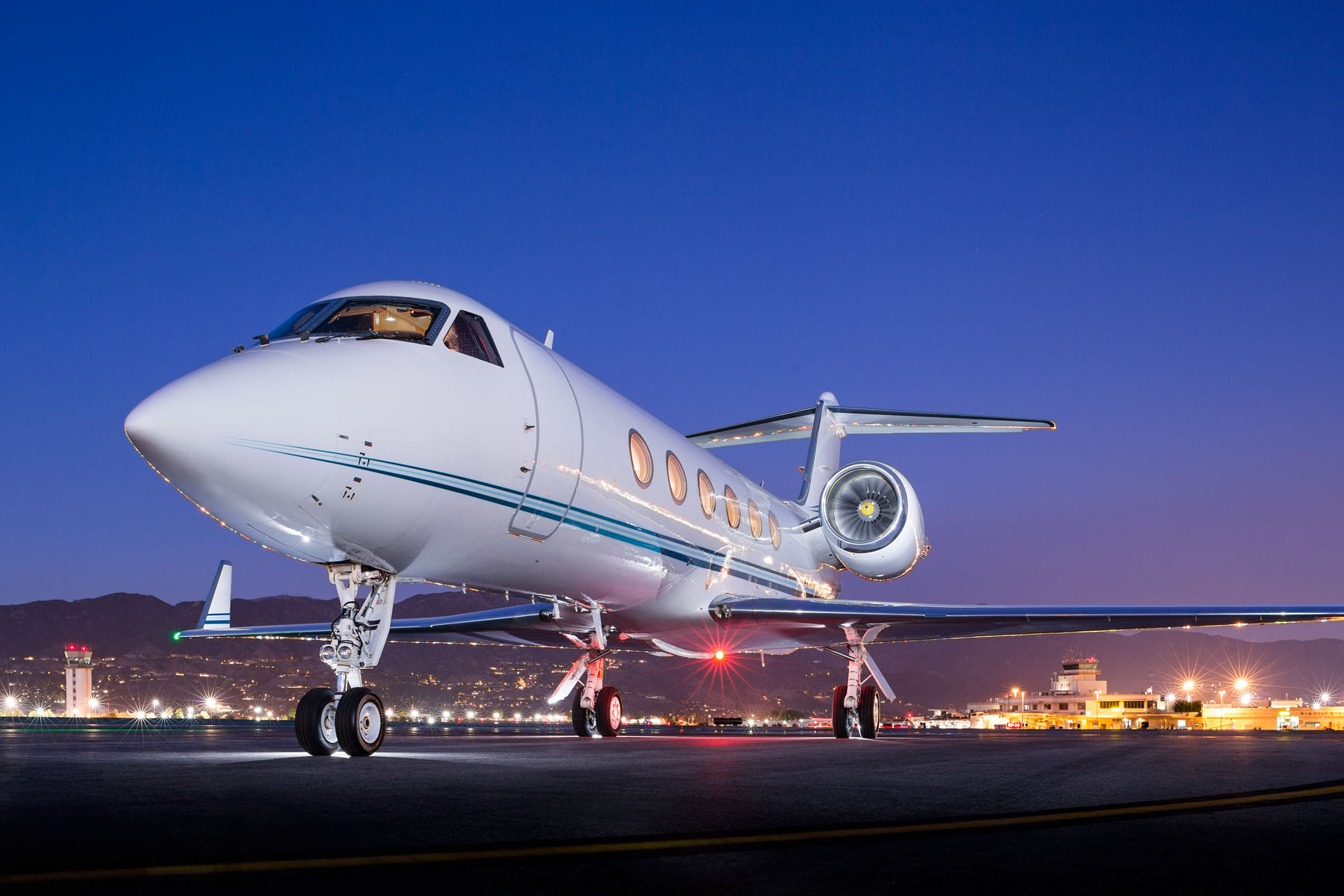 Clay Lacy Aviation on Course to Receive STC for FANS 1/A+, CPDLC, Link 2000+, ADS-B Solution for Gulfstream GIV and GIVSP Aircraft
Installation of Future Air Navigation System (FANS-1/A+) on one of business aviation's most popular aircraft platforms will dramatically improve safety, reduce operating costs and flight time, and comply with equipment requirements that went into effect this year (2013) for North Atlantic crossing routes.
(Los Angeles, Calif. – Dec. 3, 2013) Clay Lacy Aviation (CLA)—home to a rapidly expanding avionics sales, installation and repair facility—has defined a clear path for certifying a Universal Avionics FANS 1/A+, CPDLC, Link 2000+ and ADS-B solution for the Gulfstream IV and GIVSP type aircraft.
Installation in the initial certification aircraft is scheduled to begin in January 2014, with supplemental type certification (STC) expected in April 2014. CLA is working with Envoy Aerospace on the certification process and plans to install and sell the STC solution at its Van Nuys, Calif. facility, as well as make it available to qualified Universal Avionics Authorized Dealers. There are currently 500 GIV and GIVSP model aircraft that will be able to take advantage of this new technology that will afford aircraft owners greater safety and lower operating costs.  An amendment to the STC for GV  aircraft  will immediately follow the initial certification.
Future Air Navigation System (FANS 1/A+)
FANS 1/A+  has been used by the vast majority of commercial aircraft for the North Atlantic Track Crossings for decades, but only by a very small percentage of business jet aircraft. FANS 1/A+ replaces current  position reports using HF radio communications, which can be unreliable and hard to understand, with automatic satellite-based  position reports delivered directly to air traffic control from the aircraft's onboard flight management system (FMS) and data link system. This vastly improves safety and will reduce operating costs due to more direct routing.
"We're proud to be the first to offer this revolutionary technology to Gulfstream owners and their crewmembers, who expect and deserve only the best," said CLA Director of Avionics Jim Lauer. "In today's competitive business environment, this is another example of Clay Lacy Aviation's commitment to providing superior safety, service and value."
Improved Safety
Automatic and on-demand position reports increases safety by:
Improving accuracy and timeliness of position reports;
Reducing confusion between pilots and ATC due to inaccurate or hard-to-understand verbal reports;
Lessening pilot workload through automatic reporting;
Mitigating the chance of human error;
Allowing ATC to reduce minimum flight separation requirements due to improved accuracy of position reports; and
Upgrading technologies to those currently in use on G450, G550 and G650 aircraft.
Reduced Operating Costs
FANS 1/A+-equipped aircraft will have access to restricted airspace that provides the most desirable North Atlantic Crossing Track and altitudes. This will:
Reduce flight time on the airframe and shorten flight times for passengers;
Result in lower fuel burns; and
Eliminate the need for extra fuel stops and handling charges.
"We are very excited that Clay Lacy Aviation, a company with a long history of excellence in the charter and aircraft management industry, will be the first to equip today's most preferred business aircraft with this innovative technology," said Dan Reida, Universal Avionics' vice president of Sales, Marketing and Support. "We will continue to work together to provide advanced avionics solutions that enhance safety, reduce operational costs and address current and future requirements"
Approaching Regulations
The result of new North Atlantic mandates will ultimately be "best-equipped, best-served" practices that give preferential routing and handling to aircraft already equipped with FANS 1/A+. Further compliance deadlines are quickly approaching that will have a significant impact on non-FANS-equipped aircraft with no exemptions;
February 2013: Two center (most desirable) tracks, FL360-FL390 (inclusive), require FANS 1/A+
2015: Two center (most desirable) tracks will have a half degree track between them
2015: Phase 2A: Expands FANS 1/A+ airspace to include all Organized Track System (OTS) FL350-FL390 (inclusive)
2017:* Phase 2B: FANS 1/A+ required throughout the ICAO NAT Region FL350-FL390 (inclusive)
2020:* Phase 2C: FANS 1A+ required throughout the ICAO NAT region FL290 and above
*Will not apply if surveillance is available by radar or ADS-B, or if above 80 degrees north, or in the NY Oceanic FIR
*Oceanic centers Gander and Shanwick have also stated that they will not allow "shadowing" over the OTS without FANS-1/A+ equipment.
ABOUT CLAY LACY AVIATION
Founded in 1968 by world-renowned pilot Clay Lacy, Clay Lacy Aviation (CLA) operates one of the largest fleets of charter and managed aircraft in the world. The company's fixed based operations in Los Angeles and Seattle set the industry standard for corporate aviation facilities and amenities. CLA offers a complete range of aircraft charter, management, sales, maintenance, avionics and interior completion services, and is an authorized service center for the Embraer Phenom 100 and 300. Home to an award-winning Class IV maintenance repair station, CLA's factory-trained technicians provide 24-hour on-site and mobile maintenance support.
CLA has received numerous industry awards: "Best of the Best" Jet Charter Service and Aviation Management Company – Robb Report; Diamond Award for Excellence in Maintenance Training/Proficiency – Federal Aviation Administration; Best Pilot Training Program and Platinum Rating – Aviation Research Group/U.S.; IS-BAO Stage 2 Certification – International Business Aviation Council; and Wingman Rating –The Wyvern Standard. For more information on CLA's complete line of business aviation services and 15 authorized dealerships, visit claylacy.com.
For More Information
Scott Cutshall
>Vice President, Marketing
(714) 369-7027
scutshall@claylacy.com