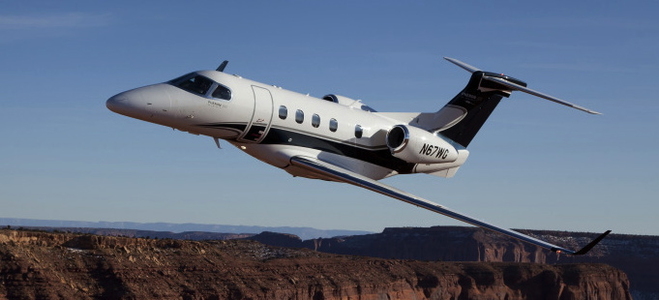 Clay Lacy Aviation's Embraer Service Center Completes Comprehensive Upgrades for World's Largest Operator of Phenom Jets
Work to refresh JetSuite's fleet of Phenom 100s is fast-tracked to reduce downtime and enhance onboard services.
(Los Angeles, Calif. – Oct. 14, 2013) Clay Lacy Aviation (CLA), an Embraer Authorized Service Center for the Phenom 100 and 300, has completed an initiative to upgrade JetSuite's entire fleet of Phenom 100 light jet aircraft, including installation of high-speed WiFi, interior upgrades and heavy maintenance inspections.
The fleet improvement program was carefully conceived, planned and completed in just six months to minimize aircraft downtime and eliminate service interruption to JetSuite's clients. JetSuite logs more Phenom 100 flight hours than any other jet charter company in the world.
As the first Embraer Authorized Service Center for Phenoms on the West Coast, CLA has serviced more than 30 percent of the total fleet flying today and maintains a $1.5 million parts inventory. It has made significant investments in specialized tooling to further reduce downtime and improve timely completion of work.
JetSuite CEO Alex Wilcox said, "We knew Clay Lacy Aviation was the only company that could take on the aggressive scope of work we required in one location, on time and on budget. We were confident in the quality and attention to detail evident in their craftsmanship, and they delivered with flying colors."
JetSuite's fleet of 13 Phenom 100s underwent:
A 12- or  24-month inspection
Engine overhaul
Installation of Gogo Biz high-speed wireless internet
Service bulletin compliance
Interior upgrades to leather and other soft goods
Paint refresh of JetSuite's signature red and white paint scheme
"We worked tirelessly around-the-clock to ensure each aircraft's schedule of work was completed to Clay Lacy Aviation's highest standards," said Ned Zolata, manager of CLA's Embraer-Phenom Authorized Service Center. "As a charter company, we're in a unique position to understand the importance of returning an aircraft to service on time to avoid disrupting its flight schedule."
ABOUT CLAY LACY AVIATION
Founded in 1968 by world-renowned pilot Clay Lacy, Clay Lacy Aviation (CLA) operates one of the largest fleets of charter and managed aircraft in the world. The company's fixed based operations in Los Angeles and Seattle set the industry standard for corporate aviation facilities and amenities. CLA offers a complete range of aircraft charter, management, sales, maintenance, avionics and interior completion services, and is an authorized service center for the Embraer Phenom 100 and 300. Home to an award-winning Class IV maintenance repair station, CLA's factory-trained technicians provide 24-hour on-site and mobile maintenance support.
CLA has received numerous industry awards: "Best of the Best" Jet Charter Service and Aviation Management Company – Robb Report; Diamond Award for Excellence in Maintenance Training/Proficiency – Federal Aviation Administration; Best Pilot Training Program and Platinum Rating – Aviation Research Group/U.S.; IS-BAO Stage 2 Certification – International Business Aviation Council; and Wingman Rating –The Wyvern Standard. For more information on CLA's complete line of business aviation services and 15 authorized dealerships, visit claylacy.com.
ABOUT JETSUITE
JetSuite's vision to provide the freedom and exhilaration of private air travel to more people than ever is realized through transparent pricing, efficient operations, acute attention to detail, acclaimed customer service, and industry-leading safety practices. Offering a fleet WiFi-equipped jets, the Phenom 100 from Embraer and the JetSuite Edition CJ3 from Cessna, the company continues to redefine private aviation. Under the leadership of CEO Alex Wilcox, a JetBlue founding executive, JetSuite is rated Platinum by ARG/US, the highest possible safety rating in the private jet industry. JetSuite was founded in 2006 and took flight in early 2009. www.JetSuite.com .
For More Information
Scott Cutshall
Vice President, Marketing
(818) 989-2900
scutshall@claylacy.com
NBAA Booth #N5115