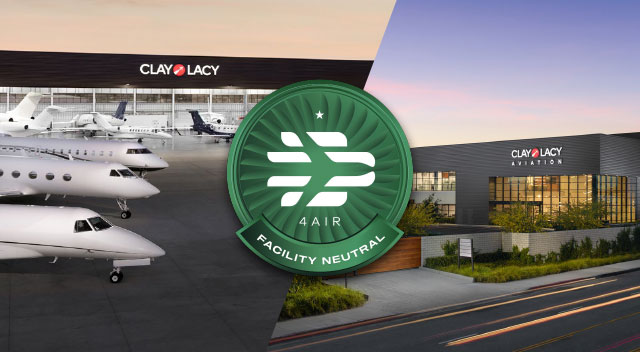 Clay Lacy Becomes First Company Certified to 4AIR Facilities Neutral Sustainability Rating
Independent audit validates carbon neutral rating and proactive steps taken to reduce greenhouse gas emissions at its facilities.
(Los Angeles—January 25, 2022) Clay Lacy Aviation is the first company to receive a 4AIR sustainability rating of Facilities Neutral, validating that the company's private aviation facilities have been operating carbon neutral since 2019. Clay Lacy is the first company to complete its facilities audit by 4AIR, the first and only rating sustainability program dedicated to private aviation.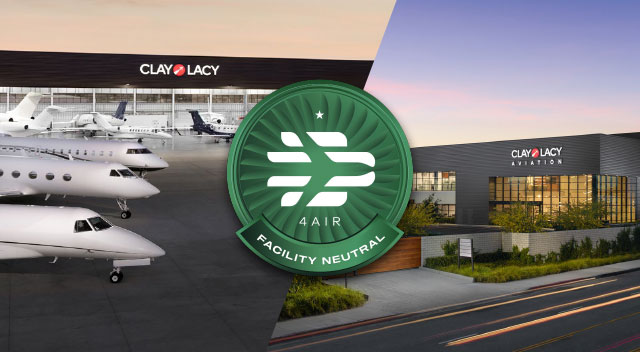 "The Facilities Neutral rating affirms the sustainability strategy and actions taken by Clay Lacy Aviation to meet a carbon neutral level," said 4AIR President Kennedy Ricci. "After a thorough review and audit, we offer Clay Lacy stakeholders and its customers assurance that its program has delivered in its goals of reducing its carbon footprint and procuring carbon offsets to attain carbon neutrality. Receiving the Facilities Neutral rating shows Clay Lacy's industry leadership in achieving sustainability for its FBOs (operations)."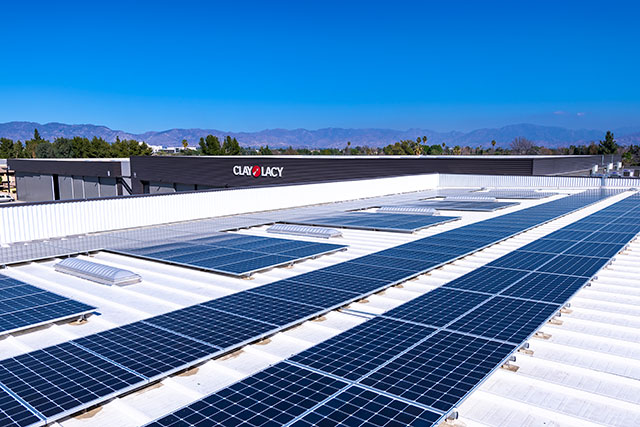 4AIR conducted a comprehensive and independent audit of Clay Lacy facilities, reviewing direct emissions such as fuel combustion, and indirect emissions from electricity and heating. In addition to participating in carbon offset programs, Clay Lacy actively reduces its carbon footprint throughout its facilities, including utilizing more than 30,000 square feet of solar panels at its Los Angeles headquarters, and incorporating electric vehicle charging stations and LED lights for greater efficiency.
Said Scott Cutshall, Clay Lacy's Senior Vice President of Development and Sustainability, "4AIR's rating is an industry-first framework to address greenhouse gas impact that offers a verifiable path to achieve meaningful emissions counteraction and reduction. This important third-party rating recognizes that Clay Lacy's thoughtful and proactive efforts are meeting our measurable goals, as we continue to work toward a sustainable future."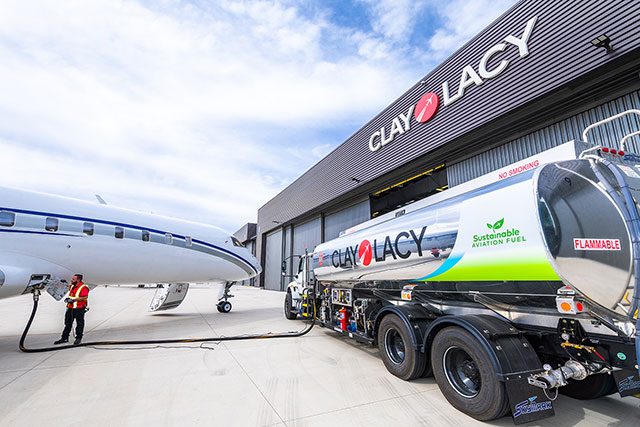 Clay Lacy Corporate Sustainability Program
Clay Lacy is executing a long-term strategic plan to operate more sustainably, on the ground and in the air. The company works with fuel suppliers and aviation industry associations to foster the development and use of sustainable jet fuel and facilitates carbon offset programs for FBO customers and business jet aircraft owners. After completing installation of a 500 kilowatt (kW) solar array at its headquarters, Clay Lacy will break ground on two new FBOs at Oxford-Waterbury Airport (OXC) and John Wayne Airport (SNA) that will incorporate a host of sustainable construction and operational practices to reduce the environmental impact of those facilities. Clay Lacy Aviation was also recently the first company certified to the National Air Transportation Association's (NATA) Sustainability Standard for Aviation Businesses.
About Clay Lacy Aviation
Founded in 1968 by legendary aviator and industry pioneer Clay Lacy. Today, Clay Lacy Aviation is the world's most experienced operator of private jets. Prominent individuals and leading corporations trust Clay Lacy for aircraft management, charter, maintenance, avionics, interiors and FBO services. The company has aircraft operations and regional offices across the U.S., including two full-service FBOs at Van Nuys Airport in Los Angeles, and Orange County's John Wayne Airport, with a third FBO opening at Waterbury-Oxford Airport in 2022. Clay Lacy also has FAA Part 145 aircraft maintenance centers in Los Angeles, San Diego and Oxford, Connecticut. With the most knowledgeable team in the industry, Clay Lacy delivers superior safety, service and value to aircraft owners and jet travelers worldwide. Visit claylacy.com.

About 4AIR
4AIR is an industry pioneer offering sustainability solutions beyond just simple carbon neutrality. The 4AIR framework offers four levels, each with specific, science-based goals, independently verified results and progressively greater impacts on sustainability that make it easy for private aviation users to pursue sustainability through access to carbon markets, use of Sustainable Aviation Fuel, support for new technologies and other strategies. All carbon credits through 4AIR are quantified and verified through the most respected and international leading bodies that issue and register credits, including the American Carbon Registry, Climate Action Reserve, Verified Carbon Standard (VERRA) and The Gold Standard. Additionally, end-of-year commitment audits are independently verified by third parties. 4AIR also serves the demand signal working groups with the World Economic Forum's Clean Skies for Tomorrow Coalition.
For more information, visit www.4air.aero.
Press Contacts
Scott Cutshall
Clay Lacy Aviation
+1 (818) 989-2900 X706
Email
# # #