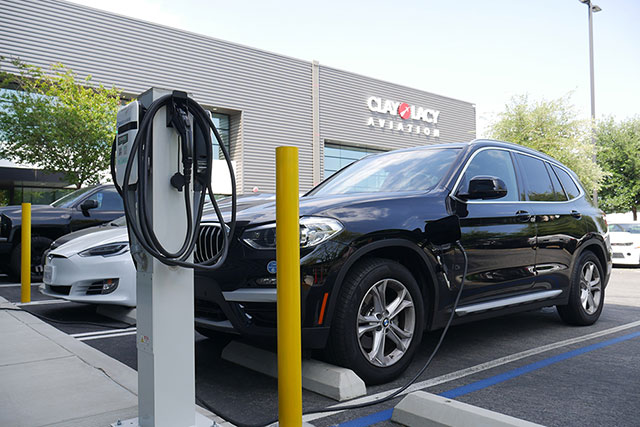 EPA Recognizes Clay Lacy Aviation Among Nation's Leading Green Power Users
Certification recognizes impact of company's green power use and leadership in utilizing renewable energy sources.
(Los Angeles—April 21, 2022) Clay Lacy Aviation has been a leader in sustainability within business aviation by reducing greenhouse gas emissions and transitioning to renewable energy sources. In recognition of those efforts, the company has been certified as a member of the Environmental Protection Agency's (EPA) Green Power Partnership, a program that supports organizations that use green power voluntarily to protect human health and the environment.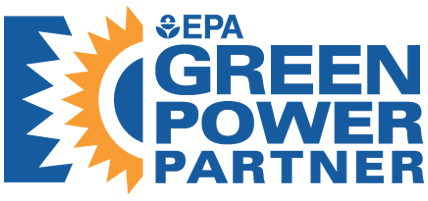 Clay Lacy is one of the first companies in the business aviation industry to receive certification under the Green Power Partnership, joining some of the largest organizations in the world in the transition to renewable sources of energy. In awarding the Green Power Partner Certificate, the EPA recognizes Clay Lacy sourcing 33% of its energy from renewable resources, including 700,000 kilowatt hours (kWh) of wind power and the installation of a 750,000-kWh solar array and 40 electric vehicle chargers at its facilities.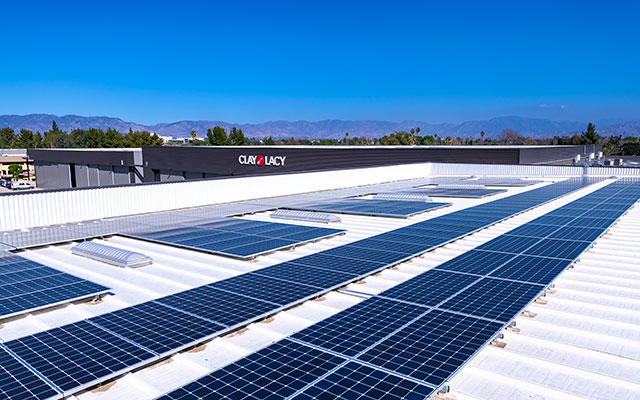 "Receiving the EPA's Green Power Partner Certificate was a key goal of our corporate sustainability strategy and validates the efforts we've undertaken to operate more sustainably," said Scott Cutshall, Senior Vice President of Development and Sustainability for Clay Lacy Aviation, "It complements our carbon neutral facilities rating, as well as carbon offset programs and the ongoing supply of Sustainable Aviation Fuel (SAF) introduced last year at our FBOs to help our clients in achieving their sustainability goals. This Earth Day, we're proud of the steps we've taken to benefit the environment, our employees, clients, and communities."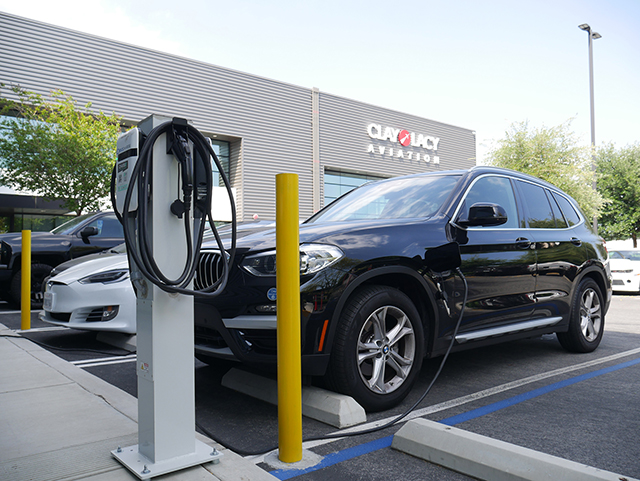 Clay Lacy's facilities have been carbon neutral since 2019 and it was the first company certified to the National Air Transportation Association's (NATA) Sustainability Standard for Aviation Businesses. It was also the world's first company to be independently reviewed and rated Facility Green Level by 4AIR, affirming FBO facilities and ground emissions lead industry-level standards and meet carbon neutrality.
Clay Lacy is executing a long-term strategic plan to operate more sustainably, on the ground and in the air. The company works with fuel suppliers and aviation industry associations to foster the development and use of sustainable jet fuel and emission and waste reduction programs. Clay Lacy is also moving forward with the development of two new FBO and MRO facilities at Oxford-Waterbury Airport (OXC) and John Wayne Airport (SNA) that will incorporate a host of sustainable construction and operational practices to reduce the environmental impact of those facilities.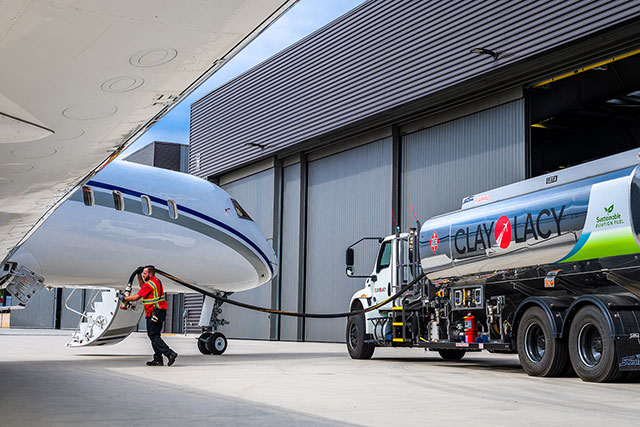 About Clay Lacy Aviation
Founded in 1968 by legendary aviator and industry pioneer Clay Lacy. Today, Clay Lacy Aviation is the world's most experienced operator of private jets. Prominent individuals and leading corporations trust Clay Lacy for aircraft management, charter, maintenance, avionics, interiors and FBO services. The company has aircraft operations and regional offices across the U.S., including full-service FBOs at Van Nuys Airport in Los Angeles, and Orange County's John Wayne Airport, with a third FBO opening at Waterbury-Oxford Airport in 2023. Clay Lacy also has FAA Part 145 aircraft maintenance centers in Los Angeles, San Diego and Oxford, Connecticut. With the most knowledgeable team in the industry, Clay Lacy delivers superior safety, service and value to aircraft owners and jet travelers worldwide.
About EPA's Green Power Partnership
The Green Power Partnership is a voluntary program that helps increase green power use among U.S. organizations to advance the American market for green power and development of those sources as a way to reduce air pollution and other environmental impacts associated with electricity use. In 2020, the Partnership had more than 700 Partners voluntarily using nearly 70 billion kilowatt-hours of green power annually. Partners include a wide variety of leading organizations such as Fortune 500® companies; small and medium sized businesses; local, state, and federal governments; and colleges and universities. For additional information, please visit www.epa.gov/greenpower.
Press Contact
Scott Cutshall
Clay Lacy Aviation
+1 (818) 989-2900 X706
Email