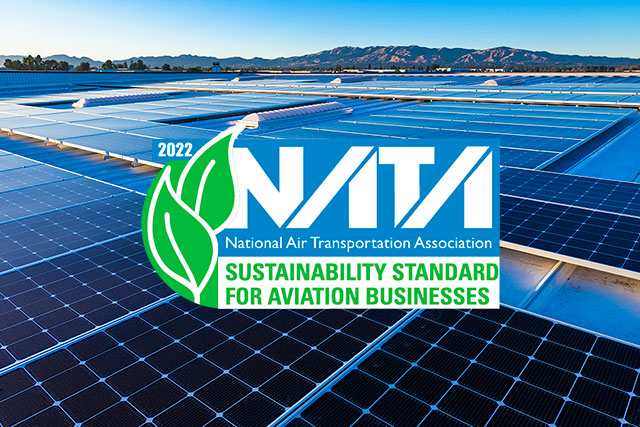 Clay Lacy Becomes First Company Certified to NATA Sustainability Standard for Aviation Businesses
New standard certifies actions taken to reduce carbon footprint at FBOs and other business aviation service providers.
(Los Angeles—December 14, 2021) Clay Lacy Aviation is the first company certified to the National Air Transportation Association's (NATA) Sustainability Standard for Aviation Businesses. NATA's new sustainability initiative was created to encourage FBOs, airports, and other aviation businesses to pursue flexible, cost-effective options to lower their carbon footprint. Developed by a working group under NATA's Environment Committee, this industry standard is designed to reduce greenhouse gas emissions, such as CO2, increase use of more environmentally friendly energy sources, reduce waste, and encourage sustainability operation-wide.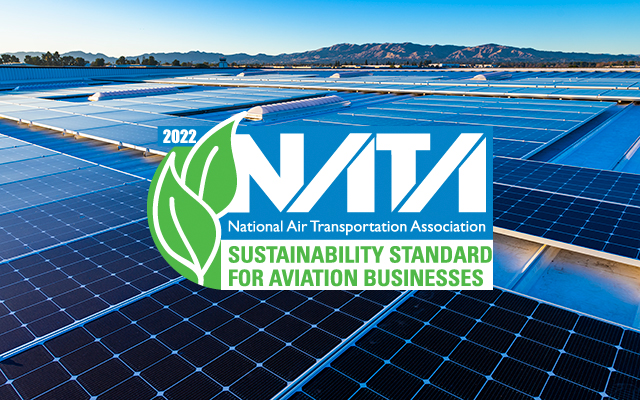 "NATA provides members of the business aviation community with practical tools to operate safely, improve service, and foster organization-wide sustainable practices," said NATA President and CEO, Tim Obitts. "Clay Lacy Aviation's innovative sustainability initiatives are a great example for the industry, and we congratulate them for being the first business aviation company to quality for certification."
Said Scott Cutshall, Clay Lacy's Senior Vice President of Development and Sustainability, "A lot of time and energy has been invested by NATA staff and their Environmental Committee to develop this standard and the tools that will help aviation businesses incorporate more sustainable practices. This certification is an important next step in our journey toward sustainable operations."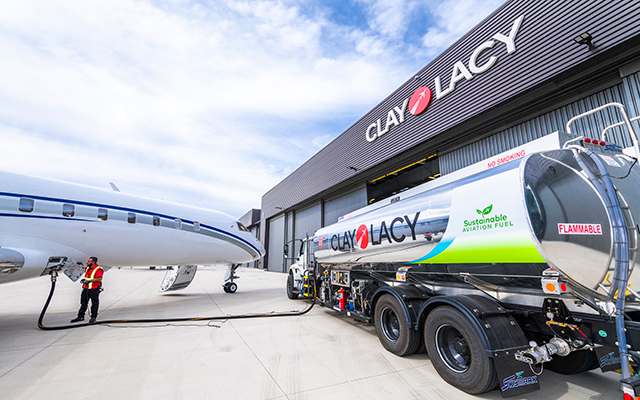 Clay Lacy Corporate Sustainability Program
Clay Lacy is executing a long-term strategic plan to operate more sustainably, on the ground and in the air. The company works with fuel suppliers and aviation industry associations to foster the development and use of sustainable jet fuel, and facilitates carbon offset programs for FBO customers and business jet aircraft owners. Clay Lacy has also completed installation of a 500 kilowatt (kW) solar array at its headquarters, and is preparing to break ground on two new FBOs at Oxford-Waterbury Airport (OXC) and John Wayne Airport (SNA) that will incorporate a host of sustainable construction and operational practices to reduce the environmental impact of those facilities.
About Clay Lacy Aviation
Founded in 1968 by legendary aviator and industry pioneer Clay Lacy. Today, Clay Lacy Aviation is the world's most experienced operator of private jets. Prominent individuals and leading corporations trust Clay Lacy for aircraft management, charter, maintenance, avionics, interiors and FBO services. The company has aircraft operations and regional offices across the U.S., including two full-service FBOs at Van Nuys Airport in Los Angeles, and Orange County's John Wayne Airport, with a third FBO opening at Waterbury-Oxford Airport in 2022. Clay Lacy also has FAA Part 145 aircraft maintenance centers in Los Angeles, San Diego and Oxford, Connecticut. With the most knowledgeable team in the industry, Clay Lacy delivers superior safety, service and value to aircraft owners and jet travelers worldwide. Visit claylacy.com.
Press Contacts
Scott Cutshall
Clay Lacy Aviation
+1 (818) 989-2900 X706
Email
# # #