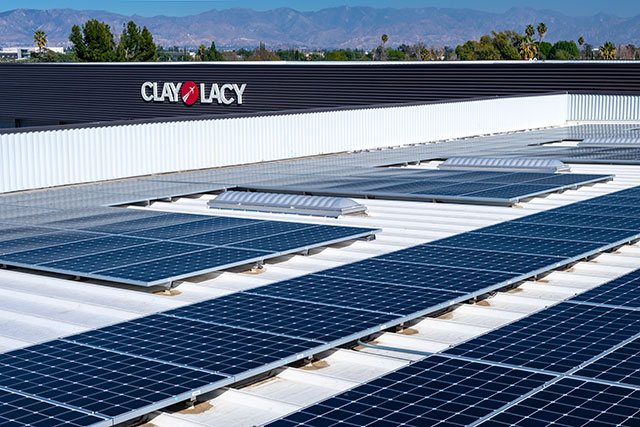 Clay Lacy Works Toward Net-Zero Carbon Footprint with Solar Panels, LED Lighting at Van Nuys Airport Headquarters
30,000 square feet of solar panels will offset 530 metric tons of CO2, the equivalent of driving 1.3 million miles in an average car.
(Los Angeles—February 9, 2021) Clay Lacy Aviation, a member of the California Green Business Network, has completed installation of a 500 kilowatt (kW) solar array covering approximately 30,000 square feet of roof space at the company's Van Nuys Airport headquarters, hangar and maintenance facility. Generating 750,000 kilowatt hours of electricity each year, the 500 kW system will offset the equivalent of 530 metric tons of CO2, the same amount of CO2 generated by driving more than 1.3 million passenger miles in an average car, or burning over 584,000 pounds of coal. Clay Lacy's Van Nuys energy costs will be reduced by 56 percent annually, while lessening local power demands. Additional facility upgrades include 200 energy-efficient LED lighting fixtures and 44 vehicle charging stations.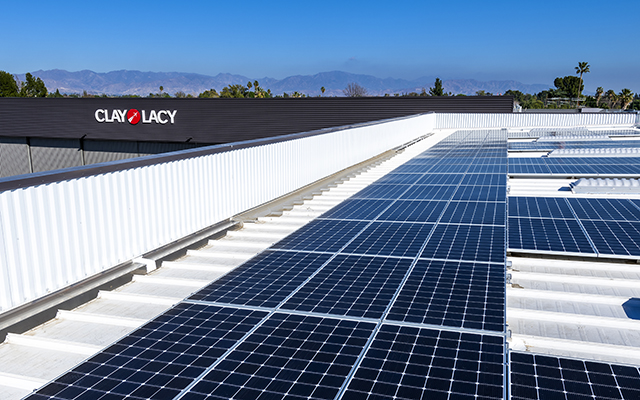 Clay Lacy Corporate Sustainability Program
The Van Nuys solar panel installation is the latest milestone in Clay Lacy's long-term strategic plan to operate more sustainably, on the ground and in the air. The company has been working closely with fuel suppliers and aviation industry associations to foster the development and use of sustainable jet fuel. Clay Lacy also facilitates a voluntary carbon offset program for business jet aircraft owners administered by World Kinect Energy Services. Clients can purchase carbon credits to offset 100 percent of the CO2 emissions created by their aircraft. The carbon credits support GoldStandard.org sustainability projects that replenish, conserve and more effectively manage forests around the world.
"We are committed to operating sustainably and making significant progress toward a net-zero carbon footprint," said Scott Cutshall, SVP Business Operations, Clay Lacy Aviation. "These  improvements are the first of many to help us achieve our sustainability goals."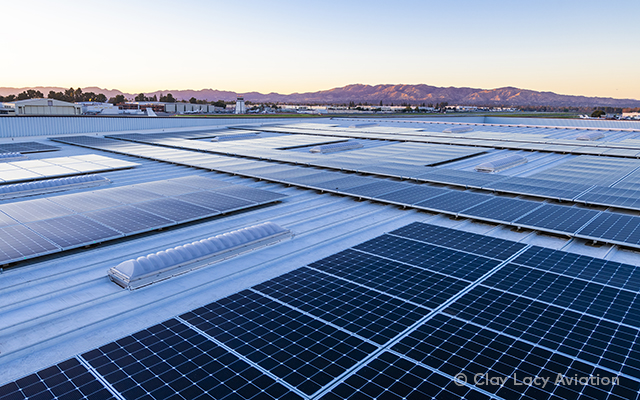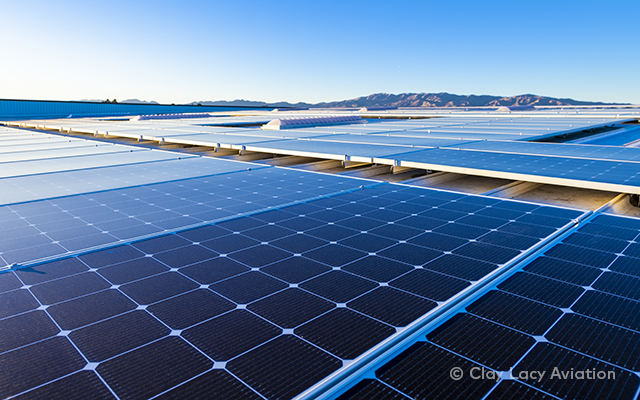 About Clay Lacy Aviation
Founded in 1968 by legendary aviator and industry pioneer Clay Lacy. Today, Clay Lacy Aviation is considered the world's most experienced operator of private jets. Prominent individuals and leading corporations trust Clay Lacy for aircraft management, charter, maintenance, avionics, interiors and FBO services. The company has aircraft operations and regional offices across the U.S., including a full-service FBOs at Van Nuys Airport in Los Angeles, and Orange County's John Wayne Airport, with a third FBO opening at Waterbury-Oxford Airport in 2022. Clay Lacy also has FAA Part 145 aircraft maintenance centers in Los Angeles, San Diego and Oxford, Connecticut. With the most knowledgeable team in the industry, Clay Lacy delivers superior safety, service and value to aircraft owners and jet travelers worldwide. Visit claylacy.com.
Press Contacts
Scott Cutshall
Clay Lacy Aviation
+1 (818) 989-2900 X706
Email
# # #