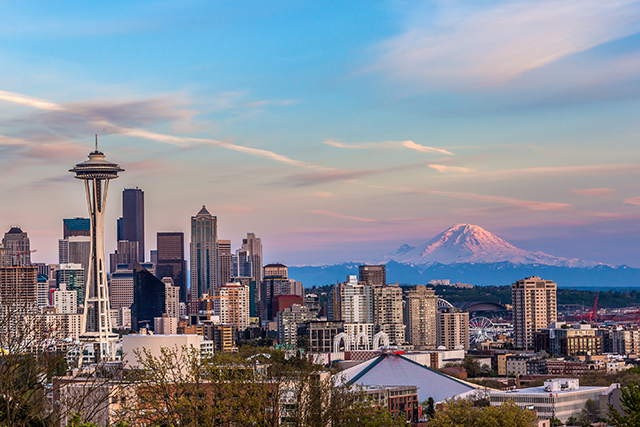 Clay Lacy Adds Citation X and Challenger 300 Super-Midsize Jets to Seattle Charter Fleet
Five Clay Lacy private charter jets now serve Seattle and the Pacific Northwest
(Seattle—June 8, 2021) Clay Lacy Aviation continues to expand its private jet charter fleet in Seattle with a Cessna Citation X at Boeing Field (KBFI) and a Bombardier Challenger 300 at Paine Field (KPAE) in nearby Snohomish County. Both of these super-midsize jets provide industry-leading range and speed for nonstop travel throughout North America, Hawaii, and parts of Mexico and the Caribbean. They each feature seating for eight, Wi-Fi, satellite phones and other amenities for maximum comfort and productivity. Jet charter clients will experience Clay Lacy's legendary Inflight personal service and appreciate the company's Clean Check Health and Safety Standard. These two charter aircraft join a Dassault Falcon 2000LX and Challenger 350 at Boeing Field, and a Hawker 900XP at Tacoma Narrows Airport (KTIW).

Cessna Citation X: Superb Amenities, Exceptionally Fast
One of the fastest super-midsize business jets ever produced, this eight-passenger Citation X flies at speeds up to 525 knots in a peaceful, light-filled cabin with premium tan leather executive seating and dark wood burled veneer accents. Communications and entertainment amenities include domestic Wi-Fi, international satellite phone, and entertainment center. Each passenger has a personal display monitor and easy control over the cabin environment. The aircraft features a fully stocked mini galley and an enclosed lavatory in the aft cabin. Charter this jet from Boeing Field.

Bombardier Challenger 300: Streaming Wi-Fi, Best-in-Class Cabin Comfort
Soaring above the weather at 45,000 feet, this eight-passenger Challenger 300 flies 3,100 nonstop nautical miles at speeds at up to 450 knots. The quiet, expansive, airy cabin offers the feel of a larger aircraft. Advanced communication and entertainment technologies include high-speed Wi-Fi with streaming capability, domestic and international satellite phone and Airshow. There is also a full-featured galley, inflight luggage access and an enclosed lavatory. Charter clients from cities like Bellevue and Mercer Island will save time and hassles thanks to its convenient Paine Field location.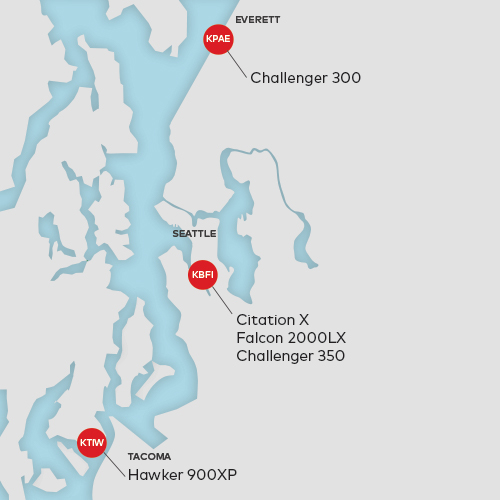 Clay Lacy Seattle Jet Charter Fleet
Clay Lacy also offers these three other Seattle-area private charter jets to meet the domestic and international travel needs of clients across the Pacific Northwest.

Dassault Falcon 2000LX This 10-passenger, long-range Falcon 2000LX has a range of 4,000 nautical miles and speeds up to 478 knots. It is equipped with domestic and international Wi-Fi and satellite phone, and Gogo Vision streaming entertainment. There are two separate seating areas, a complete galley and an enclosed lavatory with vanity. Charter this 2000LX from Boeing Field.

Bombardier Challenger 350 This spacious, super-midsize Challenger 350 seats eight on fast, nonstop charter journeys up to 3,200 nautical miles. Passengers will enjoy onboard Wi-Fi and class-leading comfort. Charter this Challenger 350 from Boeing Field.

Hawker 900XP  Seating eight passengers, this roomy Hawker 900XP midsize jet features high-speed Wi-Fi, refreshment galley and enclosed lavatory. Charter this 900XP from Tacoma Narrows Airport.
About Clay Lacy Aviation
Founded in 1968 by legendary aviator and industry pioneer Clay Lacy. Today, Clay Lacy Aviation is the world's most experienced operator of private jets. Prominent individuals and leading corporations trust Clay Lacy for aircraft management, charter, maintenance, avionics, interiors and FBO services. The company has aircraft operations and regional offices across the U.S., including a full-service FBOs at Van Nuys Airport in Los Angeles, and Orange County's John Wayne Airport, with a third FBO opening at Waterbury-Oxford Airport in 2022. Clay Lacy also has FAA Part 145 aircraft maintenance centers in Los Angeles, San Diego and Oxford, Connecticut. With the most knowledgeable team in the industry, Clay Lacy delivers superior safety, service and value to aircraft owners and jet travelers worldwide. Visit claylacy.com
Press Contacts
Scott Cutshall
Clay Lacy Aviation
+1 (818) 989-2900 X706
Email
# # #