Dassault Falcon 2000LX
Aircraft Amenities
High-speed domestic U.S. Wi-Fi
Gogo Vision movie streaming
Airshow moving map
DVD/CD player
TV monitor
Power outlets
Microwave & oven
Galley sink
Nespresso
Enclosed aft lavatory with full vanity
Cabin Configuration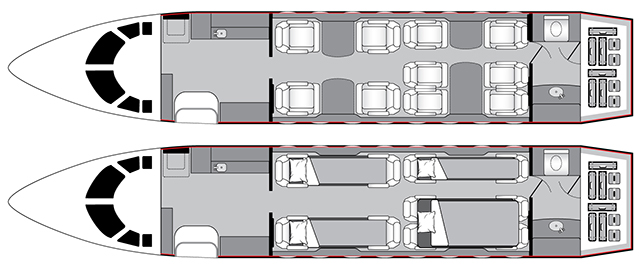 Aircraft Description
DASSAULT FALCON 2000LX CHARTER
With improved speed, economy, and copious cabin space, the Falcon 2000LX makes for a popular jet charter choice.
DASSAULT FALCON 2000LX PERFORMANCE
The Dassault Falcon 2000LX features two Pratt & Whitney engines that allow the Falcon 2000LX to fly at 478 knots.
DASSAULT FALCON 2000LX INTERIOR & SPECS
Quality design, spacious interior space, and high class performance all contribute to the charter popularity of the Falcon 2000LX. The broad cabin offers two separate seating areas and eighteen windows bathing the cabin with natural light.
Jet Charter Quote
Use our interactive map to receive an instant jet charter quote.