Bombardier Global 5000
Aircraft Amenities
Airshow moving map
LCD monitors
Power outlets
Microwave & oven
Galley sink
Chiller
Aft lavatory with full vanity
Forward crew lavatory
Cabin Configuration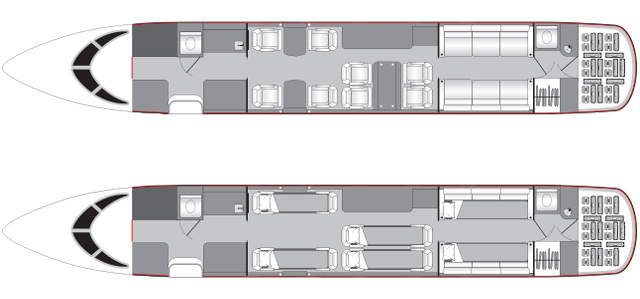 Aircraft Description
GLOBAL 5000 CHARTER 
The Bombardier Global 5000 is an ultra-long range private jet.
GLOBAL 5000 PERFORMANCE
The Global 5000 aircraft perfectly blends all aspects of performance offering impressive range, speed and reliability.
GLOBAL 5000 INTERIOR & SPECS
The Global 5000 is comfortable, flexible and innovative in design. The cabin includes moving map displays, dual divans and a full size dining table. The Global 5000 is a perfect plane for your next business or leisure trip.
Jet Charter Quote
Use our interactive map to receive an instant jet charter quote.