Embraer Phenom 300
Aircraft Amenities
High-speed WiFi
Airshow moving map
Cabin environment controls
DVD/CD player
Power outlets & USB
Forward refreshment center with ice drawers and coffee maker
Aft lavatory with vanity
Cabin Configuration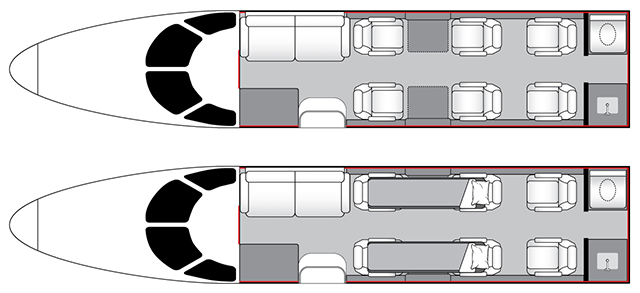 Aircraft Description
CHARTER THE PHENOM 300
The Phenom 300 is one of the most popular light cabin business jets of all time. This aircraft offers a functional cabin with premium cream leather reclining seats, rich wood accents, and luxurious custom carpeting. Providing comfortable seating for eight passengers, sleeping arrangements for two, and an enclosed aft lavatory with a vanity. The forward refreshment center supplies travelers with fresh coffee, ice, and cold storage for onboard dining. Whether you wish to work, rest, or play, time will fly by in this Phenom 300.
HIGHEST PERFORMING LIGHT JET
As the fastest jet in its class, the Phenom 300 gives you access to many desirable destinations. This aircraft is outfitted with the latest technologies to improve pilots' situational awareness and enhance safety including state-of-the-art safety features. The Phenom 300 brings passenger comfort together with the latest in technology to offer charter clients a best-in-class experience at a competitive price.
Jet Charter Quote
Use our interactive map to receive an instant jet charter quote.