Gulfstream G650
Aircraft Amenities
High-speed WiFi with streaming capability
3 large monitors
Airshow moving map
Externally mounted cameras
Cabin environment controls
Power outlets
Blu-ray player
Microwave, oven & toaster
Galley sink
Refrigerator
Coffee
Aft lavatory with full vanity
Forward crew lavatory
Cabin Configuration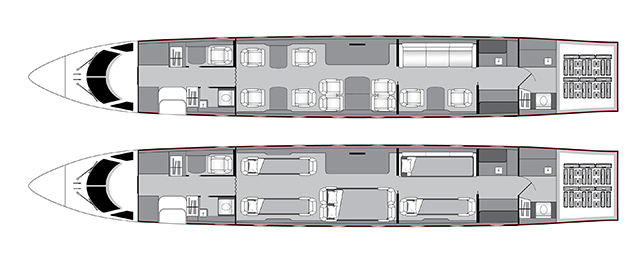 Aircraft Description
GULFSTREAM G650 FOR PRIVATE CHARTER
Flying up to 7,000 nautical miles at close to the speed of sound, the Gulfstream G650 is an incomparable jet charter choice for nonstop intercontinental travel. Destinations as far as Tokyo or Dubai are within easy reach, including airports where other large-cabin aircraft cannot land.
GULFSTREAM G650 PERFORMANCE
Two Rolls-Royce Deutschland engines propel the G650 at speeds up to Mach 0.925, yet this spectacular aircraft is exceptionally fuel efficient. The cabin is remarkably quiet, so passengers can more easily concentrate on their work, converse with friends and colleagues or simply relax in unsurpassed comfort. At cruise altitude, the G650 offers the lowest pressurized cabin altitude of any business aircraft, twice as low as commercial airlines. Passengers experience less fatigue, sleep better, and arrive more refreshed.
GULFSTREAM G650 INTERIOR & SPECS
The leather executive chairs and divans are upholstered in shades of taupe and light gray, complemented by swirl-figured wood veneers. The 16 cabin windows are the largest in the industry, bathing the interior with natural light. Domestic and international high-speed streaming Wi-Fi and satellite phone maximize communications and the entertainment experience. The fully equipped galley features a refrigerator, freezer, sink, oven, microwave, and coffee pot.  Other amenities include an advanced entertainment system, Airshow moving map, external cameras, three monitors, and power outlets at every seat.
Jet Charter Quote
Use our interactive map to receive an instant jet charter quote.