Bombardier Challenger 300
Aircraft Amenities
2 high-definition bulkhead monitors
Airshow moving map
Cabin environment controls
DVD/CD player
Power outlets
Microwave
Ice drawers & chiller
Coffee maker
Aft lavatory with full vanity
Cabin Configuration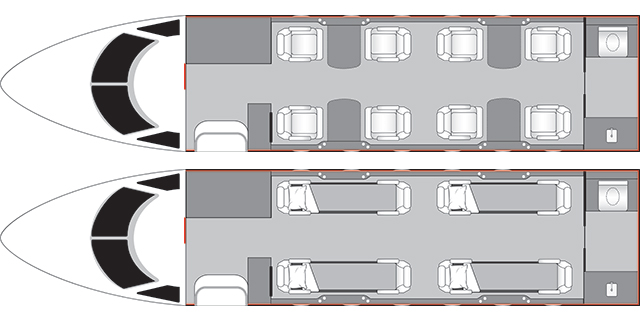 Aircraft Description
CHALLENGER 300 FOR PRIVATE CHARTER
Fast, spacious and loaded with amenities, the Bombardier Challenger 300 is one of the most popular super midsize business jets. Charter a Challenger 300 for private jet travel anywhere in North America, to Hawaii or across the Atlantic to Western Europe. As with all the aircraft in Clay Lacy's nationwide fleet of business jets, our Challenger 300 charter rate offers you legendary value.
CHALLENGER 300 RANGE AND PERFORMANCE
Soaring above the weather at 45,000 feet, the Challenger 300 is propelled at up to 450 knots by two powerful Honeywell jet engines. The nonstop range of 3,100 nautical miles makes it ideal for transcontinental and transatlantic business or personal jet charter journeys.
CHALLENGER 300 INTERIOR
The quiet, expansive, airy cabin offers the luxurious feel of a larger aircraft. Advanced communication and entertainment technologies includes domestic U.S. Wi-Fi, satellite phone, and Airshow. There is also a full-featured galley, in-flight luggage access and an enclosed lavatory.
Jet Charter Quote
Use our interactive map to receive an instant jet charter quote.